The Rock & Ryan Reynolds Had The Best Reactions To Chris Evans' 'Avengers' Farewell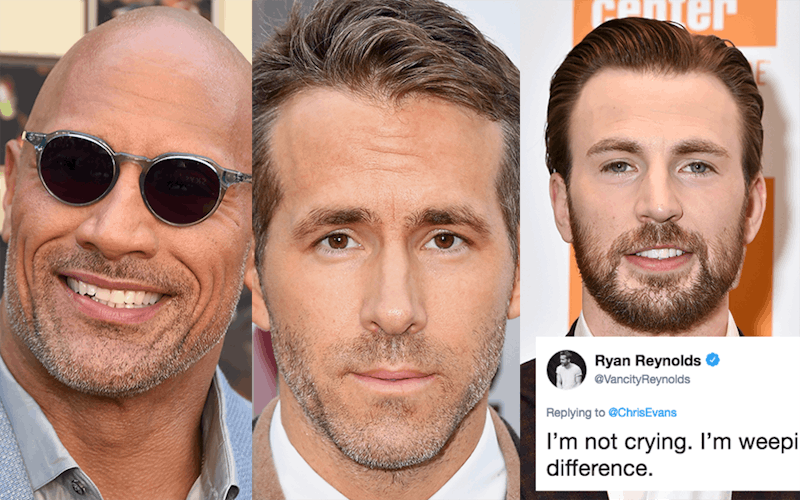 Michael Loccisano/Getty Images Entertainment/Getty Images; Michael Loccisano/Getty Images Entertainment/Getty Images; Theo Wargo/Getty Images Entertainment/Getty Images; VancityReynolds/Twitter; Bustle/Sreenshot
Captain America is getting an all-star salute. After Chris Evans announced he'd finished his final Avengers film, celebrities like Dwayne "The Rock" Johnson and Ryan Reynolds' reactions to the news illustrated just how much of a national treasure the Marvel hero in red, white, and blue — and the actor himself — truly are.
"Officially wrapped on Avengers 4," Evans tweeted on Thursday, Oct. 4 to his more than 9.6 million Twitter followers. "It was an emotional day to say the least. Playing this role over the last 8 years has been an honor. To everyone in front of the camera, behind the camera, and in the audience, thank you for the memories! Eternally grateful."
Hanging up his shield after nearly a decade, Evans had certainly earned a hero's sendoff. Among the more than 33,000 fans who replied just in the few hours immediately following the sad announcement, of course, were The Rock and Reynolds. Both actors' comments almost perfectly encapsulated the range of emotions Marvel universe stans were expressing on social media, too.
Covering the contingency of commenters who wanted to celebrate Evans' accomplishments, The Rock replied to Evans' tweet: "What a run you had brother. Congrats on breathing life into such an iconic character. Keep on keepin' on."
True to form, fellow member of the Marvel family, Deadpool's Ryan Reynolds had a comedically emotional reaction. He tweeted, "I'm not crying. I'm weeping. There's a difference."
To be fair, Evans had previously warned fans he'd soon be retiring the character. "You want to get off the train before they push you off," he said in a March 2018 profile in The New York Times. If Captain America taught fans anything, though, it's that there's always hope, right?
Moviegoers did get to see more of Evans' Captain America than the actor had originally planned, though. Two years prior to the NYT article, Evans told Rolling Stone that 2016's Captain America: Civil War would be "the last installment of Captain America." Even though the completion of that film would have satisfied his contractual obligations, Evans signed on for two additional Avengers films: Infinity War and the as-yet-untitled 2019 sequel he just wrapped.
At the time, he jokingly blamed his costume. "Since 2010, I've never gone more than a year without putting that f*ckin' thing on," he added to Rolling Stone. And that timeline was no joke. After first appearing as Captain America in 2011's Captain America: The First Avenger, he went on to star in: The Avengers (2012), Captain America: The Winter Soldier (2014), Avengers: Age of Ultron (2015), Captain America: Civil War (2016), and Avengers: Infinity War (2018). That, of course, is all in addition to several smaller appearances in other various Marvel films.
So what's up next for Evans? According to Deadline, the actor "is joining Daniel Craig in Rian Johnson's red-hot murder mystery movie Knives Out." While the website says that details of the film are being kept under wraps, the project, "a modern day murder mystery in the classic whodunit style," is expected to be shot this year.
Even knowing that Evans' final Avengers film will not be his last appearance on the big screen, nothing could really shield fans — both celebrity and civilian — from the sadness of having to say farewell to his Captain America.