'Rocko's Modern Life' Fans Will Love The Creator's Take On The Revival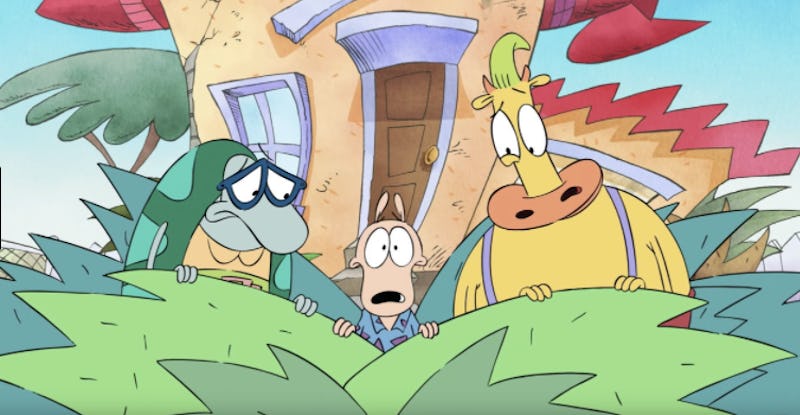 For those fans who watched the original Rocko's Modern Life as children, ignorant of its slyly very adult jokes, only to grow up, see Rocko and Heffer staying in a motel usually reserved for sex workers and go "WHOA," the creator of the series has some very good news for you. None of this will change when the Rocko's Modern Life movie hits Nickelodeon. Get stoked, everyone.
Joe Murray has no plans to do a revival of the classic Nick toon with any sense of glossing over the series history. In fact, when we speak in the goofy, mostly orange, Nickelodeon suite at San Diego Comic-Con, he launches right into a few details of what they're cooking up: "Nipples of the future." (Apparently, Really Really Big Man is set to make a reappearance.) To that, Rocko himself (voice actor Carlos Alazraqui) adds that they're going a very Larry David-inspired "pretty, pretty, pretty, pretty far."
The series is a polarizing one — in fact when I spoke to some of my fellow '90s kids, many of them told me the series scared them as children. What could possibly be scary about a little wallaby whose dog eats his brains in the opening credits? A series whose setting appears as though it was conceived during an acid trip?
Add to that the very real, almost too real, elements like Rocko's tough job search that finds him working as a sex line operator, or that time he becomes the "boss" and sprouts a menacing cigar from his mouth, swirling red eyes, and a menacing figure the minute the power goes to his head, and you've got a kid's cartoon that really challenged its audience. An element that Murray insisted that the revival continue to honor.
"One of the things, when they first approached me is that I want to do something that pushes it, I don't want to like a watered down rehash of Rocko. There's no reason for that," says Murray. "If we're going to do it, let's say something."
And just as we did when we were kids, we may just learn something from the new Rocko.
"It resonates; it's totally relevant. We were talking about how easy it felt to bring these characters into this century, into this time period," says the series creator, quickly clarifying that the movie will continue that vein of social commentary, without delving too much into politics. (So think more of ads that turn you into a consumer zombie, and less of a potential blowhard creature meant to represent any, er, current leaders.)
"I give kudos to Nickelodeon for being on board with it," says Murray, implying that the proverbial envelope is pushed pretty darn far.
And as true fans of Rocko know, that's exactly where any would be revival needs to go.