Basically Everyone Is In Matthew Weiner's New Show — Even The "Meryl Streep Of France"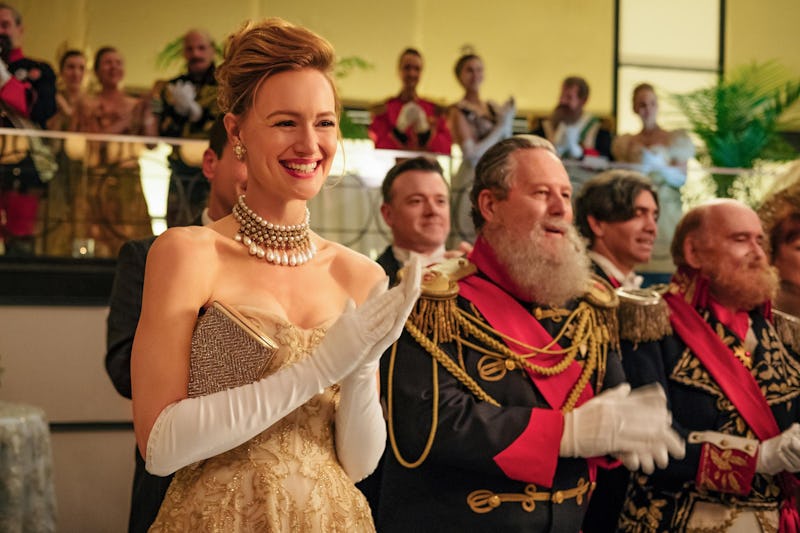 Amazon Studios
Amazon's newest original series marks the return of Matthew Weiner, the acclaimed Emmy-winning creator behind one of the crown jewels of the modern Golden Age of TV: Mad Men. But if that's not enough to get you excited, the cast of The Romanoffs also assembles one of the most ridiculously stacked rosters of talent in television history. With all due apologies to Netflix's Defenders, this cast is basically the Avengers of the small screen.
What could have attracted so many big names to a TV show — you know, besides Matthew Weiner? Well, for one thing, a relatively small time commitment. The Romanoffs is an anthology series... but one in even smaller portions than shows like American Horror Story or Fargo or Feud. The Amazon series doesn't change plots and actors every season, but every episode. Each hour tells a self-contained story, all of which are about different people from all different walks of life, all of whom believe themselves to be descendants of the titular Russian royal family.
The chance to bite into such a juicy role for such a successful auteur for such a brief period of time must have been irresistible to these famous actors, including three Mad Men alum, two Oscar nominees, and plenty of familiar faces.
1. Aaron Eckhart
Episode: "The Violet Hour"
The 50-year-old has over 40 credits to his name, including films like Erin Brockovich, Thank You For Smoking, Olympus Has Fallen and Sully. He's perhaps most famous for his role as Harvey Dent in Christopher Nolan's The Dark Knight. This is his first time back on TV since guest starring in two episodes of Frasier.
2. Kerry Bishé
Episode: "The Royal We"
Bishé joins The Romanoffs fresh off finishing a four-season run on AMC's computer drama Halt And Catch Fire as Donna Clark. She previously starred on Season 9 of Scrubs as Lucy Bennett, and has also appeared in episodes of Billions and Narcos. You may have also seen her on the big screen in the Best Picture-winning Argo.
3. Corey Stoll
Episode: "The Royal We"
Stoll had his breakout role in House Of Cards, in which he played Frank's ill-fated pawn, Peter Russo, in Season 1. Since then, he has appeared in HBO's The Normal Heart, starred on FX's The Strain, recurred on HBO's Girls, and guest starred on Showtime's Homeland. On the big screen, he portrayed Ernest Hemingway in Midnight In Paris, played the villain Yellowjacket in Ant-Man, and can currently be seen in the Neil Armstrong biopic First Man.
4. Noah Wyle
Episode: "The Royal We"
Wyle will always be most famous for playing ER's dreamy young physician Dr. John Carter. More recently, he starred on the sci-fi drama Falling Skies and recurred on the fantasy-adventure series The Librarians, both on TNT.
5. Christina Hendricks
Episode: "House Of Special Purpose"
Mad Men fans will instantly recognize the face of Joan Holloway; Hendricks was nominated for six consecutive Emmy Awards for playing the capable officer manager-turned-junior partner. She currently stars on the NBC drama Good Girls, and has appeared in feature films like Drive, The Neon Demon, and The Strangers: Prey At Night.
6. Isabelle Huppert
Episode: "House Of Special Purpose"
American audiences may have first learned her name two years, when she was nominated for the Oscar for Best Actress for her ferocious performance in the French drama Elle, but she is essentially the Meryl Streep of France, having accrued over 130 credits throughout her career. Her other famous roles include films like The Piano Teacher, 8 Women, Amour, and Things To Come.
7. Jack Huston
Episode: "House Of Special Purpose"
The nephew of actors Anjelica Huston and Danny Huston, viewers may not recognize Huston's face, but they might be familiar with him from his performance as sensitive masked assassin Richard Harrow on HBO's Boardwalk Empire. He also appeared in the films American Hustle, Pride And Prejudice And Zombies, and Hail, Caesar!, and he starred in the unnecessary 2016 remake Ben-Hur.
8. Paul Reiser
Episode: "House Of Special Purpose"
For many, Reiser will always be Paul Buchman from the 1990s sitcom Mad About You, for which he received six consecutive Emmy Award nominations. More recently, he has appeared in the Amazon series Red Oaks and the Netflix series Stranger Things, as well as the Best Picture-nominated film Whiplash.
9. Amanda Peet
Episode: "Expectation"
She rose to fame for her role in the 2000 film The Whole Nine Yards, and since then, she has racked up credits in films like Saving Silverman, Identity, Something's Gotta Give, and 2012, as well as shows like Studio 60 On The Sunset Strip, How I Met Your Mother, and The Good Wife. She recently starred in the short-lived HBO comedy Togetherness and currently stars in the IFC comedy Brockmire.
10. John Slattery
Episode: "Expectation"
Hendricks' fellow Mad Men transplant earned himself four Emmy nominations for his role as the roguish Roger Sterling. Since then, he's made appearances on shows like 30 Rock, Arrested Development, and Veep. On the big screen, he recurs throughout the Marvel Cinematic Universe as Tony Stark's father Howard, and portrayed Boston Globe editor Ben Bradlee in the Best Picture-winning Spotlight.
11. Cara Buono
Episode: Bright And High Circle"
The show's third Mad Men alum appeared in the fourth season of that series as Dr. Faye Miller, a role which earned her an Emmy nomination for Guest Actress. She also recurs on Netflix's Stranger Things as Nancy and Mike's mom Nancy Wheeler. She can currently be seen in theaters in the film Monsters And Men.
12. Diane Lane
Episode: "Bright And High Circle"
Lane earned an Oscar nomination in 2002 for her steamy thriller Unfaithful. Her many other acclaimed performances includes roles in The Perfect Storm, Under The Tuscan Sun, and Trumbo. She also recurs in the DC Extended Universe as Superman's mother, Martha Kent. She will next appear on Netflix's House Of Cards in its final season.
13. Ron Livingston
Episode: "Bright And High Circle"
While he's undeniably most famous for the iconic 1999 comedy Office Space, Livington's resumé is long and includes roles in films like Adaptation, The Time Traveler's Wife, and The Conjuring. He was nominated for a Golden Globe for his role in the HBO miniseries Band Of Brothers, and he currently stars on the new ABC drama A Million Little Things.
14. Andrew Rannells
Episode: "Bright And High Circle"
The Tony-Award winning star of The Book Of Mormon made his first splash on TV as Elijah, Hannah's gay frenemy in HBO's Girls. Since then, he has starred in the NBC comedy The New Normal and appeared in episodes of How I Met Your Mother, Glee, and The Knick, as well as voicing Matthew on Netflix's Big Mouth. He can currently be seen in the fall's sleeper comedy-thriller hit A Simple Favor.
15. Radha Mitchell
Episode: "Panorama"
You may recognize this Australia actress from her roles in films like Pitch Black, Phone Booth, Man On Fire, Finding Neverland, Silent Hill, The Crazies, Olympus Has Fallen, and more.
16. Clea DuVall
Episode: "End Of The Line"
TV audiences may recognize Duvall from one of her many roles on shows like Carnivàle, Heroes, Grey's Anatomy, American Horror Story: Asylum, The Newsroom, Better Call Saul, Veep, and The Handmaid's Tale. Her film credits include The Faculty, But I'm A Cheerleader, Girl Interrupted, The Laramie Project, Identity, and the Best Picture-winning Argo.
17. Kathryn Hahn
Episode: "End Of The Line"
Hahn got her start playing grief counselor Lily Lebowski in all six seasons of NBC's Crossing Jordan. She's had plenty of recurring and main roles on popular shows since then, including Parks And Recreation, Girls, The Newsroom, Transparent, and Happy-ish. You may have also seen her in movies like How To Lose A Guy In 10 Days, Anchorman, The Holiday, Step Brothers, Revolutionary Road, The Visit, Captain Fantastic, and Bad Moms. She can currently be seen in the Netflix movie Private Life, alongside Paul Giamatti.
18. Annet Mahendru
Episode: "End Of The Line"
Although she has recently appeared in episodes of Tyrant, The X-Files, Grey's Anatomy, and The Blacklist, this Afghani-American actress will likely be most familiar to TV viewers for her tragic role as Nina on FX's The Americans.
19. Ben Miles
Episode: "The One That Holds Everything"
Despite roles in films like V For Vendetta, Speed Racer, Woman In Gold, and The Catcher Was A Spy, this British actor probably wasn't familiar to most American audiences until his role as the perpetually unlucky Group Captain Peter Townsend in the first two seasons of Netflix's The Crown.
Where else other than The Romanoffs can you find so much talent in one place? Tune in when the first two episodes drop on Amazon on Friday, Oct. 12, to see this incredibly stacked cast in action.