The Royal Wedding Affects Our Plebeian Fashion Choices Way More Than You'd Imagine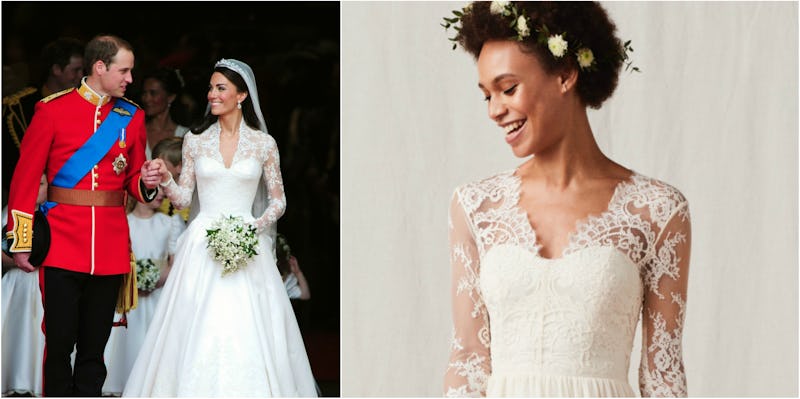 Tim Rooke/REX/Shutterstock | H&M
Caring about royal gossip is one thing, but if you think something as alien as a royal wedding has nothing to do with you, think again: When it comes to your fashion choices, it's hard to avoid the influence of royal ceremony. In fact, at least one of your favorite fancy outfits could have been made with a royal in mind.
Take, for example, Princess Diana, whose fashion choices during her short life made her an icon. Her famously elaborate wedding dress, which she wore to wed Prince Charles in 1981, was one of her most memorable sartorial moments, and its puffed sleeves and overall excess influenced '80s fashion trends, bridal and otherwise. Though puffy wedding dress sleeves haven't exactly made their way back in style in 2018 (though, as The New York Times reported, dramatic sleeves were a popular wedding dress trend on the runway at New York Bridal Fashion Week, so maybe it's just a matter of time) a variation of her statement sleeves is definitely having a moment. From dramatic blouses to over-the-top sleeves on formal wear a la Kendall Jenner, Princess Diana's wedding dress influence is arguably seeping into daily fashion trends once again.
Karen Brewster, a representative for the brand Myer, told The Daily Telegraph that "nostalgia" is fueling the puff sleeve trend. As People first reported, one of Diana's wedding dress designers, Elizabeth Emanuel, is launching her own clothing label this year that "will capture the energy of the 1980s and offer a dynamic twist on current trends," and the collection could have a nod to puff sleeves and contemporary revivals of Diana's Dynasty-style dresses. Kate Middleton herself is known for taking cues from Diana, whether it's wearing her tiara, casually donning Superga plimsoll runners or, most recently, wearing a Jenny Packham dress after the birth of her second son that resembled the one Diana wore after the birth of her second son.
JOHN SHELLEY./REX/Shutterstock
Max Mumby/Indigo/Getty Images Entertainment/Getty Images
When Middleton isn't channeling Diana, she's setting fashion trends of her own. Even before the world saw Kate Middleton's Sarah Burton for Alexander McQueen gown, designers started to imagine bridal wear with the future queen's style influence, taking cues from her already popular outfits. In 2010, Women's Wear Daily published sketches of 29 wedding dresses imagined for Middleton. Karl Lagerfeld, Alberta Ferretti, Mark Badgley and James Mischka, Frida Giannini (for Gucci) and several others all imagined dresses for Kate that had features similar to her actual dress, with veils, long sleeves, lace and elaborate trains, citing Middleton's "classic," "clean," "regal but romantic," and "elegant and contemporary" style as their influence. Elizabeth Emanuel drew her own idea for Middleton's dress (which also turned out to be fairly accurate) and described it as "much more modern [than Diana's] but romantic and out of the ordinary."
The moment Middleton stepped out of the carriage in that dress with the statement-making train carried by sister Pippa (perhaps a nod to Diana's own fit-for-a-princess-statement-making train), at least seven years of bridal trends were set. Many bridal stores swapped their sweetheart necklines, large shiny skirts, and strapless dresses for lace fabric, long sleeves, and dramatic trains. Just four days after the wedding, ABC News reported that Kleinfeld Bridal had commissioned in-house designers Michelle and Henry Roth to make a replica of Kate's dress, and high and low-end designers around the world scrambled to add lace A-line dresses with long sleeves to their collections. Nordstrom sold a "Duchess" dress from JS Collections, and a new version of O'Neill's "Kate" design, fittingly called "Chantilly Lace Gown." Even Bella's wedding gown in Twilight: Breaking Dawn Part 1 — revealed in November the same year and spurred its own replicas —  bared a striking resemblance.
A few months after the wedding, Middleton's dress (and several other accessories and memorabilia from the royal wedding) went on display at Buckingham Palace during its annual opening to the public. Over 600,000 guests went to view the dress, surpassing Buckingham Palace's previous attendance record of 420,000 people in 1994. Considering the vast numbers of people that simply came to see the dress, perhaps the next figure is unsurprising. Sales of Alexander McQueen clothing — bridal and otherwise — increased 29 percent in 2011. This surge was attributed to that famous wedding dress, which only helped to grow "the Kate effect": a spending phenomenon Business Insider reported brought more than $205 million to the British economy in 2015.
Even if you're not in the market for a wedding dress, you're shopping for styles that bear a resemblance to what Markle and Middleton — and her children — have worn. You don't need to be shopping for high-end designer pieces either; both have a fondness for affordable brands like Aritzia and Zara, Middleton's style seeps into trends at all levels, and even little George caused a $39 robe to sell out. And you can bet that brands will replicate what they see the royals wear, or, if they're already a lucky brand worn by a royal, continue to reproduce sold-out styles. Middleton and Markle have both worn Sentaler coats (and caused them to sell out) but the brand has since restocked and renamed their products "The Kate Coat" and "The Meghan Coat." According to a Pinterest spokesperson, searches for "Meghan Markle looks" on Pinterest are up 730 per cent since January, turning up effortless and affordable pieces not unlike what you'll see in most retail stores.
Whether or not Ms. Markle will don a messy bun behind her tiara at her wedding is TBD, but her signature 'do has already caught on: searches for "messy updos" on Pinterest are already up 1247 per cent in 2018, and a Pinterest spokesperson tells Bustle that in 2017 "simple, polished updos" were the big bridal hair trend. But it's certain that dresses similar to whatever gown Markle wears will be in style for a very long time, and the lucky designer who's made her gown will get a big boost to his or her brand — Business Insider is reporting that "the Meghan effect" will be worth $1.4 billion this year. (For those not keeping track, that's almost five times the amount of Middleton's influence). Even though Markle's wedding dress and its designer won't be revealed until May 19, within the next few years, it's likely that you'll pick out a dress that was inspired by the newest royal. As Women's Wear Daily recently reported, Markle's already responsible for boosting the profile of the brands she wears, which includes Mackage, Smythe, and Greta Constantine, generating $212.1 million in collective value for them.
But until Markle's dress is revealed, the influence of Middleton's Alexander McQueen dress lives on seven years later. Long sleeves are still desirable in 2018 — searches are up 75 per cent on Pinterest. H&M released their first "cohesive bridal shop" a month ago that includes a dress that looks remarkably similar to Middleton's — even though the brand doesn't specifically cite the Duchess as an inspiration.
"At H&M we take inspiration from all the over the world in many different forms," a representative for H&M tells Bustle. This particular dress was inspired by a timeless femininity."
After all, what's more timeless than a princess?
At New York Bridal Fashion Week earlier this month, The New York Times observed a distinct "royal" theme to the dresses; and designer Monique Lhuillier told Vogue that Markle was her inspiration for the brand's new statement-making dresses. Theia Couture — a brand of evening and bridal dresses — used #royalbride #royalwedding and #meghanmarklestyle to caption its Spring 2019 bridal gowns on Instagram, their models accessorized with not-so-subtle tiaras and crowns, nodding to a true Princess Diaries moment. Theia Couture's new bridal collection features dramatic trains, a few capes, lots of lace and embroidery, slim silhouettes, and royal names — you'll find the "Beatrice," "Elizabeth," "Anne," and a sleek, elegant one called "Meghan." The beautiful "Margaret" dress (pictured below) is captioned "A dress fit for a royal bride. Don't you think Meghan Markle?" The statement is a possible nod to the tradition-defying Princess Margaret, as portrayed on The Crown, possibly suggesting Markle shares her spirited ways.
Don O'Neill, the creative director of Theia Couture, tells Bustle that the idea for the "royal bride" Spring 2019 collection came to him in October. Inspired at first by the finale of a charity show in Dublin, where 20 models in Theia Couture bridal gowns walked down the runway to Martin Phipps' "Alleluia" from Victoria — "it felt so regal, I thought, 'royal is where I need to be'" — he soon found inspiration in the future royal. "The Meghan Markle name floated into my sphere of vision and there was a lot of excitement about the whole engagement," O'Neill says, noting that he and Markle share a mutual friend.
He started sketching gowns that were "Meghan Markle appropriate," turned them into storyboards and began working on the Spring 2019 collection in February 2018. The collection debuted in April 2018 at New York Bridal Fashion Week, just as the one month countdown to Markle's wedding neared. O'Neill says that buyers are "super excited" about the dresses, and thinks the interest in Markle and what she wears can be attributed to the fact that she's an American and a commoner who's been embraced by the royal family. "It's like a fantasy fairytale that doesn't happen, but it's happening. When you see the reality of Meghan Markle I think there's a little bit of envy there that people think, 'that could have been me.'"
We'll soon see if Markle dons a sleeveless, plunging neckline, embroidered gown with another show-stopping train like Middleton's and Princess Diana's, but regardless of what she wears, it's a sure thing that similar gowns will hit the racks and the runways soon after May 19. The capes Theia Couture envisioned for Markle and included in its "royal bride" collection are already making a splash, with searches on Pinterest up 88 percent — imagine the response if Markle walks into the palace with one. Or maybe Markle will be the one to bring Diana's statement bridal sleeves full circle?
"People in the public eye influence fashion by what they wear," says O'Neill. "As strong as the Markle effect is now — we're all imagining the gown and the tiara and the train — once it actually happens, the dress she wears will influence brides to a certain degree and be a new dress to aspire to in the world of fashion."