This Surprisingly Silly Moment From William & Kate's Royal Wedding Is Almost Unbelievable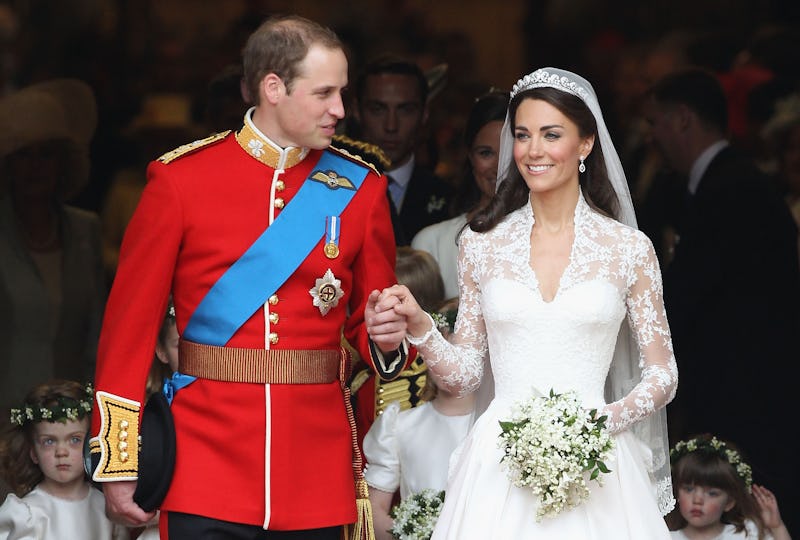 Chris Jackson/Getty Images Entertainment/Getty Images
While Prince Harry and Meghan Markle's royal wedding is on the horizon, Sunday, April 29 is the seven-year anniversary of the monumental royal wedding of Prince William and Kate Middleton, the now Duchess of Cambridge. Can you believe its been seven years since she walked down the aisle in that amazing Alexander McQueen wedding dress that has its own Wikipedia page? Seven whole years since that infamous photo of Middleton and William on the balcony accompanied by the most bored flower girl ever?
There were a lot of hallmarks of that big — nay, enormous day in 2011, and one weird moment you might have forgotten was that Middleton and William rode away in a car with some very DIY decorations on it. It was probably the least royal part of the royal wedding.
Way back before George, Charlotte, and the newborn Louis joined the royal family, it was just Prince William and Kate Middleton on their wedding day (with the entire world watching). After the ceremony at Westminster Abbey and their official reception, the new Duke and Duchess of Cambridge hopped in their getaway car before the night-time reception, according to the Daily Mail.
And it was a very special vehicle indeed: Prince Charles' beautiful 1969 Aston Martin DB6 Volante (James Bond drove an Aston Martin DB5). The stunning car was gifted to Prince Charles by his mother, Queen Elizabeth II, for his 21st birthday, according to the Daily Mail. According to Classic Driver, the gorgeous getaway car can be worth upward of $500 thousand on average, but the decorations it was bedecked in look like they couldn't have cost more than 20 bucks — or rather, 20 pounds.
It was Prince Harry who reportedly decided to give his brother a last-minute wedding gift by covering their dad's Aston Martin in streamers, bows, ribbons, and mylar balloons. According to the Daily Mail, Harry snuck into the garage where the car was safely parked to trick it out with the wedding regalia, including a plate on the front with an "L", lots of hearts, and the kicker, a license plate reading "JU5T WED." Obviously Harry has a million people to do these things for him, but it's nice to imagine him going to the dollar store to get those balloon inflated.
It was a sweet gesture from Harry on his brother's wedding day, which was by definition a very formal, fastidious affair, as royal occasions are wont to be with all their rules and traditions. So, it was fun to see the new Duke and Duchess of Cambridge drive away with balloons trailing behind them. No kitschy tin cans to bounce along the road, though. A source told the Daily Mail that Harry "would have gone further but his father warned him not to get a scratch on it!" It's probably not a car that sees much of the road.
A car covered in ribbons and balloons definitely seems more Harry's jam than William's, but William and Middleton seemed to love it all the same. And so did the public. According to USA Today, in 2012 at a charity event in London for St. Giles Trust, which works to help people avoid recidivism, William was presented with a cake with an edible sculpture of himself and Kate Middleton driving away in a tiny fondant Aston Martin, complete with balloons, ribbons, and license plates. There was probably even royal icing on that cake. (Get it?)
The Duke of Cambridge doesn't seem like he'd pull such a prankster stunt for his little brother Harry's royal wedding, but maybe he has a different surprise in store. Kensington Palace officially announced on Thursday that William will serve as his brother's best man when he weds Meghan Markle in just three weeks. Harry took his duties seriously, but not too seriously, and in his best man speech there was a lot of making fun of William, which he hasn't forgotten. According to the Telegraph, Prince William said of being the best man: "revenge is sweet." That sounds like more than a car covered in balloons!