The First Look At The Royal Flowers Is SO Beautiful & They Honor Princess Diana In A Sweet Way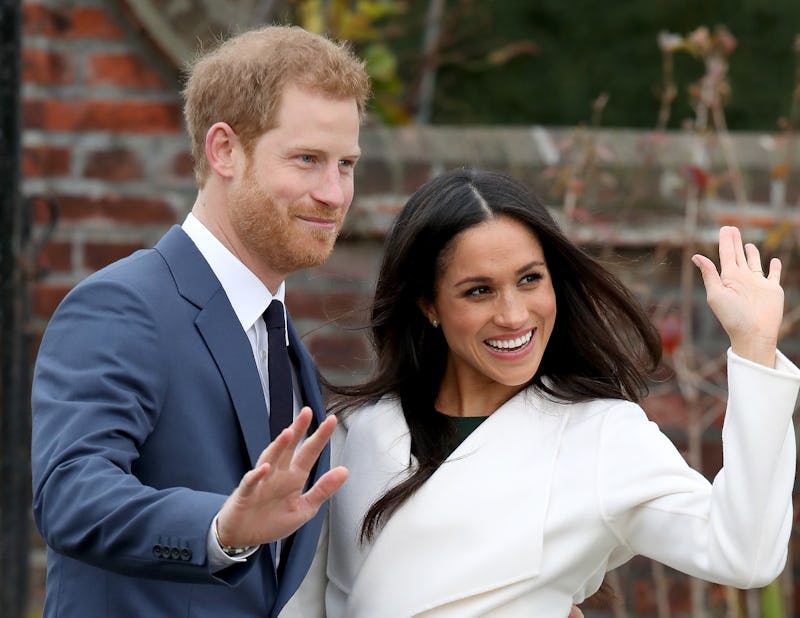 Chris Jackson/Getty Images Entertainment/Getty Images
From the moment they were first engaged, Meghan Markle and Prince Harry have found creative ways to honor his mother Diana, Princess of Wales. Princess Diana died more than 20 years ago in August 1997, but Harry and Markle are not letting her legacy fade on their wedding day. In fact, their royal wedding flowers at St. George's Chapel honored Princess Diana, who famously loved white garden roses, and who would likely have adored the white floral arrangement currently adorning Windsor Castle.
According to People, Philippa Craddock — a florist whose other clients include Kensington Palace, as well as Alexander McQueen's fashion house — is the official floral designer for Saturday's royal wedding. When Craddock was first chosen to design arrangements for the wedding, she announced that she would prioritize "local sourcing, seasonality and sustainability" in her work.
Craddock's floral arrangement for the wedding reportedly combines peonies — Markle's favorite flowers — and white garden roses, along with foxgloves and branches of birch, beech, and hornbeam. Elle also reported earlier that Markle's wedding bouquet would contain white garden roses. Kensington Palace announced via Twitter last month that many of the flowers in Craddock's arrangement would be sourced from Windsor Great Park, in order to remain in line with her mission to rely on locally sourced flowers.
Princess Diana's love for these white roses was so well-known that last summer, in order to commemorate the 20th anniversary of her death, a temporary "White Garden" was installed at Kensington Palace that featured these flowers. Harry and his brother — Prince William, Duke of Cambridge — were both involved in the creation of this garden. In addition to white roses, the garden also included forget-me-nots, white lilies, and tulips.
Sean Harkin, the head gardener at Kensington Palace, told Vogue last year that white was a reoccurring motif in Princess Diana's life, making it an appropriate color for a garden in her honor. Moreover, Harkin pointed out that "lots of people would refer to Princess Diana as the classic English rose," thereby making it doubly necessary to include white roses in the White Garden.
The floral arrangement at their wedding isn't the only way in which Markle and Harry have honored Princess Diana. In order to create Markle's engagement ring, Harry picked out two diamonds from his mother's personal collection; these became the outer two stones on Markle's ring. The central stone, however, was sourced from Botswana, a country where the couple has vacationed together multiple times.
All three of Princess Diana's siblings — Lady Sarah McCorquodale, Lady Jane Fellowes, and Earl Charles Spencer — reportedly planned to attend the ceremony, because according to TIME, Harry was "keen to involve his mother's family in his wedding." Fellowes was also slated to give a reading from the Song of Solomon during the ceremony.
The tributes to Princess Diana don't end there. According to the full order of service for the royal wedding, the hymn "Guide Me, O Thy Great Redeemer" played after Harry and Markle recited their vows. This hymn was also played during Princess Diana's funeral service back in 1997.
The Independent also reported earlier that Markle would likely wear a tiara for her wedding day — and that one of the tiaras she may have picked is the Spencer Tiara, which Princess Diana wore during her wedding to Charles, Prince of Wales. However, according to TIME, she wore for the ceremony "the Queen Mary Diamond Bandeau Tiara, on loan from Queen Elizabeth, for the memorable occasion."
From the engagement ring to the floral arrangement, it is clear that Markle and Harry have made every effort to honor Princess Diana during their wedding, and there will likely be several more subtle tributes to Harry's mother throughout Saturday's festivities.