Meghan Markle's Wedding Bouquet Is Rumored To Honor Princess Diana In The Most Beautiful Way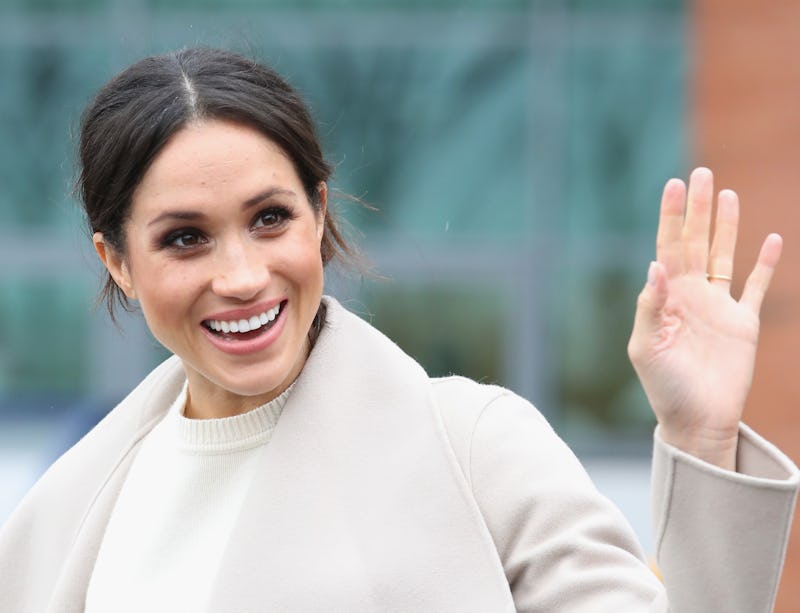 Chris Jackson/Getty Images Entertainment/Getty Images
Ever since they got engaged, Prince Harry and Meghan Markle have honored the memory of Harry's late mother with subtle aesthetic details. And the walk down the aisle will be no different, if the rumors prove true. According to reports from Elle and Marie Claire UK, Markle's wedding bouquet may include white garden roses — another ode to Princess Diana.
While this rumor has not been confirmed, it would make sense based on what we do know about the wedding. On April 1, Kensington Palace announced that high-fashion florist, Phillipa Craddock, would design the arrangements for Harry and Markle's wedding. The Palace also revealed some additional details about the floral designs that day, and specifically noted that Craddock would make use of white roses.
"The floral displays in St George's Chapel will be created using locally sourced foliage, much of which will be taken from the gardens and parkland of The Crown Estate and Windsor Great Park," the Palace posted on Twitter. "Where possible, Philippa will use flowers and plants that are in season and blooming naturally in May, including branches of beech, birch and hornbeam, as well as white garden roses, peonies and foxgloves," they wrote in another tweet.
White garden roses, as Elle pointed out, could be seen as symbolically synonymous with Princess Diana's public persona — innocent, pure, virtuous, sincere. Diana's association with white garden roses, however, goes way deeper than just that — so it would totally make sense for Markle to carry them in her bouquet.
Fun fact: fame, fortune, and travel aren't the only perks of being a part of the royal family. Turns out, almost everyone gets a flower named after them, too. "Lady Diana has numerous blooms to her name, including multiple members of the Rosaceae family," according House Beautiful. On of which, dubbed the "Princess of Wales," is a fragrant white garden rose.
White roses were also widely known to be one of Diana's favorite flowers. In fact, Kensington Palace remembered the 20th anniversary of Diana's death by dedicating an entire garden to her love of white flowers in April 2017. The White Garden "was inspired by memories of the Princess's life, image and style," according to Sean Harkin, Kensington Palace's Head Gardner (via Architectural Digest), and featured all of her favorites: white roses, forget-me-nots, white lilies, tulips, narcissi, and Cosmo daisies.
Even beyond the white rose being one of Diana's personal favorites, Harkin told Vogue that "lots of people would refer to Princess Diana as the classic English rose." So, not only do Diana and the rose share similar symbolic qualities, but the late royal widely embodies the flower for much of the nation.
The inclusion of white roses in Markle's bouquet — if the reports from Elle and Marie Claire UK end up being true — won't be the only way the couple will have chosen to honor Harry's late mother's memory. Markle's engagement ring — which was a custom-made creation designed by Harry himself — included diamonds from Diana's personal collection, according to Us Weekly. More specifically, the diamonds on either side of the ring's center stone came from one of Diana's brooches.
While the tributes to Harry's late mother are incredibly touching, the wedding will reflect both Harry and Markle's personalities, as well. In addition to white roses, the celebration will be decorated with peonies, one of Markle's favorite blooms.
According to the BBC, in 2016, Markle posted a photo of peonies —  a flower that Kensington Palace specifically revealed would be used to decorate St. George's Chapel — on (her now non-existent) Instagram. "I bought these peonies for myself yesterday because they make me so endlessly happy," she wrote. "Do something sweet for yourself today too. #treatyourself #simplepleasures #favoriteflowers."
If Markle's bouquet and engagement ring are any indication, royal fans can likely expect even more stylistically subtle tributes to Diana within the design of Harry and Markle's wedding. Thankfully, we won't have to wait too much longer to get all the details, as the couple's nuptials are right around the corner on May 19.