The Royal Wedding Lunch Menu Sounds So British & SO Tasty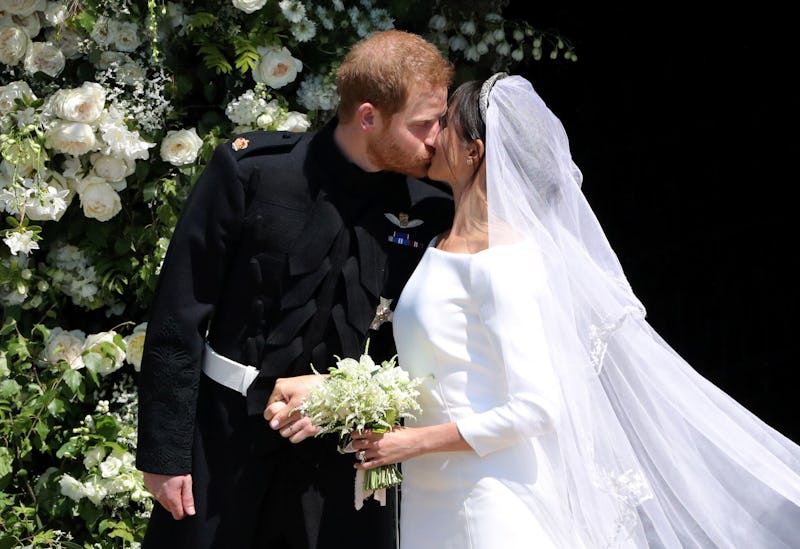 WPA Pool/Getty Images Entertainment/Getty Images
The royal wedding is finally here, and among the excitement about Prince Harry and Meghan Markle making it absolutely clear how much they adore each other is the excitement about the details of their lavish wedding, including of course the best thing about weddings: the food. If you're curious about what the newlywed couple is dishing up on the royal wedding lunch menu, you're not alone — and luckily we've got the delicious deets.
Folks have been getting a taste (I'm not sorry) of the menu's contents over the past few weeks, but like with many details about the wedding, those involved have been pretty closemouthed. Royal chef Mark Flanagan told PEOPLE May 14 that the royal wedding menu would be fresh and locally sourced, and would involve food made from "classic seasonal produce [...] much of it sourced from the Queen's estates."
We also knew ahead of time that guests would be served canapés, but we didn't know how seriously tasty they were going to sound. NBC reported during its live coverage that those attending the royal wedding lunch are being served savory canapés including Scottish smoked salmon and Windsor lamb. And according to royal correspondent and expert Emily Nash, sweet royal wedding canapés include champagne and pistachio macaroons, orange crème brûlée tartlets, and miniature rhubarb crumble tartlets.
Nash reported that the full range of savory royal wedding reception canapés includes: Scottish langoustines wrapped in smoked salmon with citrus crème fraiche; grilled english asparagus wrapped in Cumbrian ham; garden pea panna cotta with quail eggs and lemon verbena; heritage tomato and basil tartare with balsalmic pearls; poached free-range chicken bound in a lightly spiced yogurt with roasted apricot; croquette of confit Windsor lamb, roasted vegetables and shallot jam; and warm asparagus spears with mozzarella and sun-blush tomatoes.
Nash also reported that along with canapés, wedding guests will be served a selection of bowl foods, including fricassee of free-range chicken with morel mushrooms and young leeks, pea and mint risotto with pea shoots, truffle oil and parmesan crisps, and ten-hour slow-roasted Windsor pork belly with apple compote and crackling.
If this is all making you incredibly hungry... well, me too.
According to PEOPLE, the bowl dishes, like the canapés, are designed to be eaten standing up by the lunch's 600 guests, rather than being served at a sit-down lunch. Flanagan also told PEOPLE that the royal couple had a hand in figuring out what to serve. "We know the couple wanted us to make sure we used all of the local seasonal produce as much as possible throughout their menu, and this recent good weather is really helping us to achieve that," he said. "They've been involved in every detail."
And while all of this sounds like it's frankly to die for, there's yet more to come. Folks noshing on these bite-size and bowled treats still have the wedding cake to look forward to, which, contrary to royal tradition, is made to be delicious. According to The New Yorker, the traditional British royal wedding cake was made to follow the British norm of serving fruit cake for special occasions. The core fruit cake would be covered in marzipan and then "a bright white shell of the cement-like substance" now commonly called "royal icing," The New Yorker reported.
"This double coating made cakes that were good to look at but not necessarily to eat," The New Yorker added, with what a nineteenth century baker described as "a thick layer of white sugar which nobody cared about; a medium layer of almond paste, which everybody wished for, and did not always get; and an immense quantity of cake of which many only ate a few crumbs."
By contrast, Markle and Prince Harry's cake is made up of "tiers of lemon sponge cake drizzled with elderflower syrup and topped with an Amalfi lemon curd," PEOPLE reported. Instead of "royal icing," it's coated in an elderflower-infused, Swiss meringue buttercream and is "adorned with a mix of 150 fresh flowers, including peonies and roses."
While those of us who sadly are not attending to the royal gala can experience the highlights thanks to the wonders of live streaming, we'll sadly have to miss out on what sounds like the menu of a lifetime.