The Royal Wedding Page Boy Was Smiling So Much And You'll LOVE The Reason Why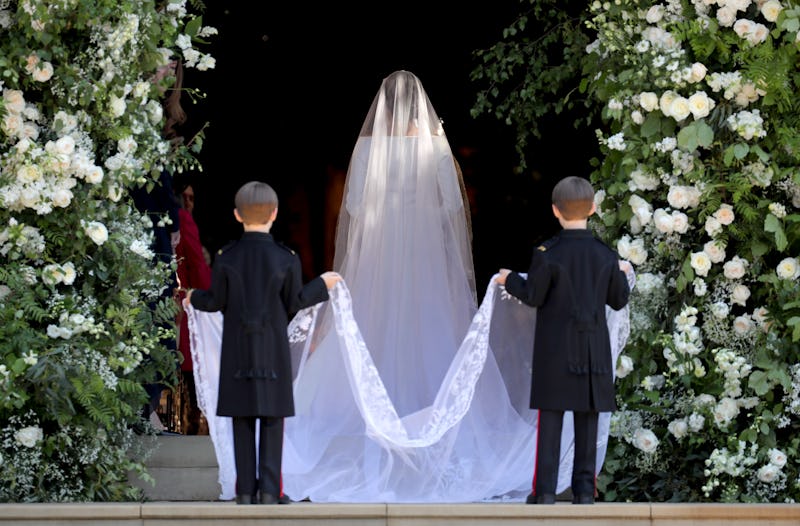 WPA Pool/Getty Images Entertainment/Getty Images
History is filled with important moments. Moments that have, in more recent history, been captured on camera. Case in point, royal wedding 2K18, when Harry met Meghan. The drama produced many a comic moment, not least when page boy Brian Mulroney arrived into the chapel wide-eyed and grinning. A slew of royal wedding page boy memes were born, but what exactly what caused his look of sheer wonder has remained frustratingly unknown — until now.
The two completely adorbz 7-year-old boys, Brian and John Mulroney, arrived with Meghan Markle at St George's Chapel and obediently held lofty the ends of her veil as she entered the church. Then, the world collectively went "awwwwwww" as the cute AF over-Meghan's-shoulder shot of Brian's huge gap toothed smile came on our screen. Given the times we live in, this also signalled the birth of an icon: the Royal Wedding Meme Boy. At this moment, Brian Mulroney won the Royal Wedding. You go Bri-Bri, mischief managed.
Hilarious Royal Wedding Meme Boy memes started getting churned out at a rate of nots. Oh yes, the modern way to consume historical events: memes. Are memes our generation's cave art? Will we be remembered for millennia for being super lit and funny?
Twitter was popping off with so many good examples of memes from the royal wedding. I mean how could it not? Among the most popular were ones of one of the page boys. This kid is everything you want from your ideal page boy. Cute, cheeky, well behaved but not boring — the works! One sec, doesn't he remind me of someone? This all seems a little familiar. Who is it now...erm... ok hold up, I got it.
Cheeky looking Brian is a ringer for Dennis The Menace. Those curtains, that adorable smile. All we need is a slingshot, a stripey top, and a grumpy neighbour. I'm sure the palace can provide all of the above if asked nicely.
People watching the big day just could not get enough of Mulroney's cheeky grin. Was this kid meaning to do one of the most iconic photobombs of all time? I mean come on, his timing is perfect. This kid has a future in reactionary shots for sure. Also, isn't it brilliant that a positive reaction is probably the most talked about? Can I get a hell yes to positive press.
With the internet awash with his huge grin, the question is, what was he thinking and feeling at that moment? What exactly pushed that kid's smile way off the cuteness richter scale? The boy's father Ben Mulroney recently revealed the truth in a TV appearance on Canadian breakfast show Your Morning.
So it turns out that this was the first time little Brian had heard trumpets. OMG how cute is this kid? He clearly had no idea how huge this entrance was going to be. So he is cute and humble. Seems that either nobody told the little guy how huge that entrance was going to be or (more likely) he was too busy living his best life ahead of the big day.
I don't know about y'all but I cannot wait for a "where are they now?" type piece about Mulroney in ten years. Those are always interesting, especially when they are happy endings.
Its safe to say that with a smile like this the sky is the limit for young Brian Mulroney. Let's hope he is remembered for his smile and not the whole trumpet thing. He doesn't want to end up being associated with trumpets his whole life and have people shouting "Where's your trumpet?!" at him like poor Natalie Cassidy off Eastenders.