These Memes About The Pageboys At The Royal Wedding Prove They're ALSO The Stars Of The Day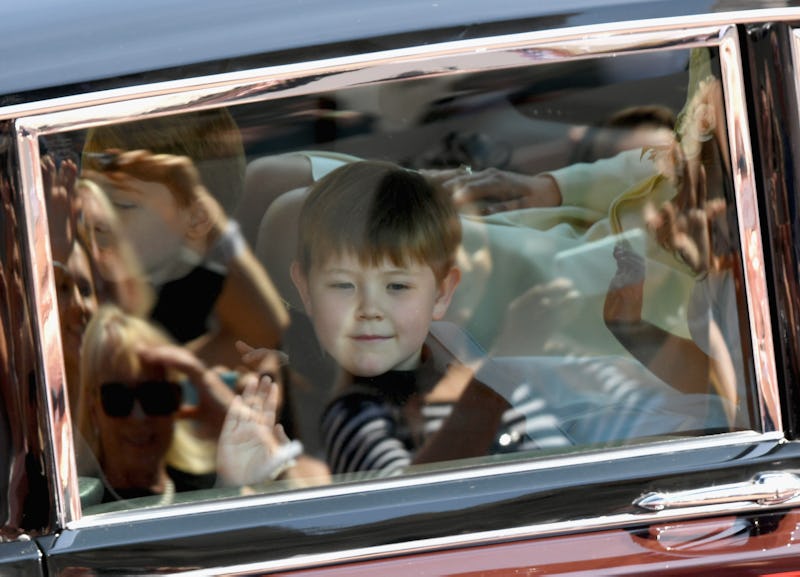 Shaun Botterill/Getty Images Entertainment/Getty Images
When the whole world is watching a royal wedding, Twitter makes the occasion all the more fun by helping us all find the humor amidst our tears about Prince Harry and Meghan Markle's nuptials. Thankfully, the tweets and memes about the royal wedding pageboys are bringing a dose of adorable to an already breathtaking affair.
Particularly, the Canadian twins carrying the bride's train — Brian and John, sons of Markle's friend Jessica Mulroney — stole the show as Markle entered St. George's cathedral. Between the boys' happy faces and excellent work carrying the extra-long veil behind the bride, Twitter was in awe of the cuteness.
It's always good to have an audience surrogate at these types of events who represents how we're all feeling watching from home. With so many regal and starry guests in attendance at the wedding, that "tag yourself, I'm" role goes to Brian and John Mulroney. That feels especially true when thinking about a certain moment in which trumpets caused one of the boys to light up with a glee that, for a kid at least, is a little unusual to be shown at an event where everyone's forced to put on nice clothes and go to church.
Here are the tweets and memes that followed, celebrating the precious moment:
Basically.
Lots of folks on Twitter are comparing this child to Macauley Culkin, and can you blame them?
Talented Mr. Ripley reference, sure.
100 percent relatable.
So freakin' cute.
Here's a video of the memed moment, revealing that the child was reacting to the fanfare announcing their arrival.
Another photo of the boys, hard at work.
Does this technically qualify as a photobomb? Unintentional, if that.
It's a good question! Anyone else kind of considering ditching your college roommate and fiance's second cousin in favor of a bridal party comprised of second-graders? These adorable children certainly made it look easy. That bunch, which of course included Prince George and Princess Charlotte, didn't look difficult to wrangle at all.
Jessica Mulroney, the pageboys' mother, was actually rumored to be Markle's maid of honor — but the Duchess of Sussex ultimately decided not to have one at all. Mulroney would have been a good choice, though. She's a stylist, lifestyle expert, and bridal consultant, and she was also the "secret wedding planner" for Harry and Meghan, according to Cosmopolitan. That's kind of like a secret maid of honor too, right? Cosmo reports that Mulroney is also a stylist for Justin Trudeau's wife. Clearly, she's a good friend to have in your corner. She even helped plan the fictional wedding for Markle's character Rachel on Suits. Not only are she and Markle close friends, but Cosmo claims the royal couple often found refuge at Mulroney's home when the news broke about their relationship and they needed to hide.
The stylist is married to Ben Mulroney, whose father is former Canadian Prime Minister Brian Mulroney. Ben is a television host who has appeared on eTalk and Canadian Idol. Twitter was also quite interested in the seat he scored at the royal wedding, as he was a lot closer to the action than several of the starry guests.
Besides the twins, Ben and Jessica also have a four year-old daughter named Ivy who accompanied Markle as a bridesmaid. The fact that their children not only got to take such a major role in the ceremony, but stole the hearts of the viewers at home and became something of a viral meme sensation, shows just how close a bond Markle and Mulroney surely have.