Ryan Seacrest Has A Skin Care Line Now, Because The Man Can Do It All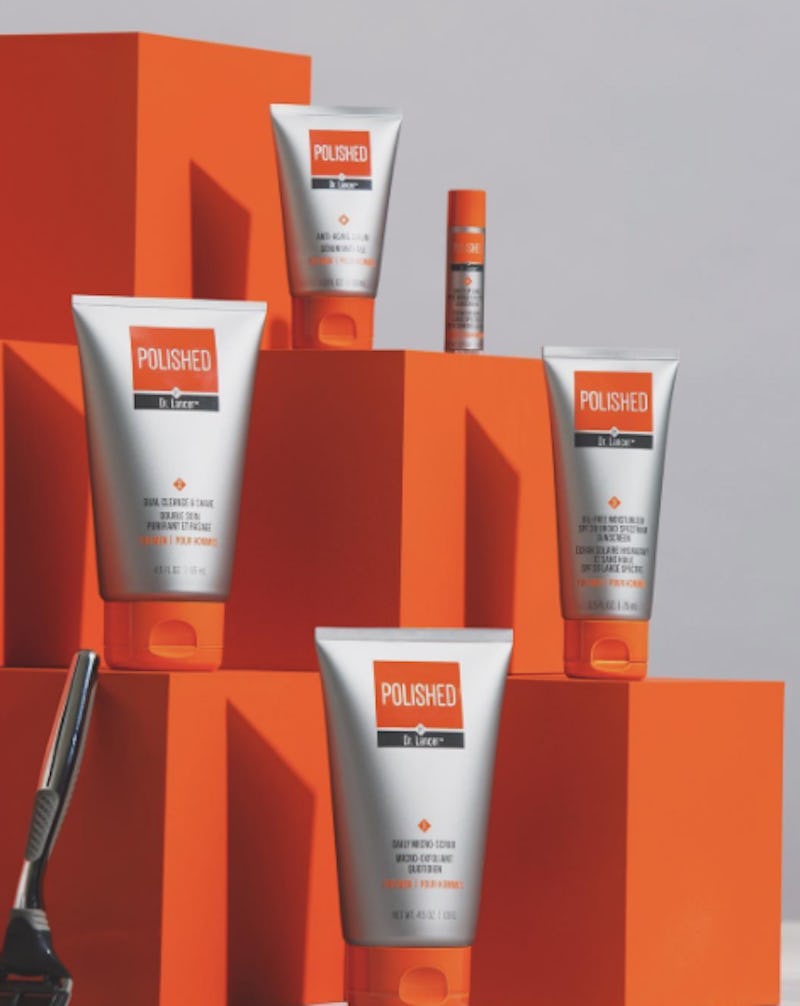 Polished by Dr. Lancer on Instagram
Ryan Seacrest has a lot of titles under his belt: radio personality, TV host, producer, and general entertainment mogul. His next move, though, is a surprising one. The Ryan Seacrest x Dr. Lancer skin care line has been in the works for years now, and he couldn't be more excited to share it with his fans.
On Aug. 3, Seacrest debuted his line on Jimmy Fallon, showing off the silver and orange packaging and explaining all of its benefits and claiming that "it does everything." He and Fallon discussed how at some point, every man is told by a woman they have to start "doing something." Mr. Fallon seemed to be enamored with the anti-aging serum.
The powerhouse collaboration is called "Polished by Dr. Lancer." If Dr. Lancer doesn't ring a bell to you, here's what you need to know: He's a celebrity dermatologist with over 30,000 clients. That's a lot of skin and practice. His skin care practices, known as "The Lancer Method," consists of three simple steps: polish, cleanse, and nourish.
The Polished products will include a dual cleanse and shave cream, a micro scrub to be used daily, and an anti-aging serum. It can now be purchased online at Polished by Dr. Lancer, and judging from Fallon's reaction, fans are going to be into it.
Some of Dr. Lancer's A-list clients include Victoria Beckham and Kim Kardashian, both of whom endorse his incredible skin care products. And now, he's tapped another celeb to push his momentum forward. And who's more perfect to do so than Seacrest?
Always on TV screens, Seacrest is known for his polished look, bright smile, and disturbingly good skin. How does he do it? Well, the answer lies in his new business partner, Dr. Lancer, who's been Seacrest's dermatologist for over a decade.
Daily Micro Scrub, $35, Polished by Dr. Lancer
But just because it's targeted for men doesn't mean there isn't something out there for everyone. With face shaving for smoother skin on the rise, a cleanser and shaving cream product could benefit those who are a fan of this ritual. Plus, a scrub and anti-aging serum doesn't ascribe to a certain gender.
Dual Cleanse And Shave, $20, Polished by Dr. Lancer
Dr. Lancer did notice that there was a jump in how many men were interested in skin care, claiming that 15 years ago, only 1 percent of his work was for male patients. Today, it's up to about 15 percent, according to his website.
Oil-Free Moisturizer SPF 30, $35, Polished by Dr. Lancer
In a company statement, Seacrest and Dr. Lancer said, "We've been working together for a number of years on the Polished products and brand and believe that it provides the perfect solution for the modern man who wants more from his skin care routine."
Marketing and selling only three products is actually kind of genius — for men and women. With so many choices out there, a modern man or woman may not have the time to test out different products. Having a streamlined routine like this one makes it so much easier to get out the door with everything you need. Plus, it makes packing a breeze, too.
If you're looking to replicate Seacrest's smooth-as-a-baby's-bottom skin, well, you've found the answer.