This Nevada Senator Is Donating Her Salary To Charity During The Government Shutdown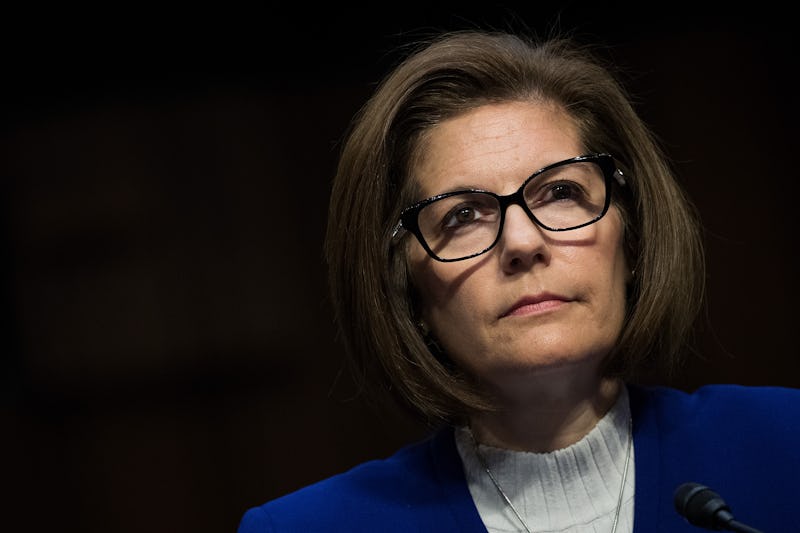 Drew Angerer/Getty Images News/Getty Images
A partial government shutdown is expected to leave some 420,000 employees working without pay while another 380,000 are furloughed, according to the Senate Appropriations Committee. But members of Congress won't be listed among those forced to go without pay during a shutdown — unless, of course, they choose to. Indeed, Nevada Sen. Catherine Cortez Masto will donate the salary she receives during the shutdown.
"I cannot take a salary during a government shutdown knowing that so many federal workers in Nevada and across the country will go without pay," Cortez Masto wrote in a tweet Saturday. "I'll be donating my salary to a Nevada charity for every day of the Trump shutdown."
This isn't the first time Cortez Masto has opted to forgo her salary during a government shutdown. According to The Hill, Cortez Masto also donated her salary to charity in January when a congressional clash over extending the Deferred Action for Childhood Arrivals (DACA) program that President Trump sought to end led to a three-day shutdown.
While it's unclear how much Cortez Masto might earn per day in Congress, a 2018 Senate report from the Congressional Research Service noted that "most" senators receive an annual salary of $174,000. If you divide that by 365, Cortez Masto could earn a little over $476 a day. The senator has yet to specify which Nevada charities she will donate to.
Other members of Congress have opted to forgo their salaries during the shutdown. In a letter to Congress' Chief Administrative Officer, Rep. Mark Meadows asked for his pay to be withheld until government funding had been restored. "As long as our border security agents, air traffic controllers and TSA agents are not paid and their families not supported, I will not accept any salary," Meadows wrote.
Earlier in the week, Rep. Tom O'Halleran also announced that he would forgo his salary should a shutdown happen. "The American people expect their elected officials to do the job they are being paid to do, so if we cannot reach a bipartisan consensus on a funding bill before the end of the week, I will forgo my pay during the resulting government shutdown," O'Halleran announced in a press release Thursday. The Arizona representative has reportedly donated his January shutdown salary to veterans organizations in the state he serves.
After weeks of talks, Congressional leaders appeared set to pass a bipartisan spending measure earlier this week until Trump announced Thursday that he'd refuse to sign the measure — which had, at the time, already passed the Senate — as it did not include the border security funding he wanted. In a last-minute effort to avoid a shutdown and appease Trump, House Republicans pushed through a stopgap funding measure that allocated $5.7 billion for Trump's border wall but ultimately failed to gain traction in the Senate, according to CNN.
On Saturday, Cortez Masto accused Trump of bringing the country "into yet another crisis" and urged both Congress and the White House to work together to quickly end the shutdown. "We must remain committed to protecting the border through the use of new technology and updating existing infrastructure, while holding this administration accountable," she tweeted. "Democrats support border security – we always have, but we will not sit idly by while President Trump manufactures a crisis and wastes billions of American taxpayer dollars."
The Nevada senator called for a spending bill that represented "a bipartisan compromise."