Every Scary Movie & Spooky Show Coming To Netflix In October 2017 Just In Time For Halloween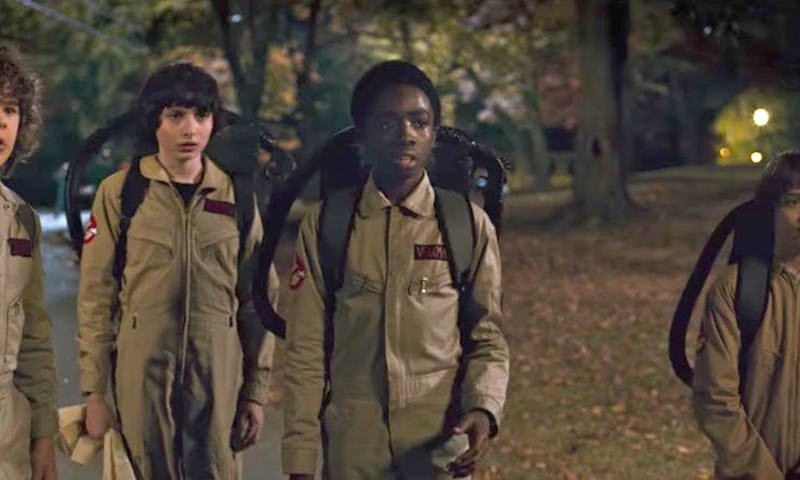 Netflix
Yes, you're still mourning over all of your favorite shows that are being taken off of Netflix next month, but — not to minimize your loss because 30 Rock was important to all of us — there is some good news. Just in time for Halloween, there are a bunch of scary movies and TV shows to watch on Netflix. We're talking everything from heart-stopping thrillers to spooky shows that will keep you in head-to-toe goosebumps from one episode to the next.
You probably already know that Stranger Things is dropping its second season just in time for Halloween, on Oct. 27. But there are plenty more movies and TV shows just waiting to be added to your queue so they can creep you out. Whether you like jump scares, suspense, eerie plot lines, or psychological thrillers, Netflix has something for you. They've got every angle of your Halloween covered... as long as you're planning on spending the month in your jack-o-lantern patterned PJs, with your hand in a bowl of candy corn.
Sure, you can probably step away from your television set for a couple hours on Halloween itself, to hit up some parties and show off your costume. But you have the entire month before then to mine these new additions to the streaming platform for ideas. Will you go as Chucky? Donnie Darko? Barb from Stranger Things? The options are limitless, and Netflix is the fairy ghostmother who will guide your way.
1. Eyes Wide Shut
You can always count on Stanley Kubrick to mess with your head, as he does in this eerie "sexual drama" starring Tom Cruise and Nicole Kidman.
Available: Oct. 1
2. Never Let Me Go
It's not your average scary movie, but don't let that stop you. Keira Knightley, Carey Mulligan, and Andrew Garfield star in this creepy thriller as three childhood friends who are forced as adults to deal with their very dystopian reality.
Available: Oct. 1
3. The Reaping
Hilary Swank plays a former Christian missionary who lost her faith after the death of her daughter. She now spends her time debunking religious phenomena, or at least she did — right up until she visits a town in the Bible Belt that seems to be experiencing each of the ten biblical plagues.
Available: Oct. 1
4. Veronica
Expand your horizons with this Mexican psychological thriller set in 1991 Madrid. A young girl plays Ouija with her classmates during a total solar eclipse, and it seems to unleash some kind of evil, supernatural force.
Available: Oct. 1
5. Cult of Chucky
In this 2017 addition to the Chucky franchise, the killer doll returns to wreak more havoc and terror, with the help of his former wife.
Available: Oct. 3
6. The Survivalist
In this British, BAFTA-Awarded science fiction thriller, a survivalist's solitary life is interrupted by the arrival of two women on his small plot of land.
Available: Oct. 3
7. Donnie Darko
The creepy cult classic stars Jake Gyllenhaal in one of his earliest roles, as a teenager who questions his reality and begins committing crimes after being visited by a man in a bunny suit.
Available: Oct. 11
8. MINDHUNTER
This Netflix original will premiere its first season on Oct. 13, centering on a pair of FBI agents, played by Jonathan Groff and Holt McCallany. The two men have to delve deep into the psyches of confessed murderers in hopes of solving new crimes, and what they find there is disturbing.
Available: Oct. 13
9. Slasher: Guilty Party
This thrilling series is set in the Canadian wilderness and focuses on a group of camp counselors trying to cover up a crime they committed in their youth. Meanwhile, someone is out for revenge and committing a series of murders of their own. It comes to the streaming platform as a Netflix original.
Available: Oct. 17
10. The Mist
Season 1 of the creepy series based on the Steven King book of the same name centers on a town besieged by a mist that threatens their very sanity.
Available: Oct. 24
11. Stranger Things
And, finally, the second season that we've all been waiting for. The smash hit that we fell in love with in 2016 returns to creep us out again, so don't let it catch you in the Upside Down.
Available: Oct. 27
12. American Horror Story: Roanoke
Catch up on the sixth installment of Ryan Murphy's beloved series. Of course, it includes Sarah Paulson and Evan Peters.
Available: Oct. 3
13. Saw 1-7
Yup, all seven Saw movies are available to stream — if you dare. Maybe space them out over the course of a week or two, so you don't get too spooked.
Available: Oct. 6
14. Battle Royale & Battle Royale II: Requiem
This Japanese horror film and its sequel are both available on the streaming service this month. The plot sounds Hunger Games-esque, but even darker. The trailer dubs the novel that the movie's based on "the most controversial book of the century."
Available: Oct. 11 & 12
15. Cabin Fever
While this is every group of college friends' worst nightmare, at least you get to watch Rider Strong (aka Shawn Hunter from Boy Meets World) on your screen again.
Available: Oct. 13
16. Horsemen
Dennis Quaid plays a detective in this movie, who's still reeling from the loss of his wife. Amidst that, he must piece together clues about four horsemen.
Available: Oct. 14
17. Hostel & Hostel: Part II
You may never want to stay in a hostel again — or even consider it — after marathoning this scary movie and its sequel.
Available: Oct. 15 & 16
18. Little Monsters
Finally, a more lighthearted movie on the list. May a young Fred Savage and his monster-filled adventures make you feel way better after indulging in all the other terrifying films.
Available: Oct. 17
It's a great crop of chilling movies and TV shows, and it should keep your hair standing on end through the month, at the very least.
Editor's Note: This story has been updated from the previous version to include movies and TV shows added to Netflix later in the month.