This Juicy Summer Beach Read Is About Insta Stars & Murder — And You Can Start Reading Now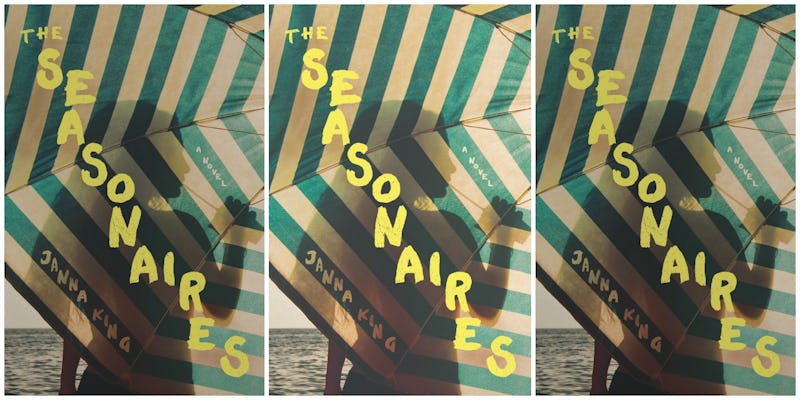 If you've been looking for a way to fill that Pretty Little Liars-shaped hole in your life ever since the show's finale last summer, I might have just a book that will do the trick: screenwriter Janna King's genre-bending debut novel about social media celebrity, corporate greed, and murder. Just in time for summer beach reading, The Seasonaires is slated to hit shelves May 1 from Pegasus Books, but you can read an exclusive excerpt of this perfect beach read below.
Set on the idyllic islands of Nantucket, The Seasonaires follows a group of six very different twenty-somethings who become "seasonaires" for a famous clothing brand one summer. Their glamorous dreams of becoming beautiful and influential brand ambassadors come true, but what seems like the gig of their lifetimes quickly devolves into a nightmare when someone turns up murdered. Though their Instagram feeds would never show it, the pressures of social media celebrity, corporate greed, and a growing list of professional and personal rivalries fueled by their drug and alcohol soaked world come to a head, shattering the seasonaires picture-perfect world.
A skillful mashup of a tantalizing murder-mystery and a gripping coming-of-age tale that is already being adapted for television by Blumhouse, The Seasonaires is sure to be one of the summer's most talked about books. Luckily, you don't have to wait until then to dive in, because you can start reading it right now, below:
The Seasonaires by Janna King, $26, Amazon
CHAPTER 5
Mia's eyes grew wide as she entered the estate, her mouth agape.
"You're catchin' flies, sugar," said Presley, passing her.
The airy living room looked like it could've been on the cover of Elle Decor, one of Mia's mom's favorite magazines. Overwhelmed by the grandeur and the floor-to-ceiling harbor view, Mia backed into a chair, almost sitting on Cole's lap.
"Sorry."
Cole chuckled. Mia instead sat on the cream linen couch next to Jade, who offered a perfunctory smile. J.P. took the ottoman closest to the couch, though Jade pretended not to notice. Presley had disappeared.
Lyndon stood in front of the fireplace. "I'm not going to stay long because this is your summer. But I wanted to welcome you personally." She smiled warmly. "You were all hand-picked to represent my brand because your videos proved you have the drive, the story, and the look."
"Smashing!" added Grace. That's when Mia remembered: Grace was the woman who came into the thrift shop that February, though her hair was now red.
"We go over and above the other clothing lines represented on the island," continued Lyndon.
"Over, not under." Grace mimed. "No booty shorts with underbum, no crop tops with underboob." Part of Grace's job was to say what Lyndon was thinking.
"But sideboob is okay?" From the loveseat, Grant eyed Jade, whose loose tank dipped low beneath her armpits.
"When done chicly." Lyndon nodded her approval.
Vincent focused his lens on Jade and Mia. Jade posed in an effortless and natural way, leaning her arm on the couch back, long legs crossed at the knee. Mia pressed her knees and ankles together and sat tall, offering a stiff smile. Realizing she was stiff made Mia even stiffer.
"Vincent's camera can wirelessly post to our social media," explained Lyndon. "But we expect you to grow your own social by cataloging everything you do."
Grace held up her smartphone. "You know the drill. Snapchat is moment-to-moment, Instagram is that big daily post. Instagram Stories should be visual snippets of your day."
"Four posts every twenty-four hours," instructed Lyndon. "Tag the brand. Tag each other."
Two "pops" from the kitchen diverted everyone's attention.
"Champers!" Presley glided into the room, holding a tray with two bottles of Dom and eight glasses.
"Presley is our returning seasonaire," said Lyndon. "The seasonaire with the most followers across all platforms will be invited back as our star influencer."
"Presley could return again if no one catches her," added Grace.
"I wasn't named 'Presley' for nothin'," said Presley. "But who needs The King when you have the queen?" She looked so full of herself she could've burst into a spray of hot pink confetti. As she walked around with the tray, everyone took a glass. Grace poured from one bottle, first for Lyndon, then herself. Presley poured for everyone else, spilling a drop on Mia's lap.
"Oops, my bad," she chirped.
Mia gave the wet spot on her skirt a quick brush.
"Let's toast." Lyndon lifted her glass. "To a perfect summer."
The group clinked glasses. Vincent took more photos.
"Look each other in the eye when you toast," said Grace. "It's good luck."
Mia and Cole locked eyes with an awkward chuckle.
"Seven years of bad sex if you don't," said Grant, trying to lock eyes with Jade, who rolled hers.
"That's a French superstition. Parlez-vous français?" Vincent asked Grant in his charming French accent.
"Two years of high school Spanish that I don't remember. But we had a foreign exchange student who taught me a few things." Grant winked. Vincent furrowed his brow and went back to his camera.
Lyndon put her glass on the mantel and picked up her purse. "I'm going to leave you to your adventures. You have the calendar of events. Make the most of everything!"
"But don't make too much of a mess." Grace took both her and Lyndon's glasses to the kitchen. "Our housekeeper, Nadege, comes only once a week," she called. She returned and handed Lyndon her work tote. She picked up her own, then tossed LW monogrammed T-shirts to everyone from a canvas shopping bag filled with them. She left the bag next to the front door. "Pass the rest out tonight at The Rabbit Hole."
"Sunday nights The Rabbit Hole is our hangout." Presley sat in an armchair and sipped her champagne.
"We'll be watching your social, so stay out of trouble." Lyndon's subtle smirk deliberately contradicted the warning. "And stay on the island."
J.P. rushed to hold open the door. "Pleasure to meet you, ma'am."
Lyndon cupped J.P.'s chin. "Never call a woman under forty ma'am."
"Apologies." J.P. glanced at his feet as Lyndon released his chin. "What should we call you?"
"Lyndon." She smiled at everyone and was gone.
After the door closed behind Vincent and the sisters, Presley turned to J.P. "How do you breathe with your nose so far up there?"
"Through my mouth."
Everyone laughed.