The Secret Behind Jennifer Hudson's 'Dreamgirls' Solo Explains So Much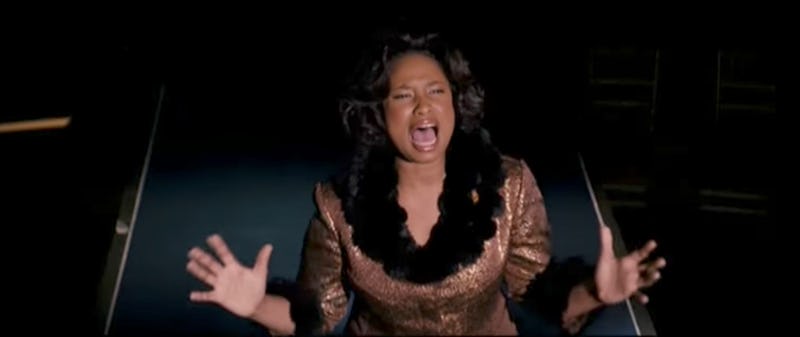 Paramount
There are certain films that are simply timeless, with performances that'll may elicit chills when watching. 2006's Dreamgirls is one of those films. And although the cast is stellar (Beyoncé, Jamie Foxx, Eddie Murphy) and performances are infectious across the board, there is one show-stopping moment that undeniably remains the best moment of the film: Jennifer Hudson's "And I'm Telling You" is unmatched. But there's more that went into creating the iconic number than fans may know.
Though the song helped the actor win her first Oscar (for Best Supporting Actress), there was quite a process before she became such a force on screen. While celebrating the new Director's Extended Edition of the film, out now on Digital HD and a Blu-ray Combo gift set, director Bill Condon reflects on the journey to crafting Hudson's mind-blowing solo, 10 years later.
In Dreamgirls, three African American female singers in the '60s dream of stardom but quickly learn the price of fame. The group dynamic shifts as competition and romance cause tensions to rise, and Hudson's solo is a stunning showcase of all that heavy emotion.
On the heels of American Idol, it was Hudson's portrayal of Effie — who feels her natural talent is being ousted by the more attractive member of the group —  that truly put her on the map and proved what she was capable of. But according to Condon, her first audition was actually a little rough — as she was far from a seasoned vet.
Condon explains that Hudson went through three auditions in a serious vetting process, revealing in the first go-round, she was somewhat "unprepared." He blames it on the nerves and lack of confidence. "It's hard to walk into a room and sing 'And I'm Telling You,'" he says. "I think she got a little lost in the middle of it." But Condon and his team had their eyes set on Hudson and knew she was capable of bringing Effie to life.
"She wasn't great that day but we wanted her to be and knew she could be," he explains. So she auditioned a second and third time, and each one got better and better. In the final round, Hudson performed in costumes and a wig and was filmed — that's when the magic happened. (Her never-before-seen auditions and screen test are included in the Digital HD and Blu-ray Combo gift set.)
Once Hudson was cast, Condon admits there was immeasurable pressure to nail "And I'm Telling You" — the most iconic part of the film (based on the Tony Award-winning Broadway show). "We kept saying, 'We could get everything else right, if we get this wrong, it doesn't matter,'" he recalls.
He actually directed Hudson to refrain from crying while ripping her heart out on stage (he "always think[s] it's the audience who should be crying"). And Hudson was able to get there, mentally and physically, because of her private, behind-the-scenes prep on set.
The director says Hudson would remain by herself in between takes, listening to music. He later learned what Hudson would listen to: songs her grandmother, who taught her how to perform, loved and shared with her. Dreamgirls' story hit close to home for Hudson, as she believed her grandmother was talented enough to be a performer, but never had a chance to. Fittingly, Condon also reveals Hudson would also listen to recordings of her grandmother.
In the scene, Hudson completely surrenders herself to the role and music. With such phenomenal vocals and raw emotion, she captures audiences in a riveting number that's nearly impossible to look away from. Taking inspiration and heart from her grandmother could explain how she was able to bravely tap into that vulnerability.
According to Condon, Hudson was so serious about channeling Effie that she even went in to rerecord the track (which was originally prerecorded during rehearsals) in the middle of shooting, because she grew to know the character better. "And I'm Telling You" was the very last scene shot after months of shooting. At the end of the process, Hudson was far from the timid woman who auditioned.
"She made it explode, made it her own, and just goes gospel," Condon says. "She had this great phrase, 'I'm gonna Jennifer-ize this part.'" And that she did. By pulling inspiration from her roots and truly finding it in herself to be great, Hudson came such a long way to deliver an exceptional performance.
"For somebody who'd never been on a movie set before, she should live with Effie for as long as she could," Condon says. Like Effie, Hudson overcame obstacles to reach greatness and her solo will always be a reminder of that.