These Are The Sexiest Netflix Original Movies & TV Shows Streaming Right Now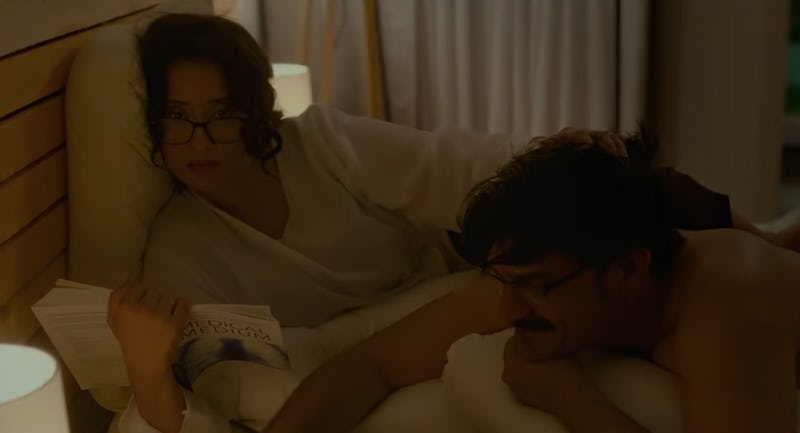 Netflix
Netflix releases a lot of original shows and movies, and it can be hard to sort through them, even if you know exactly what kind of viewing experience you're looking for. So, if you're looking for the sexiest Netflix Originals, below are four movies and one series that you might want to check out. The number might seem small, but consider the fact that although there's a Netflix category for "Steamy Movies", there isn't (yet) a Netflix category for "Steamy Netflix Originals." It takes some digging, OK?
Of the options below, four are foreign-made — two French, one South African, and one Indian. There are sexy movies made in the U.S., obviously, but for whatever reason they aren't really being distributed or produced by Netflix at the moment. And while all the movies and series listed involve sex, they all have a lot more going on, too — from a woman opening up about her bisexuality, to a discussion of race relations in South Africa, to a staged kidnapping that gets even more complicated than a staged kidnapping already sounds.
If you're ready to mix things up with a new foreign film (or are just desperate for more sexy movies and the Netflix categories aren't doing it — no judgement), then check out the list below and see what speaks to you.
To Each, Her Own
This French film is about a woman named Claire who is ready to come out as gay to her conservative family and reveal that she's married... but then she starts hooking up with a male chef. Eventually, Claire takes ownership of both relationships and her bisexuality to her family and to herself, but there's quite a bit of sex along the way.
Catching Feelings
Catching Feelings is a romantic-dramedy about South African couple, Max and Sam, who end up sharing their home with a writer named Heiner. It's about racism and class in post-apartheid South Africa, but also about the sexual relationships between the characters.
In The Shadow Of Iris
Another French film, In the Shadow of Iris (which was originally released as Iris) is an erotic thriller about a woman who goes missing. According to The Hollywood Reporter, "Iris was supposed to be filmed in English but the combination of sex and ambiguity finally proved too risky or complex for the U.S. market and the project was made in the world's most famous sanctuary of the sexy art film." While it was first released in France, it is distributed solely via Netflix in the U.S.
Easy
Easy is an anthology series with a wide-ranging cast including Malin Åkerman, Orlando Bloom, Dave Franco, Elizabeth Reaser, Hannibal Burress, and Aubrey Plaza. The show is about a whole bunch of people dating and in relationships in Chicago. During the first season, for instance, one couple is looking to have a threesome and one is trying to bring sex back into their marriage. Two seasons are currently available.
Lust Stories
This Indian anthology consists of four short films centered around women with the common theme for all of them being sex. A review at Mashable pointed out that Lust Stories is something different from Indian cinema compared to the Bollywood films that Westerners are more familiar with: "But as the title suggests, the through line of these stories is not love, but sex. Love is Bollywood's be-all-end-all, the strongest force in the universe whose life-or-death stakes can usually be consummated by a tight hug in an open field."
Whether you choose to travel to France, South Africa, or India, or stay in the states, hopefully these films have what you're looking for.