The New 'She-Ra' Voice Cast Includes Some Major Names, Including Sandra Oh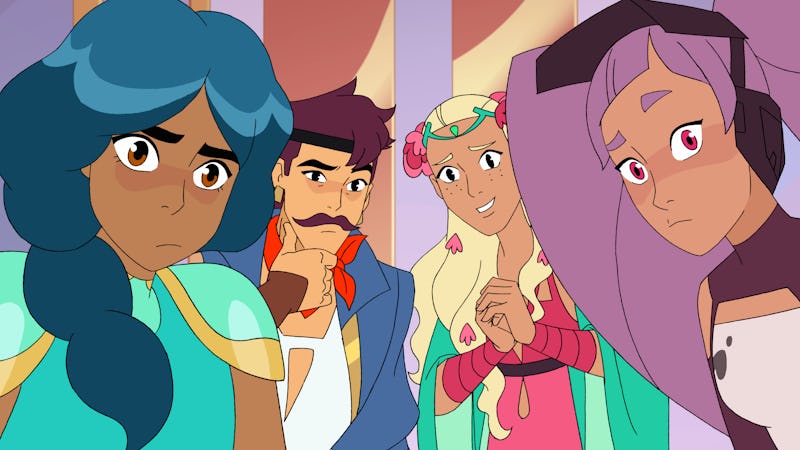 Netflix
Netflix's She-Ra And The Princesses of Power may be geared towards young girls, but there's so much for fans of all ages to love as these rebellious heroes rise up to fight evil, learn how to work together, and go to prom. One thing you're sure to love is the voices behind this diverse group of princesses. The cast of She-Ra and the Princesses of Power is bringing old favorites to life in new ways.
Most of the characters in the new Netflix series from Noelle Stevenson, the cartoonist behind Lumberjanes and Nimona who fangirls everywhere know best as "gingerhaze," appeared in the 1985 Masters of the Universe film The Secret of the Sword and the subsequent series She-Ra: Princess of Power. This time around, the princess and her team of rebels are front and center. This group of women, and some men, are all different; some love flowers and swirly dresses, some weaponize their hair, some prefer robots to people, the actors include LGBTQ performers and people of color. And many of the She-Ra have realistic body types (for cartoon characters, that is).
She-Ra And The Princesses of Power also includes major names in minor roles including Sandra Oh (Killing Eve, Grey's Anatomy) as Glimmer's aunt Castaspella, comedian Adam Ray as Swift Wind, Jordan Fisher (Grease! Live, Rent Live, Liv and Maddie) as the sea shanty-singing pirate Seahawk, and Lorraine Toussaint (Orange is the New Black) as the evil Shadow Weaver. Here's the main cast of voice actors below, many of whom you already know and love.
Aimee Carrero as Adora/Princess She-Ra
The Young and Hungry star also plays a Disney Princess in Elena of Avalor.
Karen Fukuhara as Princess Glimmer
Glimmer is desperate to start a rebellion when she meets Adora, though she sometimes has trouble getting her voice heard. No stranger to complicated heroes, Fukuhara played Katana in DC's Suicide Squad.
Marcus Scribner as Bow
Rounding out the Best Friend Squad is this black-ish actor, voicing the comedic relief.
AJ Michalka as Catra
You might know her as one half of Aly and AJ, and the actor behind Adora's devastated best friend and rival is also on The Goldbergs.
Genesis Rodriguez as Princess Perfuma
"Flower power" might be an understatement when it comes to everything this Big Hero 6 and Time After Time performer brings to the reboot.
Vella Lovell as Princess Mermista
If Mermista's bored drawl sounds familiar to you, that's because she plays a similarly aloof yet friendly character on Crazy Ex-Girlfriend, Heather!
Christine Woods as Princess Entrapta
Everyone had a friend like Entrapta growing up, the kind of girl who loves science and referred to parties as "social experiments" while standing off to one side. The actor played the villain Officer Dawn Lerner on The Walking Dead, and is also known from Flashforward and Perfect Couples.
Lauren Ash as Scorpia
She may be on the side of evil, but she loves hugs! Ash plays Dina on Superstore and was Marika on Super Fun Night.
Krystal Joy Brown as Princess Netossa
Broadway fans know the actor behind this princess (who tosses nets, get it) from Leap of Faith, Motown: The Musical, and Big Fish.
Noelle Stevenson as Princess Spinerella
Cameo alert! The creator herself voices this rebellion ally, according to the New York Times.
Merit Leighton as Princess Frosta
Think Lyanna Mormont meets Queen Elsa. Fierce, right? She may be tiny, but Leighton's no newcomer. She plays Lucinda the Witch on Sofia the First and Hannah on the Netflix series Alexa & Katie.
Excited yet?! Even more fun voices may pop up as the series goes on, but for now the team is set and they're ready to fight.