The New 'She-Ra' Theme Song Is An '80s Power Ballad You Can't Help But Sing Along To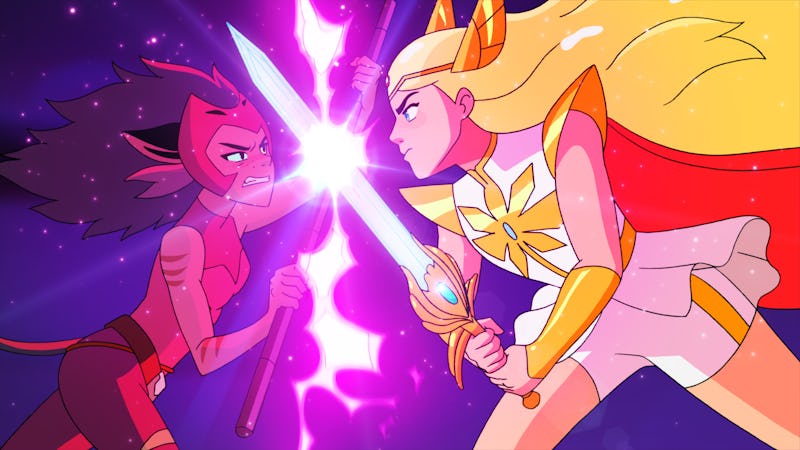 Netflix
Don't you dare hit "skip intro" on She-Ra and the Princesses of Power when you marathon the new Netflix series. If you're really going to recreate the joys of Saturday morning cartoons with this '80s reboot, jams are required. And jams are definitely provided. The She-Ra And The Princesses of Power theme song is a throwback power ballad that will have you punching the air and pumped up to face the day.
The She-Ra theme is performed by Aaliyah Rose, a teenage Youtuber with a huge sound who competed on The Voice in 2017. This type of song isn't her usual style, Rose typically covers current artists like Meghan Trainor, Tori Kelly, and even Wiz Khalifa — but she certainly has the range for this type of power ballad. "I had a lot of influence early on from '80s power ballads," says creator Noelle Stevenson on the phone with Bustle. "Those really big, soaring melodies, and that kind of pulsing beat that gets you so fired up."
It's a new song, nothing like the original 1985 series, but perfect for the reboot's vibe. The lyrics are simple, but powerful, stressing togetherness and friendship, empowering yourself, and the hero's journey. What you hear at the top of every episode is as follows:
"We're on the edge of greatness/ Turning darkness to light / We're right beside you ready to fight / We're gonna win in the end! / We must be strong and we must be brave / We gotta find every bit of strength that we have and never let it go / We must be strong!"
This trailer has some more bits (maybe the bridge, just guessing) of what seems to be a full-length song called "Warriors," according to the description on YouTube. Hopefully that means that the track will be available to download soon. New alarm clock tone, anyone?
Of course, what's more fitting for princesses of power than a power ballad? That genre, for those not old enough to remember — and that's totally OK, this series is geared towards younger audiences — includes wedding dance floor hits like Journey's "Don't Stop Believin'," Huey Lewis and News, as well as a whole lotta Queen, and also includes some legendary female artists like Tina Turner, Bonnie Tyler, Pat Benatar, Madonna, Joan Jett, Whitney Houston, and Cyndi Lauper, among others.
Stevenson said the music from the show is basically everything she listened to while working on the show's "bible." "So I really wanted to capture some of that feeling for the theme song — get people fired up, really energized for the story that we're telling, kinda make them feel like I felt when I was listening to this playlist, like 'I feel unstoppable. I feel like the world is really magic and I can do anything right now.'"
Even just having a theme song on a new series in 2018 is kind of a throwback, given that it's rare anyone sticks around for the credits and intros on streaming sites. But the She-Ra And The Princesses of Power theme is positive, nostalgic, bop if I do say so myself worth sticking around for.