Annie Actually Lets Ryan Meet Her Parents In The New 'Shrill' Trailer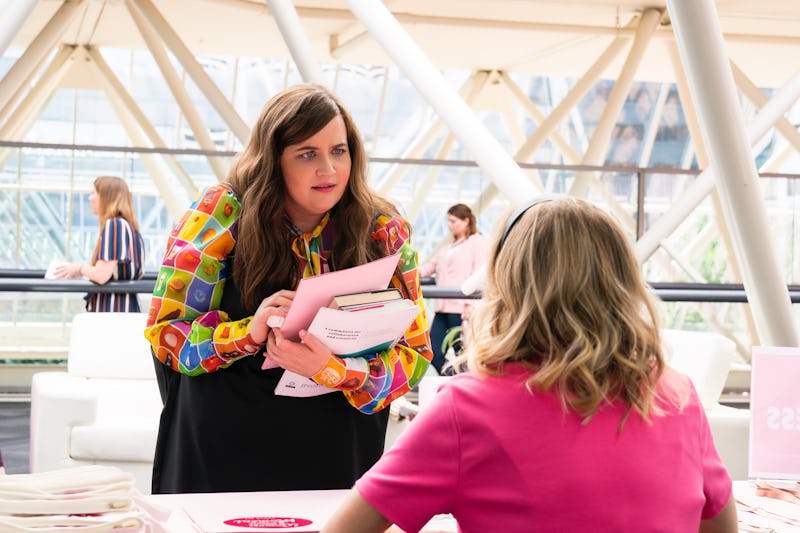 Hulu
Annie is on a mission of self discovery in the new Shrill Season 2 trailer, and that includes taking her relationship with Ryan to the next level. "My boyfriend is meeting my parents tonight for the first time," Annie is shown telling someone in the trailer. And while things appear to get off to a bit of a rocky start (Ryan awkwardly assures Annie's mom that he would never hit a woman), this meeting implies that their relationship has reached a new level of maturity and could end up lasting for the long haul. Or can it?
During a recent interview with USA Today, Aidy Bryant who plays the titular character, opened up about what the second season could mean for Annie and Ryan. "I feel like that's the push and the pull of this season, in a really fun way (that) I think people will find really relatable," she told the outlet, regarding the sustainability of their relationship. "The most exciting thing for me over the course of this season is she starts to realize that just having affection and support may not be enough in what she wants in a partner." If that's the case then maybe these two aren't ultimately meant to be, but Annie's definitely going to have a fun time figuring things out.
At the end of Season 1, Annie was able to finally confront several different demons. She quit her job and came face-to-face with the online troll who had been harassing her pretty much all season. Now, Annie is ready to take that confidence and energy and resonate it throughout every aspect of her life. Sure, she's still in the process of figuring things out, but she's done being a doormat and is determined to better appreciate her own self worth — a sentiment we all should have for the coming year.
Annie isn't the only focus in the trailer, though. The clip also takes some time to introduce Fran's family and the dynamic she shares with her own mother. "I found a life that fits me," she tells her mom, who seems unsure of the direction her daughter's life is going. But despite their differences, the two of them end up having some sort of dance-off at one point, so that's something viewers can all look forward to, proving once again that Fran is a true treasure to the series.
All eight episodes of Shrill Season 2 are set to hit Hulu on Jan. 24.