Kristina & Dean's Fate As A Couple After 'BiP' Is Pretty Certain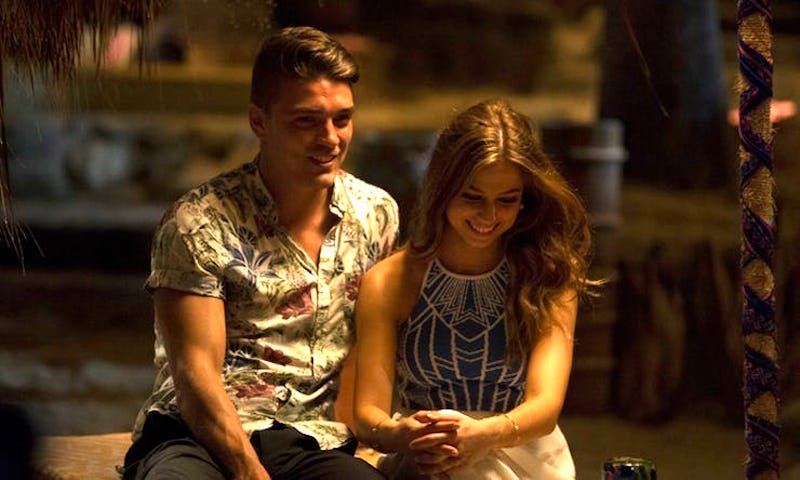 Paul Hebert/ABC
I know, I know, it seems like Kristina Schulman and Dean Unglert are a beautiful Bachelor In Paradise couple, but it doesn't appear that their relationship survived outside of the confines of Mexico's romantic resort setting. Sure, they spent some time together in Kentucky while the show's production was briefly halted, but, when they returned to paradise, things looked less than perfect. Now, there are virtually no signs that Kristina and Dean are together after Bachelor In Paradise.
Sure, they've each posted a photo or two of the other one on their respective Twitter or Instagram accounts, but that doesn't really count as a smoking gun. Instead, it seems like they're going with the timeless script that most cast members use to throw fans off the scent of a budding romance or a fizzled connection. After all, no one wants to be that one person who ruins the edge of your seat suspense of Bachelor In Paradise for Bachelor Nation. So, yes, they could just trying to throw us off by being super casual and not at all gushy about each other, but my gut says they are done.
I don't think that Kristina is the type of woman to just allow the kind of shenanigans that Dean pulled when Danielle. L arrived on to the scene. He was pretty shady about going out with her, then he pulled that whole half-birthday stunt. Kristina seemed extremely hurt by it.
Lately, Kristina's Twitter has been filled with quotes about not needing to change or apologize for who you are for someone else. On top of that, she seemed to call Dean out directly in a tweet and has been busy retweeting fans' words of encouragement to her — most of which are not super flattering to Dean if you assume they are referring to the situation on BiP. That behavior, though totally understandable, isn't really the behavior of someone in the throws of a passionate new romance.
Dean has been silent about the situation on his social media accounts. And, while he's posted a photo or two with Kristina in Paradise, there's been no mention of their situation or gushy words about his former flame.
Unfortunately, if I had to call it, I would say that these two are no longer together after BiP. But who knows? Maybe they're just playing a really intense game of distraction with fans.