Here's What Happened Between Kristina & Dean During The 'BiP' Shutdown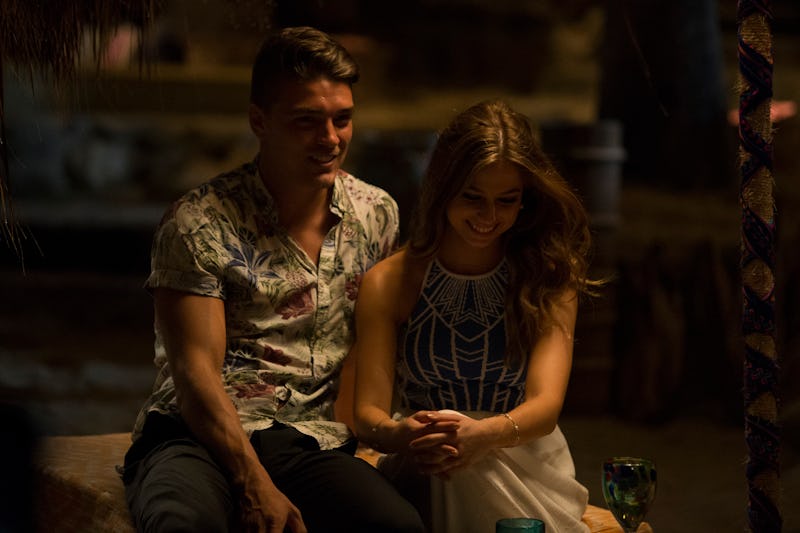 Paul Hebert/ABC
Earlier this summer, Bachelor In Paradise was temporarily suspended while Warner Bros. investigated claims of alleged sexual misconduct, and though the show resumed filming shortly thereafter (no wrongdoing was found), the 10-day gap in production allowed budding couples a good chunk of time to get to know each other off-camera. One of the closest — Dean Unglert and Kristina Schulman — grabbed that opportunity by the horns, but when they returned, it seemed like things were on unstable ground. So what happened between Kristina and Dean during the BiP shutdown?
In the second episode of the season, Dean explained that during the break he went to Kentucky to spend some time with Kristina — a big move, but not one entirely surprising given the strong connection they'd already begun to build. The pair were immediately drawn to each other when they arrived in Paradise, and not just based on attraction: They bonded over their difficult childhoods, with Dean explaining his tense relationship with his father and Kristina sharing her experience growing up at a Russian orphanage before being adopted by American parents.
Neither Dean nor Kristina seem to have addressed exactly what happened while they were in Kentucky, but Dean did reveal a little about the events immediately following the shutdown during his guest appearance on Ashley Iaconetti and Ben Higgins' podcast, Almost Famous. As he said, per Us Weekly:
"I pulled Kristina aside and I guess noted how stressful it must be for her and I gave her like an hour-long massage in the privacy of one of the cabanas. I was doing it for selfish reasons, I just wanted to get one back eventually."
Specifics aside, it certainly seems like their stay in Kentucky brought Dean and Kristina closer, as they were still talking when they returned to Mexico. Dean, however, quickly pulled back, explaining that he'd told her she should feel free to go on dates with other men and, during a later conversation, that he wasn't really sure where they stood. "I feel like we need to nip this in the bud before... you have a rose to hand out tomorrow," he told her.
Based on the upcoming promos, it looks like things will only get more turbulent for #Krisdeana, but their added time together nonetheless gives them a leg up on anyone else in Paradise.