If You Missed Out On The First 'Simpsons' x ASOS Drop, This News Is MAJOR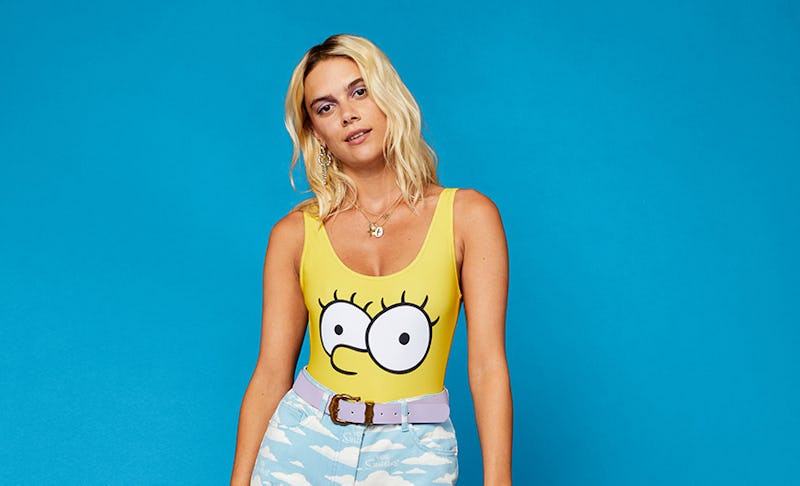 ASOS
If you've been anywhere near the Internet this week, you won't have missed a collaboration between a high street giant and one of your favourite childhood TV shows. The Simpsons and ASOS' collection was released on Thursday to rave reviews. Full of '90s style streetwear including dungarees, bucket hats, and cloud-printed jeans, reminders were set, people logged on, and almost everything was snapped up.
It's not surprising that a lot has already sold out considering the 30-piece collection was hailed as particularly inclusive. Several styles were designed to be unisex with numerous pieces available as part of ASOS' plus-size range which goes up to a UK size 30.
An insider for the brand revealed that the bestsellers were those Lisa Simpson hoop earrings. Seriously, what a bargain at £8. And the white T-shirt showing Homer Simpson disappearing into the hedge also sold out first thing in the morning. It may be part of the menswear collection but a white tee is a staple in any wardrobe.
If you missed out on an item you'd been dying to get, the brand told me that there will be no restocking. *Cry* But you may still have a chance to own a piece of truly unique Simpsons merch as ASOS has revealed that a second drop is in the works.
The new release will be available on the site in the first week of September. There's no word yet on what exactly will be included but prepare for something equally as good as — if not better than — the first lot.
Several people have expressed sadness upon finding that a lot of the collection sold out in one day. "Discovering that there is an ASOS/The Simpsons collection when it's mostly all sold out is like a modern day Greek tragedy if you think about it," tweeted one person. A very poetic sentiment that I wholeheartedly agree with.
Of course, there are calls for a restock. Despite ASOS saying that it has no plans to restock the collection, you never know. If you shout loud enough, the brand may just listen.
Stuff may have prematurely sold out but there are still a lot of things up for grabs — 23, to be precise, at the time of writing. Like this baby pink cloud-printed denim skirt, for example. That's quite a mouthful to say but luckily a lot easier to wear.
And can someone please explain to me how the swimwear is still available? What's wrong with you people? Why wouldn't you want a pair of Simpsons eyes and nose staring up at you from a bright yellow swimsuit?
Several menswear items are also still on the site. Ranging from a knitted jumper showcasing Bart's various facial expressions to a Duff Beer T-shirt, there's something for those looking for a loud statement and for those wanting something much less in your face.
Prices for the initial collection were pretty affordable. Starting at just £8 for the Lisa and Bart earrings, they went up to £60 for a denim jacket perfect for the colder weather that's soon to come.
Let's hope the September drop will be just as purse-friendly.