It Isn't The First Royal Rodeo For The Singer At Meghan & Harry's Ceremony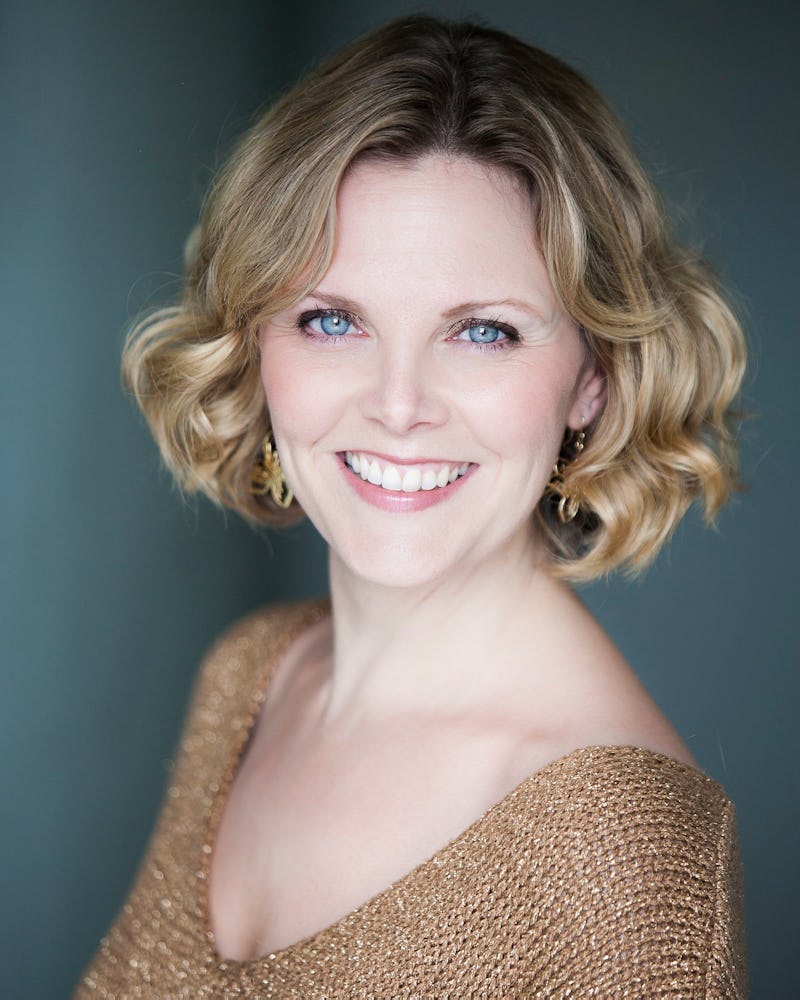 Handout/Getty Images Entertainment/Getty Images
Of course, all eyes will be on Meghan Markle and Prince Harry during their wedding ceremony on May 19, but viewers' ears will be treated to some amazing musical performances. The singer at the royal wedding ceremony is Welsh soprano Elin Manahan Thomas. The official announcement of the royal wedding's musical performances was made from the Kensington Palace Twitter account on April 24 in a series of tweets.
"Prince Harry and Ms. Meghan Markle have shared some further details about the music for their wedding service at St George's Chapel," the royal wedding update began. "The music will be under the direction of James Vivian, Director of Music, St George's Chapel, including the Choir of St George's Chapel, and a selection of choral groups, soloists, and musicians."
In another tweet from Kensington Palace, it was stated that "both Prince Harry and Ms. Markle have taken a great deal of interest and care in choosing the music for their Service, which will include a number of well-known hymns and choral works.

" Along with that same tweet was a link to an article on the Royal Family's official website that included a list of the musicians and other performers for the ceremony along with their musical accolades.
Thomas will be joined by the choir of St. George's Chapel, 19-year-old cellist Sheku Kanneh-Mason, gospel conductor Karen Gibson and the Kingdom Choir, among others. The Royal Family site states: "Elin Manahan Thomas will join the orchestra. Ms Thomas is a Welsh soprano, best known for her performances of Baroque masterpieces, alongside classical and contemporary works."
The Welsh singer shared her reaction to the royal wedding news on her own Twitter account that same day. She wrote, "I'm thrilled to have been asked to sing at such a momentous occasion. It's always an honour to be invited to be a part of a wedding, and getting to share in a couple's big day is very special. Good luck to everyone with the preparations!"
The royal wedding won't be the singer's first big gig. She has plenty of high-profile experience that makes her more than qualified to perform on Prince Harry and Markle's big day. According to ITV, Thomas is a very accomplished singer and is an Honorary Fellow at the Royal Welsh College of Music & Drama, Swansea University, and Bangor University.
In 2012, she performed at the London Paralympics opening ceremony.
The biography section on Thomas' official website says that she is "equally at home performing classical and contemporary works" and has performed at some of the biggest venues and festivals throughout Europe.
Aside from her experience performing at major festivals and events, Thomas has already performed in front of Harry's father, Prince Charles. In July 2016, Prince Charles gave a speech at the Swansea University Bay Campus' Great Hall as part of his annual summer tour. That morning, Thomas tweeted about her performance:
Clearly, Thomas came through with a great performance since the Daily Mail reported (via the Press Association), "Ms Thomas's 'marvelous' vocals impressed Charles, especially after he was told the critically acclaimed singer 'screamed so loudly at the television the other evening (during the Belgium [UEFA Euro soccer] game) she nearly lost her voice'." So, maybe it was Prince Charles who recommended the singer to perform at his son's wedding ceremony. It would make sense.
Thomas posted a screenshot from the article on Twitter and added, "Oh yes: I made a huge impression :) #HRH #football chat."
Now that Thomas has a performance for one royal family member under her belt, she is stepping it up to perform for the entire family, Harry and Markle's wedding guests, and everyone who will watch the wedding on television.
Thomas has a lot of performance experience, but singing at Harry and Markle's wedding ceremony is her most high-profile gig so far. With this performance, she is cementing her place in history.