Why Skye's Presence In '13 Reasons Why' Is So Meaningful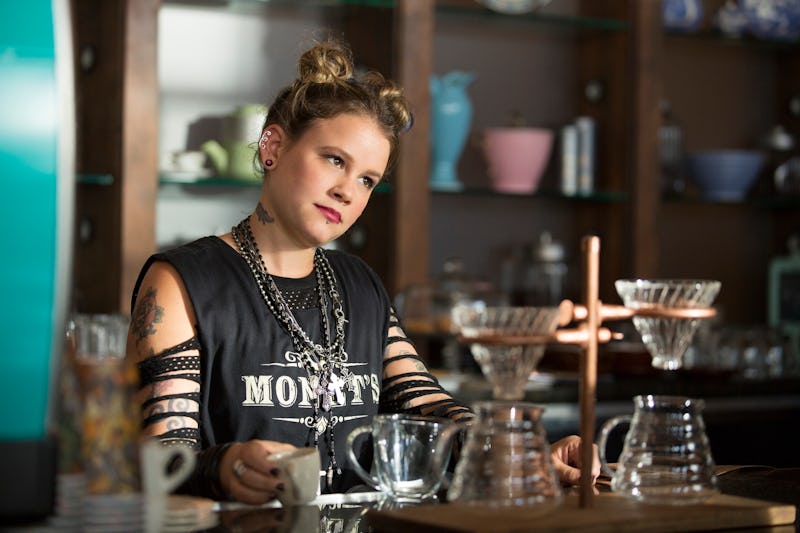 Beth Dubber/Netflix
SPOILERS for 13 Reasons Why through Season 2, Episode 8 ahead. At the end of 13 Reasons Why Season 1, Clay Jenson rode off into the sunset with Tony, Brad, and Skye — who at the beginning of Season 2 is now his girlfriend. That relationship is somewhat short-lived after Skye's self-harming lands her in the hospital, and she is eventually transferred to a mental health facility. Does Skye come back on 13 Reasons Why? Clay spends a good part of the season relaying information to her via voicemail, but her story isn't over.
Skye does return in Season 2, Episode 8 after calling Clay back after weeks (she didn't have phone privileges) — but it appears she's not sticking around. After being officially diagnosed with bipolar disorder, she makes the decision to move to her aunt and uncle's and start over at a different school in another state so that she can focus on her mental wellness and finding medications that work for her. "I need to hit the reset button," she says.
She tells Clay that her mom doesn't want her to go back to Liberty High. Considering the case against the school, this isn't surprising. However, it's clear that this is Skye's choice as well. "I can't keep pretending like I'm OK. Like I don't need to do work to get well. Like it's everyone's fault but mine. I wanna live a better life than that."
It's a dramatic juxtaposition to Hannah Baker and the conceit of the series, but also serves as a reminder that everyone deals with their own struggles in different ways. Clay has trouble reckoning with that. He spends a lot of the season blaming himself for supposedly pushing Skye over the edge and "failing" her the way he thinks he failed Hannah, but Skye's not making tapes and blaming people. She's getting the help she needs.
Skye's story is interesting because she is also one of the only characters on the show who isn't connected to Hannah really at all. She wasn't on the tapes. She's not part of this mystery. She was friends with Clay years ago, but didn't really associate with anybody on the tapes. She simply observed part of Hannah's life because she worked at Monet's coffee shop. She's another person in that world going through similar issues. In an interview with Entertainment Weekly, creator Brian Yorkey said that exploring the worlds of these other characters not just through Hannah's limited POV was part of his goals for 13 Reasons Why Season 2.
"I've said a few times that this show is about the way we raise boys up into men and the way we treat girls and women in our culture — and what we could do better in both cases. And I realized we were just beginning the process of seeing these boys and girls grow up into men and women. It was something that we didn't get to watch with Hannah and I would really love to watch it with these other characters I've come to love."
Is this the last we've seen of Skye, now that she's moving away? Episode 8 certainly felt like a goodbye. Clay worries that Skye is going to forget her, and probably feels like everyone close to him is leaving him at this point, but even if Skye never returns to the world of 13 Reasons Why it's clear that these two characters will continue some kind of friendship. They've impacted each other's lives and have been friends for years. Hopefully Clay will take what Skye tries to teach him about how to help people in need to heart, as well. His efforts for justice are still a bit misguided, but he means well and only characters like Skye are able to both see it and call him out on it.
If you or someone you know are experiencing suicidal thoughts, call 911, or call the National Suicide Prevention Hotline at 1-800-273-8255.