If Your Windows Are Small AF, These Air Conditioners Are Your Answer To Staying Cool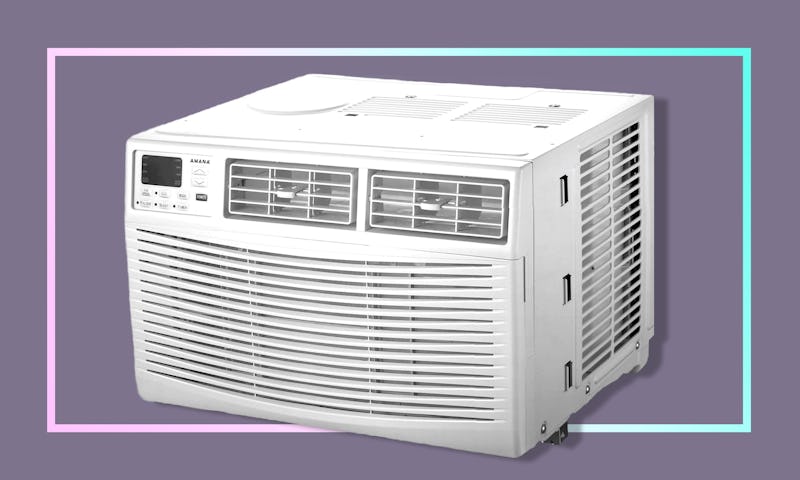 Amazon / Bustle
The first — and most obvious — step in finding the best small window air conditioner for your home is to know just how small of a unit you need. If your window is less than 25 inches wide or doesn't open higher than 15 inches, most standard air conditioners won't fit in your window. But, you're not out of luck, some of the smallest window air conditioners are just a good as their larger counterparts.
To help you find the perfect small air conditioner there a few things you need to know. First, BTU (British thermal unit) matters. Many air conditioners that fit small windows are 5,000 to 6,000 BTU. That's enough power to cool spaces up to 450 square feet. Considering that the average master bedroom in 305 square feet, that should be plenty for most people. But if you are looking for a unit to cool a much larger space, you may want to consider a portable air conditioning unit instead. The best portable air conditioners can be a great alternative to small window units because they sit on the floor instead of the window ledge, so no matter what window size you're working with, you won't need to compromise on power. However, they cost much more to buy and operate.
Another thing to consider is your energy bills. While all appliances need to meet federal energy standards, the most efficient options will have an Energy Star label.
To save you the hassle of searching around for the best air conditioner for small windows, I did a ton of research (read: I sifted through tons of reviews, compared consumer testing reports, and looked at loads of technical specs) to find the three best options for homes with small windows.