Zendaya Is Meechee & The Rest Of The 'Smallfoot' Cast Is Pretty Great, Too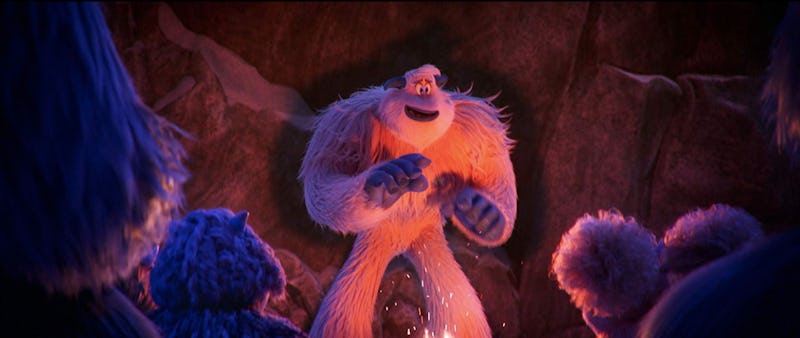 Warner Bros.
If you've been active on Twitter recently chances are you've seen comedian Gabriel Gundacker's viral video, where he sings a catchy song about Zendaya being Meechee. Zendaya is Meechee in Smallfoot, an upcoming animated film about a yeti named Migo who discovers that the mythical creature known as "smallfoot" (human) is actually real. Besides Zendaya's role as Meechee, the Smallfoot voice cast overall is worthy of their own viral song, too.
The actual star of the film is Channing Tatum, who plays protagonist Migo. The yeti meets a human named Percy (James Corden), who he tries to befriend. The issue is that nobody in Migo's community believes him—except Meechee, who is the leader of the Smallfoot Evidentiary Society (S.E.S.).
Besides Tatum and Corden, there are plenty of other stars, too. Gina Rodriguez voices Kolka, a yeti who, like Meechee, is part of S.E.S. Then there's LeBron James, who also gets mentioned in Gundacker's video, voicing S.E.S. member Gwangi. Others include Common as yeti chief Stonekeeper, who is Meechee's father; Danny DeVito as Dorgle, Migo's father; and Yara Shahidi as Brenda, a human who is Percy's assistant, and doesn't believe in yetis.
The cast is very eclectic, but it makes perfect sense. Some of these cast members have plenty of experience with voice acting, particularly Danny DeVito, whose voice became iconic for Disney fans as Phil in Hercules. Plus, Channing Tatum donned his voice in the Lego movies as Superman; Rodriguez had voice roles in The Star and Ferdinand, as well as TV ones in Big Mouth, Animals, Elena of Avalon, and the new Carmen Sandiego show coming out next year; and Zendaya voiced one of the dogs in Super Buddies.
But, for Tatum, Smallfoot became another first, as he had to sing on the big screen for the first time. The film opens with a big musical number helmed by Tatum, titled "It's a Perfect Day!" In an interview with Boston Herald, Tatum explained how this surprising moment came to be. "Karey [Kirkpatrick, the director] was, 'We're thinking of a big kind of musical number in the beginning and all you'd need to do is — but you could even talk sing. Like just the first line of it. All you have to say is, 'What a perfect day!' And then all of the village will kick in. You don't have to do anything else,'" Tatum recalled.
But later on, more songs were added — including a duet with Zendaya. She also gets her own song, titled "Wonderful Life." Some of the other characters get to sing, too, including Corden, whose character puts a new spin on "Under Pressure" by David Bowie and Queen, calling it "Percy's Pressure," and Common also gets to rap in a song called "Moment of Truth." Besides the songs sung by the cast, Niall Horan also sings an original song for the film, titled "Finally Free."
With an all-star cast that has a wide range of talents, Smallfoot is one of the most exciting animated flicks of the year.