The 'SNL' Season 43 Cast Looks Strong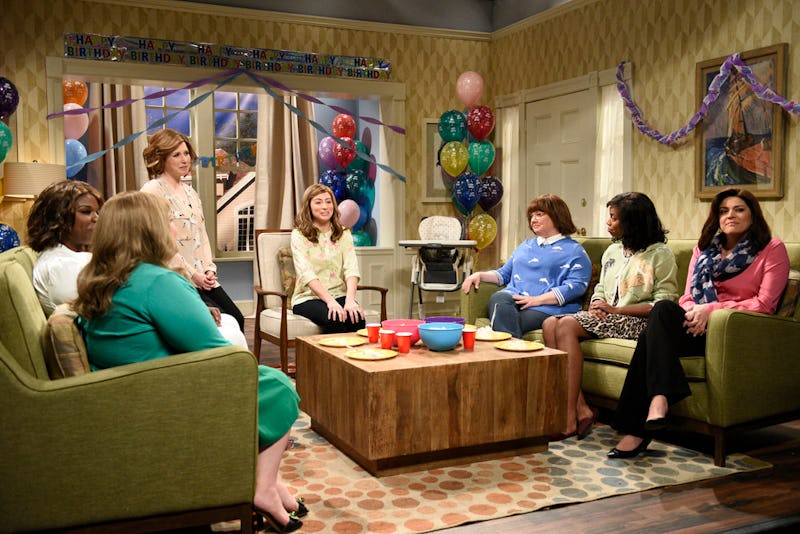 Will Heath/NBC
Because it's beholden to current events, Saturday Night Live had a strange Season 42. The cast and writers were up to the task, but the political events of the last six months are a lot to cover. Now that this unprecedented season is coming to a close, what will the SNL Season 43 cast look like? Season to season, the show can change, bringing on a group of new comedians or losing a bunch of veterans, or both. The 42nd season was heavily influenced by American politics, covering the end of election and the beginning of a new administration. With so many political sketches, it felt to me like half of the cast members didn't get the opportunity to shine.
UPDATE: According to Deadline, Vanessa Bayer is leaving Saturday Night Live after seven seasons. And Entertainment Tonight reports that Sasheer Zamata is leaving the show as well.
Unfortunately, the series rarely announces new cast changes before the new season premieres in September, so there's little news so far about the Season 43 cast. One thing that also remains uncertain: the status of recurring celebrity guests Melissa McCarthy and Alec Baldwin, whose performances as press secretary Sean Spicer and President Donald Trump featured in the majority of the season's post-election episodes. Back in March 2017, Baldwin told Extra he might not play Trump on SNL for "much longer" because "I don't know how much more people can take it." Given that Baldwin has continued to appear almost every week for the remainder of the season, it's unclear if he's changed his mind.
But as for the actual ensemble, there are often signs that suggest whether or not a cast member will return. Here's what I'm speculating about these current SNL cast members:
Vanessa Bayer
After six seasons, it's possible Bayer is nearing the end of her tenure on the show, but there haven't been any signs indicating she's going to be leaving soon.
Beck Bennett
With so many white men in and around the Trump administration, he had plenty of roles this season, but never really got the opportunity to play any signature characters, and his former tight show-partnership with Kyle Mooney has basically evaporated.
Aidy Bryant
She didn't quite get the chance to hone her Sarah Huckabee Sanders impression yet, but otherwise, she's unimpeachable. No one can do a "unhinged, slightly older woman" better, and while that might sound like a niche archetype, it's a surprisingly versatile.
Michael Che
Che has gotten a lot more comfortable behind the Update desk as the news he's reporting has gotten more and more absurd. It's doubtful that the series will mess with a segment that's finally found some footing.
Pete Davidson
Davidson took some time off this season, and as he wrote in a now-deleted Instagram post, it was a result of becoming sober "for the first time in eight years." (He's also addressed his sobriety on the show.) Davidson hasn't yet explained whether or not his scaled-back appearance will continue into next year, if he returns.
Mikey Day
SNL chose new cast members wisely this season. Though Day may have been cast in a few clunkers, he overall had a very strong debut showing.
Leslie Jones
After becoming a movie star in the summer of 2016, Jones had possibly her biggest season on the show so far in 2017. She had a running bit with Kyle Mooney this year and has become a go-to casting choice for at least half of the sketches in an average episode.
Colin Jost
A departure seems unlikely — the last couple Weekend Update hosts have gone on to much bigger projects, so it seems safe to say Jost will stick around to be objectified by Leslie's update self for another season.
Kate McKinnon
A shoo-in to stay. If and when she leaves, there will surely be a big farewell — it would be shocking if she didn't return, since she's one of the few performers who can do pretty much anything, from impressions of Kellyanne Conway and Jeff Sessions, to the absurdity of aged Hollywood actress Debette Goldry.
Alex Moffat
Given that he plays Eric Trump, it seems like Moffat, too, will benefit from the increase in political comedy. He may be cut, but has a good chance of sticking around. He's beginning to be cast as gameshow hosts, suburban dads, and taking up those other kinds of roles that can make an SNL cast member indispensable.
Kyle Mooney
He's still reliably turning sad or pathetic characters into comedic gold, like his woebegone stand up comedian Bruce Chandling. So he should still have a spot.
Bobby Moynihan
According to Deadline, because of other projects, including a new CBS sitcom, Me, Myself, & I, Moynihan will be leaving SNL after this season.
Cecily Strong
In the first half of the season, her Melania Trump was heavily featured, but the last few episodes have been slightly light on big performances from Strong. But when she does get a big role, she nails it, it would be surprising if this leads to her departure.
Kenan Thompson
It feels like every year brings the rumor that Kenan will be leaving the series, but those rumors don't seem to have any truth this year.
Melissa Villaseñor
SNL's first Latina cast member rarely got the chance to show off her many impressions, and only occasionally had memorable roles. Many cast members are cut after their first year, so this could be a vulnerable time for her.
Sasheer Zamata
Unfortunately, Zamata spent another season being largely upstaged. There's no news suggested she'll be cut, but if there's a vulnerable veteran, I'd guess that it could be her.
Overall, this season of Saturday Night Live may have sidelined some of its players in favor of political sketches starring big guest stars, but this is strong cast. And it's pretty large, suggesting there won't be many — if any — newbies added next season, if all of these players stick around.