The Son Behind The #HimToo Meme Wants To Set The Record Straight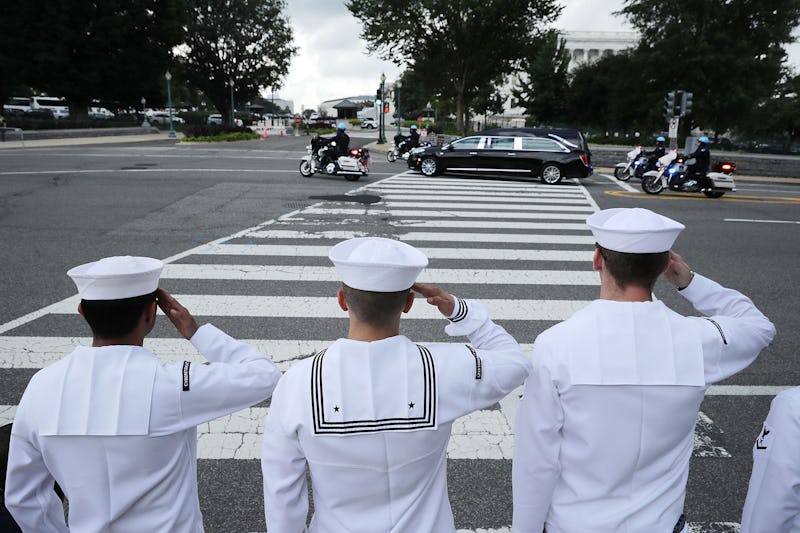 Chip Somodevilla/Getty Images News/Getty Images
Unbeknownst to him, Pieter Hanson quickly became the face of the #MeToo movement's antithesis — the #HimToo movement — when his mom tweeted a photo of him. The picture of Hanson in his old Navy uniform, resting one elbow on a bent knee, was accompanied by a caption claiming he was scared to go on "solo dates" because of false sexual assault allegations from "radical feminists." But it turns out the man behind the #HimToo meme actually supports the #MeToo movement, so he posted a parody of the photo his mom originally posted to explain his side of the story.
"That was my Mom. Sometimes the people we love do things that hurt us without realizing it," Hanson posted on Tuesday morning. "Let's turn this around. I respect and #BelieveWomen. I never have and never will support #HimToo. I'm a proud Navy vet, Cat Dad and Ally. Also, Twitter, your meme game is on point."
His post mimicked his mom's original tweet that's since been deleted. It began, "This is MY son. He graduated #1 in boot camp. He was awarded the USO award. He was #1 in A school." She went on to say that her son "is a gentleman who respects women" but "won't go on solo dates due to the current climate of false sexual accusations by radical feminists with an axe to grind." Her tweet ended with the hashtag #HimToo.
Hanson doesn't know why his mom tweeted about him in the first place, but he asked her take it down, the 32-year-old veteran told The Washington Post. "It doesn't represent me at all," said Hanson, who is currently a student at the University of Central Florida. "I love my mom to death, but boy... I'm still trying to wrap my head around all this."
He created a Twitter account for the sole purpose of setting the record straight — he does not support #HimToo. Although the hashtag began as a way to include male survivors of sexual assault or harassment in #MeToo's efforts to shed light on how pervasive the issues are worldwide, it eventually became a rallying cry for those worried about false sexual assault allegations. However, only 2 to 10 percent of sexual assault allegations turn out to be false, according to a 2010 study published in the the Violence Against Women journal.
As people on the internet are wont to do, Twitter users parodied the original #HimToo tweet featuring Hanson with their own pictures of their "sons." These adult sons ranged from Buster on Arrested Development, to Billy Joel, to adorable animals.
Though Hanson applauded Twitter for being so meme-savvy, he wanted to ensure that everyone knew he didn't actually support the anti-feminist #HimToo hashtag. He told The Post that his life "became a whirlwind" after his mom's tweet went viral, but he found a way to "turn a negative into a positive" by voicing his support for #MeToo.
And for the record, he's not afraid to go on "solo dates," which are just dates.