The Song In The 'Iron Fist' Trailer Is Too Perfect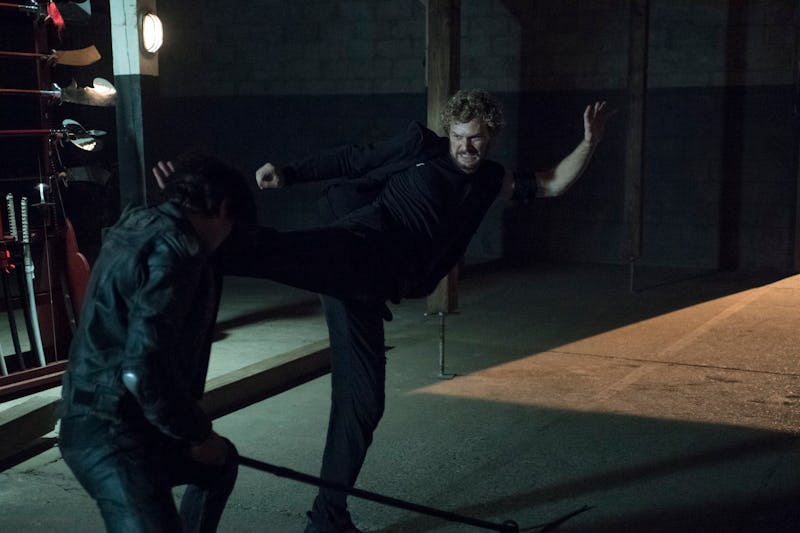 David Giesbrecht/Netflix
Danny Rand is about to show NYC (and Netflix) who's boss, and he has the perfect, adrenaline-pumping theme song to kick some serious butt. On Tuesday morning, Netflix released the first extended Iron Fist trailer; the upcoming collaboration with Marvel premieres March 17. In it, the billionaire protagonist, played by Finn Jones, returns to Manhattan, coming "back from the dead" after having gone missing. He's on a mission to not only continue his father's legacy, but fight corrupt powers of the city — that is, of course, by gaining ultimate control of the Iron Fist. Given his newly-mastered martial arts skills, the song featured in the Iron Fist trailer is more like an anthem that's a perfect fit for the series.
Danny returns as a whole new man who will stop at nothing to defeat evil in NYC, especially with his acquired martial arts power. In the preview, he says he was trained at the mighty K'un Lun, a mystical land of immortals in a chain of mountains in Asia. About one minute into the trailer, Danny's kickass expertise is brought to life to Apashe's 2015 song "I'm a Dragon," featuring Sway. Later, he's shown walking through a Chinatown crowd wearing a mysterious mask, clearly on a mission. The song's intense beat would make anyone feel ready to take charge and the lyrics are next-level.
The song, off the I'm a Dragon EP, is about rising from the ashes and overcoming all with focus and diligence. The set of lyrics featured in the trailer are also the powerful opening of the song:
We put in practice and discipline, no giving up, no giving in
We're match fit, we're here to win
Later lyrics perfectly describe Danny's journey of coming back to NYC and winning, even if it means wreaking havoc:
We're getting in without an invitation
Sound travels and the ground shakes
The show and song themes prove to be perfectly aligned even through the artwork. Here's the show's climactic introduction in the trailer:
And the song's EP cover:
Intense. Danny clearly isn't coming to play, and neither will I when bumping this song at the gym. Thanks, Netflix.