'Star Wars' Cast Reacts To Carrie Fisher's Death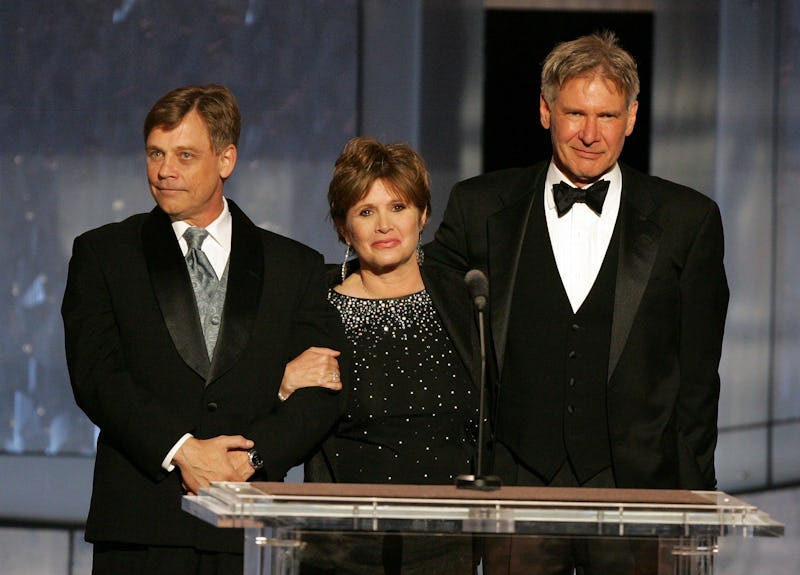 Kevin Winter/Getty Images Entertainment/Getty Images
There has been a huge disturbance in the force and in our hearts with the news of Carrie Fisher's death. Though, fans, friends, and family were already concerned about the 60-year-old star's health following the Dec. 23 news that Fisher had experienced a heart attack while on board a flight from London to Los Angeles, it didn't make the news of her death on Dec. 27 any easier to process. After it was reported by the Associated Press that Fisher was in stable condition at UCLA Medical Center, many of Fisher's Star Wars cast mates and friends wished her a speedy recovery via statements to the press and social media posts. However, Fisher's health again took an unexpected turn when she passed away on Tuesday, leading those same friends to deliver much more somber statements. The Star Wars cast mourned Carrie Fisher on Tuesday with statements and social media posts, showing what a profound impact she had as a co-star.
As part of a show business family — Fisher is the daughter of late actor Eddie Fisher and Debbie Reynolds, and mother to Scream Queens actress Billie Lourd — and part of the Star Wars family, there has been an outpouring of love for Fisher following her death.
Mark Hamill, who played Fisher's twin Luke Skywalker in the Star Wars franchise tweeted that he was "devastated" on Tuesday.
Within minutes of Hamill's post, Anthony Daniels, the actor behind C-3PO, also posted about his grief on Twitter.
Peter Mayhew, Chewbacca actor and longtime friend of Fisher, shared a touching tribute.
The Force Awakens actress Gwendoline Christie also tweeted in mourning of the late princess.
Andy Serkis, who played Snoke in The Force Awakens, also posted a tribute to the late actress.
The man behind Darth Vader's mask Dave Prowse tweeted a sad note Tuesday afternoon.
With one emoji, Simon Pegg captured how many of us are feeling.
Billy Dee Williams who played Lando Calrissian in the original Star Wars trilogy tweeted a message about the passing of his longtime cast mate.
Warwick Davis, famous for playing Wicket and other Star Wars cameos shared a sweet photo and message.
The Hollywood Reporter quoted Lucasfilm President Kathleen Kennedy about Fisher's passing. Kennedy stated:
"Carrie holds such special place in the hearts of everyone at Lucasfilm it is difficult to think of a world without her. She was Princess Leia to the world but a very special friend to all of us. She had an indomitable spirit, incredible wit, and a loving heart. Carrie also defined the female hero of our age over a generation ago. Her groundbreaking role as Princess Leia served as an inspiration of power and confidence for young girls everywhere. We will miss her dearly."
The Force Awaken's Lupita Nyong'o shared a sweet picture with Fisher on Instagram.
Star Wars: Episode IX writer and director Colin Trevorrow tweeted a poignant silhouette of Fisher's iconic character.
Harrison Ford released a statement to Bustle on Tuesday following the news of his longtime friend and co-star's death. Ford said:
"Carrie was one-of-a-kind…brilliant, original. Funny and emotionally fearless. She lived her life, bravely...My thoughts are with her daughter Billie, her Mother Debbie, her brother Todd, and her many friends. We will all miss her."
George Lucas sent a statement to Bustle discussing the passing of his friend who brought life to the princess he created. Lucas said:
"Carrie and I have been friends most of our adult lives. She was extremely smart; a talented actress, writer, and comedienne with a very colorful personality that everyone loved. In Star Wars she was our great and powerful princess — feisty, wise, and full of hope in a role that was more difficult than most people might think. My heart and prayers are with Billie, Debbie, and all Carrie's family, friends, and fans. She will be missed by all."
The Force Awakens director, JJ Abrams also took to Twitter to mourn Fisher's loss.
Clearly she made an impact on the people she met in life, so her fellow actors know the Star Wars cast wouldn't have been the same without her.