The 'Stranger Things' Kids' Real-Life Friendships Would Even Warm The Demogorgon's Heart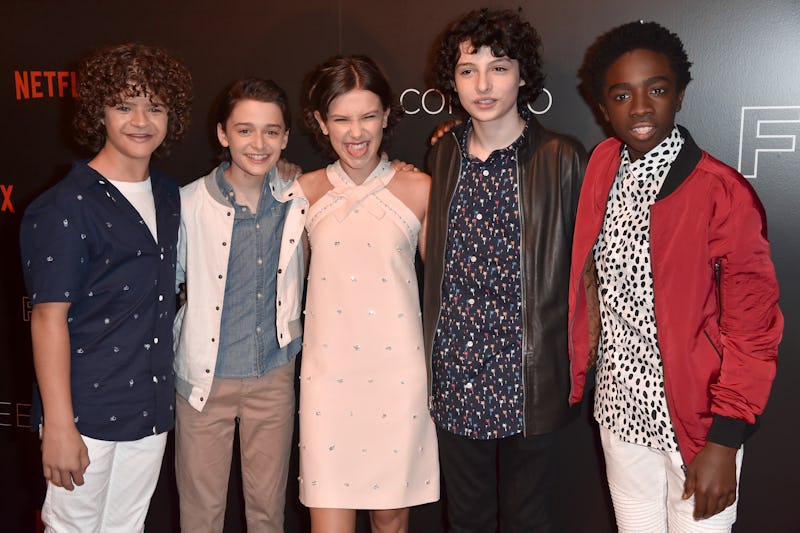 Frazer Harrison/Getty Images Entertainment/Getty Images
It's hard not to fall in love with the young stars of Netflix's breakout series, Stranger Things. They're funny, endearing, and mega-talented, and together, they make '80s nostalgia feel fresh. But the series' strength is also owed in part to the Stranger Things kids' friendships off-screen. Could they pull off ace performances if they hated each other? Probably. But it doesn't hurt that acting like a group of misfit friends isn't just for show; it's a reflection of real life (at least partially, considering they don't have a blood-thirsty Demogorgon chasing them down IRL).
The cast in question includes Finn Wolfhard (Mike Wheeler), Gaten Matarazzo (Dustin), Millie Bobby Brown (Eleven), Caleb McLaughlin (Lucas Sinclair), and Noah Schnapp (Will Beyers), who have, since Season 1's 2016 premiere, come to be known collectively as The Stranger Things kids. In the wake of their newfound fame, they've taken over the Emmys stage with a dance-filled rendition of "Uptown Funk," sweeped awards shows, and generally charmed the large swath of America they can now call fans. So, what's the secret to their close bond?
In an interview with Teen Vogue last year, Brown explained that they started a group chat — which, according to Vulture, is called "Stranger Texts" — before meeting, which helped them get to know each other ahead of filming. As Brown told the outlet,
"We created a group chat, earlier on when we all got the job, so I kind of thought I knew them already. We also had school before we actually filmed this, [so] we knew who the prankster was, we knew who the sensible one was… It just really showed on camera."
Schnapp, on the other hand, thought being friends is actually what helped get them cast. "When they were trying to cast us, they looked for people who had the best chemistry together," he told Teen Vogue. "It really makes sense because if we didn't like each other, the show wouldn't be what it would be." He continued,
"We just all became friends, literally on the first day. We went to school, we all sat together, and we just started laughing. Then, later we started hanging out, having sleepovers. Me and Millie would make these diary things on our phones, called Stranger Things Video Diaries, and we became really close."
Off set, they're normal teenagers: They go bowling, take trips to the movie theater, goof around, make cheesy but heartwarming montages, and take lots and lots of selfies. They also frequently turn to social media to voice their love for one another. "Love these guys. Couldn't have done this without you guys. Love you with every little bit of my heart," Matarazzo wrote in a 2016 Instagram post.
It makes sense then that their Dungeons and Dragons-loving on-screen gang is so convincing: When it comes to the friendship part, they don't have to act much. (The whole fending off an otherworldly monster and fleeing from a team of mad scientists thing, on the other hand, takes considerable effort).
It's a big reason why Stranger Things feels so magical. It may be a fantastical sci-fi time warp, but it also has a lot of real, true heart, and its young stars are a large part of that. Amid all those high-thrill chases, sudden scares, and dangerous trips to the Upside Down are a lot of genuine moments about childhood friendships — the blissful innocence that comes before adolescence, the lessons learned when life inevitably comes along to complicate it, the formation of bonds that last long into adulthood. And the Stranger Things kids don't have to fake it; they're already living it.