The 'Supergirl' Season 4 Trailer Teases New Villains & Allies For Kara Danvers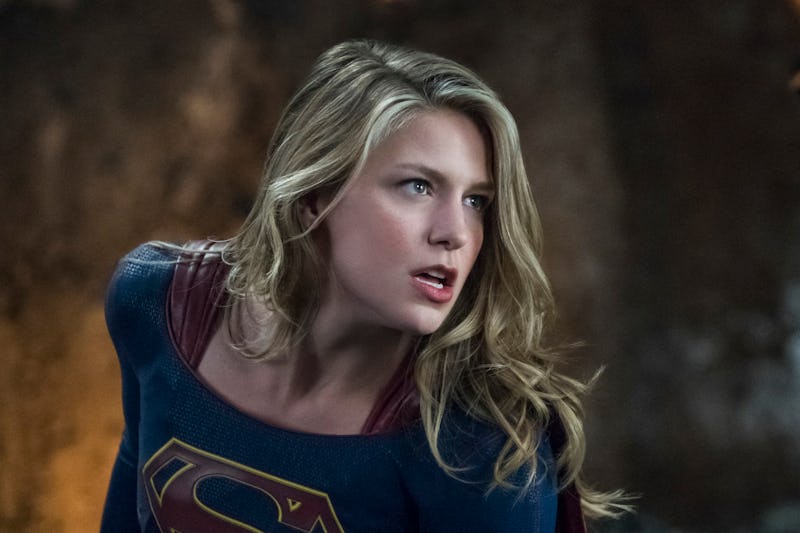 Katie Yu/The CW
Fall premieres are almost officially upon us and with them comes an onslaught of promos and trailers meant to excite fans for all the action to come. And our beloved Girl of Steel is no exception to that rule. A new Supergirl Season 4 trailer has been released and showcases a variety of new faces. But who is a friend and who's a foe? Let's just say that Kara Danvers is going to have her hands full this season.
Villain-wise there will be a couple of different people Supergirl will be forced to go toe-to-toe with. This includes Rhona Mitra, who will portray DC villain Mercy Graves as well as Sam Witwer, who will play Agent Liberty, the leader of an anti-alien group known as the Children of Liberty. Both can be see briefly in the promo in a couple of blink-and-you'll-miss-it moments, but the impact that they'll have on National City's hero may be profound. "Fear. No matter how much we believe in ourselves, that never really goes away," Kara can be heard saying in the trailer. "I think, 'I'm not afraid of anything,' and then something chases me back down the rabbit hole. But once we catch ourselves, we have to jump right back out there."
Could it be these new enemies that Kara is referring to? Odds are they'll definitely play a role in her struggle to believe in herself and not let fear get the best of her. Luckily, she'll still have some allies by her side to help her climb out of this metaphorical rabbit hole. Some of these people are the usual suspects, such as Kara's sister Alex, Jimmy Olsen, and J'onn, but this group will also include a couple of new faces — most notably the person to whom Kara is talking to during her little speech about fear.
Supergirl newcomer Nia Nal, a new CatCo reporter who will eventually become known as Dreamer, makes her debut in the promo, and she's likely to be someone Kara will want in her corner. Nia/Dreamer will be played by Nicole Maines, which will make her TV's first ever transgender superhero. Upon getting cast, Maines opened up about what this history-making moment means to her during an interview with Variety at Comic-Con. "I haven't really wrapped my head around it," Maines explained. "It feels fitting to say with great power, comes great responsibility," while also adding that "I'm nervous because I want to do it right."
Supergirl has always prided itself on having a diverse cast while making their stories and characters as inclusive as possible. (Alex's coming out journey on the series was particularly memorable.) And Maines hopes to continue to add to the series' diverse representation and allow fans to think of superheroes in a way they may not have before. "We can be whoever we want, we can do whatever we want, we can be superheroes, because in many ways we are," she added during the same interview. "We've had trans representation in television for a while but it hasn't been the right representation."
Neither Winn (Jeremy Jordan) nor Mon-El (Chris Wood) will be back as series regulars for Season 4, so it's comforting to know that someone like Nia will have Kara's back in the weeks to come. Knowing how many times National City finds itself in danger, she's going to need all the help she can get.