SCOTUS Blocked Louisiana's Abortion Law & It's An Important First For 2019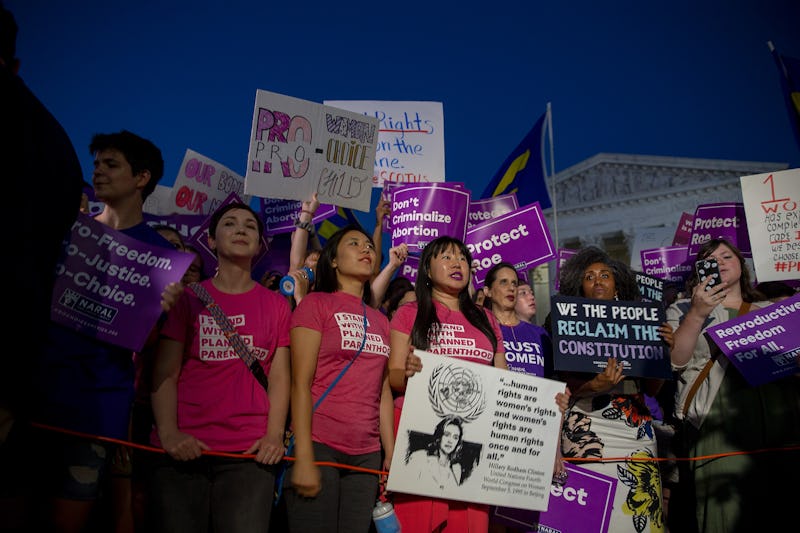 Tasos Katopodis/Getty Images News/Getty Images
The new Supreme Court has handed down an opinion that could indicate how it'll handle future abortion cases in 2019. Pro- and anti-choice advocates alike knew the decision was bound to come out this week, and on Thursday, the Supreme Court blocked Louisiana's abortion law, ultimately preventing clinics throughout the state from shuttering for now.
Because Justice Brett Kavanaugh had never confirmed his personal views on abortion, pro-choice advocates worried his new position in the court could endanger abortion access. Thursday's case, though a temporary win for abortion rights, may have further legitimized that concern. Breaking from the majority, he wrote a dissent noting he would have preferred more info on the law's impact, The New York Times noted.
Before his confirmation, Kavanaugh stated that Roe v. Wade is "settled law," The New York Times reported, but that doesn't confirm he'd stop states from making abortion access more difficult to obtain. The 2014 Louisiana law in question, Act 620, wouldn't have outlawed abortion, per se, but it would have seriously restricted which doctors and clinics could carry out the procedure. More specifically, Act 620, also called the Unsafe Abortion Protection Act, would've required doctors performing abortions to get admitting privileges from a hospital within 30-miles of the actual clinic.
The decision came after Justice Samuel Alito blocked the law from going into effect on the previous Monday, CNN reported. He put the law on hold until Feb. 7, hence Thursday's outcome, so that the court had more time to review details. But the law's history prior to that point is quite the roller coaster.
Though it was passed in 2014, it never actually went into effect. In fact, a court within the Middle District of Louisiana struck it down in 2017, arguing it put an unnecessary burden on women — especially women who can't afford to travel far for an abortion. During that case, CNN noted, opponents made it clear that if the law was enforced, only one doctor in the entire state would be able to offer the procedure.
The Fifth U.S. Circuit Court of Appeals didn't agree. Arguing the law didn't actually pose an undue burden on abortion clinics, unlike the Texas TRAP law struck down in Whole Woman's Health v. Hellerstedt, it upheld it. TRAP stands for "targeted regulation of abortion providers."
As it turns out, Whole Woman's Health v. Hellerstedt did seem to serve as precedent in Louisiana — at least for now. Leading up to the Supreme Court's decision, as The Washington Post pointed out, the Center for Reproductive Rights' CEO Nancy Northrup said,
The Supreme Court has stepped in under the wire to protect the rights of Louisiana women. The three clinics left in Louisiana can stay open while we ask the Supreme Court to hear our case. This should be an easy case. All that's needed is a straightforward application of the court's own precedent.
The Supreme Court's latest decision, however, doesn't stop other states from trying to enact similar laws that target abortion providers. With the Supreme Court expected to hear more abortion-related cases this year, 2019 will play a big role in determining how women's reproductive rights evolve.