Takis Just Launched A Dill Pickle Flavor & The Spice Factor Is No Joke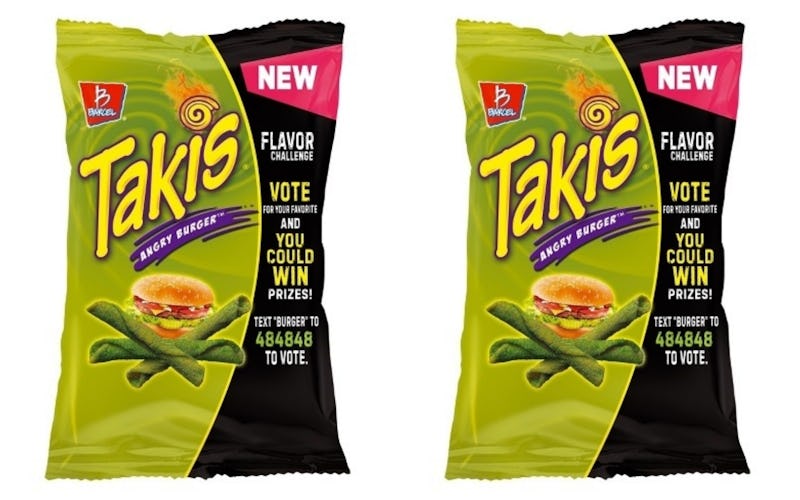 Takis
Veteran snackers are likely already well-versed with the magic that is (are?) Taki's. Dubbed the Mexican Cheetos by many, the salty, spicy snack has quickly become a cult favorite with junk foodies. While it is Taki's Fuego flavor, a pungwnt combination of chili and line that has won over the tastebuds of many, a new, unexpected variety flavor just may be the thing to keep you hooked. Hopefully you have yet to be maxed out on pickle products, because Taki's dill pickle flavor, called "Angry Burger," tastes just like a hamburger with zesty dill pickles.
For its inaugural Flavor Challenge, Takis is rolling out four new unusual and inventive flavors for a limited time. Flavors include Lava, a mix of spicy chipotle and cheesy goodness; Wild, a spicy buffalo-flavored snack; and Titan, spicy chipotle snack with a lime twist, in addition to the Angry Burger. At the completion of the challenge, the winning flavor will become a permanent member of the Taki's lineup.
Even at first glance, it is clear one of these flavors is not at all like the others. Three involve some kind of spicy pepper, and two involve Chipotle peppers, specifically. Then, occupying a category of its own, is the ANGRY BURGER. Who even knew burgers experience emotions? You can bet it isn't angry due to the pickle flavor is possesses.
Pickles pack a puckering punch unlike the rest of the flavors on deck. During what has quickly become he summer of the pickle, it only makes sense Takis would look to the sour snack for flavor inspiration. If you were not already aware, Takis is in some pretty good company when it comes to pickly eats. Trader Joe's has been making its briny, tart Popcorn in a Pickle for awhile now; and naturally, you can find almost anything pickle-flavored on Amazon. Some offbeat highlights include ice pops and soup. So, perhaps Takis are *not* in fact the strangest thing out there flavored like pickles.
Takis' business has certainly become more of a household name in the past year, and Marketing Manager Angela manor is excited to see how the contest impacts sales. "With the growth the Takis brand is experiencing, this contest is a great way to reward and engage our already loyal fanbase, while introducing our fun and bold snacks to new consumers," she explained in a statement. "We're excited to see which of the four new flavors our fans think is worthy of adding to the Takis lineup."
To enter the Flavor Challenge, text your flavor pick as either "WILD," "LAVA," "BURGER" or "TITAN" to 484848. You can also enter via email by sending a message to promotions@takisus.com with your name, address, telephone number and date of birth in the body of the email with the subject line "Takis Intense Flavor Instant Win Promotion." One Flavor Challenge grand prize winner will receive a three-month supply of Takis, a Takis skateboard and a Takis guitar. Ten first prize winners will receive a Takis skateboard and five second prize winners will win a Takis guitar. Taki on!