Pickle Freeze Pops Exist & You Can Buy Them In 48 Packs On Amazon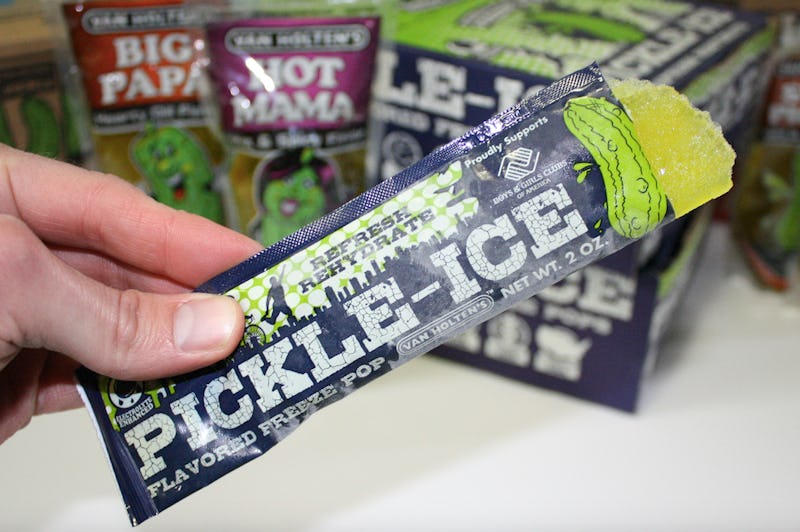 Van Holten's
Pickle people, first, a story: once upon a time, some beautiful genius created the Birds Right Activist Twitter account. Long viewed as yet another account producing strange, silly social commentary that has become inextricable from the platform, in July 2015, Birds Rights Activist slated its status as a body positive icon after tweeting, "I been working on my summer bod: it the same as my regular body, but this time more popsackles in it." Also in that moment, the most underappreciated summer treat finally received much-deserved recognition, and this year it comes full circle with the existence of pickle freeze pops.
There are two kinds of people in the world: those who recoil at the mention of a pickle-flavored popsicle and those excited by the prospect of cooling down with one this summer. If you identify with the latter, you have to check out Van Holten's Pickle Ice Freeze Pops, which are not only available on Amazon Prime, but available in BULK.
Parent company Van Holten says the pickle-ice pops are made of the same juice used to make the pickles they sell. The only difference is the additional electrolytes added for performance-enhancing and recovery purposes.
Pickle Freeze Pop 48-Pack, 19.99, Amazon
Per the product description on Amazon, the popsicles are made of REAL pickle juice, not the fake stuff you find in other products. Plus, something many people don't realize is pickle juice is actually a better for you than a typical popsicle. Pickle juice "is known to be loaded with essential minerals and electrolytes like sodium, potassium, calcium and magnesium that your body needs to perform at its peak," the product description explains. This is the same reason some sports drinks have added sodium — for some athletes, it's important for restoring electrolytes.
Plus, people dig the Pickle-Ice. More than half the reviews on Amazon's page are five stars. One reviewer even swears they helped relieve her post-exercise leg cramps.
Much like how millennial pink is the trendiest hue currently, pickles are bar none the "it" flavor of the summer. Fast food drive-in chain Sonic made headlines earlier this year after announcing the addition of a pickle slush to its legendary lineup of icy drinks. Marla Yagoda of Food and Wine reported the inventive slush may actually appeal to pickle and non-pickle lovers alike. She described the flavor as "Sweet and tangy, the bright brine compensates for the over-savoriness you might have been worried about." So, in hindsight, unless you really dig the vinegary punch of a pickle, you may want to opt for Sonic's take over the Pickle-Ice.
For a boozy take on brine, snag a six-pack of Gordy's Fine Brine. Where the Pickle-Ice and Sonic's slush may be ideal snacks for people of all ages, Gordy's Fine Brine was designed to be paired with one thing and one thing only: booze. The tangy mixer is an artisan take on the salt water pickles come packaged in, and according to the website, encompasses a "perfect balance of salty, tangy, and sweet."
Candy pickles are also available for order on the internet, because of course they are. Life-sized versions of the vinegary vegetable do, in fact come in gummy candy form. They're available for a few dollars from Vat19, and called "good-sized gherkin[s] made of gummy." Rolls off the tongue, no? The candies are approximately four inches in length and weigh four and a half ounces (that is more than a quarter of a pound, for reference). Plus, they don't taste like lime or apple or some other generic green flavor; they taste like pickles. The description on Vat19's website pegs the flavor as both "deliciously fruity," and "deliciously realistic," possessing a "...distinctly dill flavor mixed with the sugary sweetness of gummy."
So, pickle lovers, you have your pick of a lot of pickly products. If you're going for something that truly possesses a pungent pickle flavor, though, stick with the Pickle-Ice. Its only downside is how the folks at Van Holten passed up the opportunity to call it a pickle-sicle (or pickle-sackle, if you're Birds Rights Activist).