The Actor Who Played Tinky-Winky On 'Teletubbies' Has Died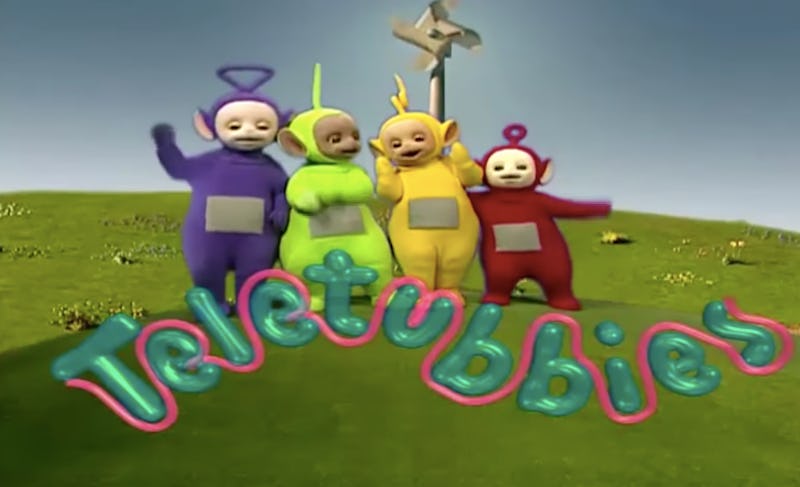 BBC
Some sad news has emerged relating back to a favorite childhood television show for many growing up in the late '90s. Teletubbies actor Simon Shelton Barnes has died at the age of 52, per The Independent. Reportedly, the Tinky-Winky portrayer, who was the father of three children, died shortly after his 52nd birthday on January 17, 2018. Barnes' family, Teletubbies (line producer: Mary Pyke) co-stars, and fans of the show have all spoken out about his unfortunate passing.
The Daily Mail reported that according to a friend of the Teletubbies star, he died of hypothermia after collapsing in the street. He was reportedly a resident of Ampthill in Bedfordshire before his passing. The Independent reports that a funeral service will be held on Feb. 7 and that family have asked those who attend to wear bright colors in his honor.
Barnes was, of course, best known for his role in the BBC program, which he was a part of from 1998 to 2001. Although, he did not originate the role as he replaced original purple Teletubby portrayer Dave Thompson. Even though he wasn't the original Tinky-Winky, Barnes still made the role his own.
According to The Independent, Barnes was a trained ballet dancer and choreographer who was hesitant to step into the role on the children's TV show. Eventually, the actor came to appreciate his time on the program and even called it, "a bit like the Beatles or Take That of television". He also reportedly said that he did think Teletubbies was a "risky" career move for him. "I thought it was a bit of a risky move but it certainly paid off," he said according to The Independent.
In case you were ever wondering what went into making the Teletubbies a worldwide sensation, the cast, including Barnes, did an interview with the Today show in 2007 where they discussed everything from their heavy suits to forming that classic Teletubby talk. The interview also gave some insight into Barnes' past as a ballet dancer and his journey to becoming Tinky-Winky on the show. Considering this most recent news about the former dancer, it's especially emotional to look back on the good times he had with the worldwide phenomenon of a show.
In response to Barnes' passing, his children and family spoke out about him on social media.Barnes' niece, actor Emily Atack, posted a tribute to her uncle on Instagram, as originally noted by Huffington Post UK. The Independent notes that his son, Henry, wrote on Facebook, "I lost my lovely dad on Wednesday, he was the kindest and most gentle man I knew and I love him more than anything!"
The Sun reported that his daughter, Lydia, also wrote a Facebook post in honor of her father and said, "I love you so much Dad... always have, always will. The most beautiful man in the world."
Barnes' former Teletubbies co-star John Simmit, who portrayed Dipsy, the green Teletubby, also expressed his sadness over the news on Twitter. His social media statement was also retweeted by co-star Pui Fan Lee, who played Po, the red Teletubby. Simmit tweeted:
The children's show, which played on PBS in the United States, was incredibly popular amongst the millennial generation (and beyond, no judgments here). Barnes' passing is especially sorrowful for a large amount of people who grew up with the program, and many of those former fans had a lot to say about the unfortunate news.
A Kind Tribute
One Twitter user noted that Teletubbies held a special place in many hearts and thanked Barnes for being a part of the iconic program.
Thank You, Simon Shelton
Another fan echoed a similar statement, and said Barnes helped to make Teletubbies the special show that it was.
"Rest In Paradise"
This Twitter user seems to speak for what many fans might be feeling in regards to this news. She tweeted about how she was "heartbroken" over the news of Barnes' passing and ended her emotional tweet with, "Rest in paradise".
Barnes's Tinky-Winky role in the popular children's show certainly holds a special place in the hearts of many. And the news of his untimely passing is sure to affect many everywhere who were true Teletubbies fans.