The 'This Is Us' Cast Is At The Super Bowl & Mandy Moore's Documenting Everything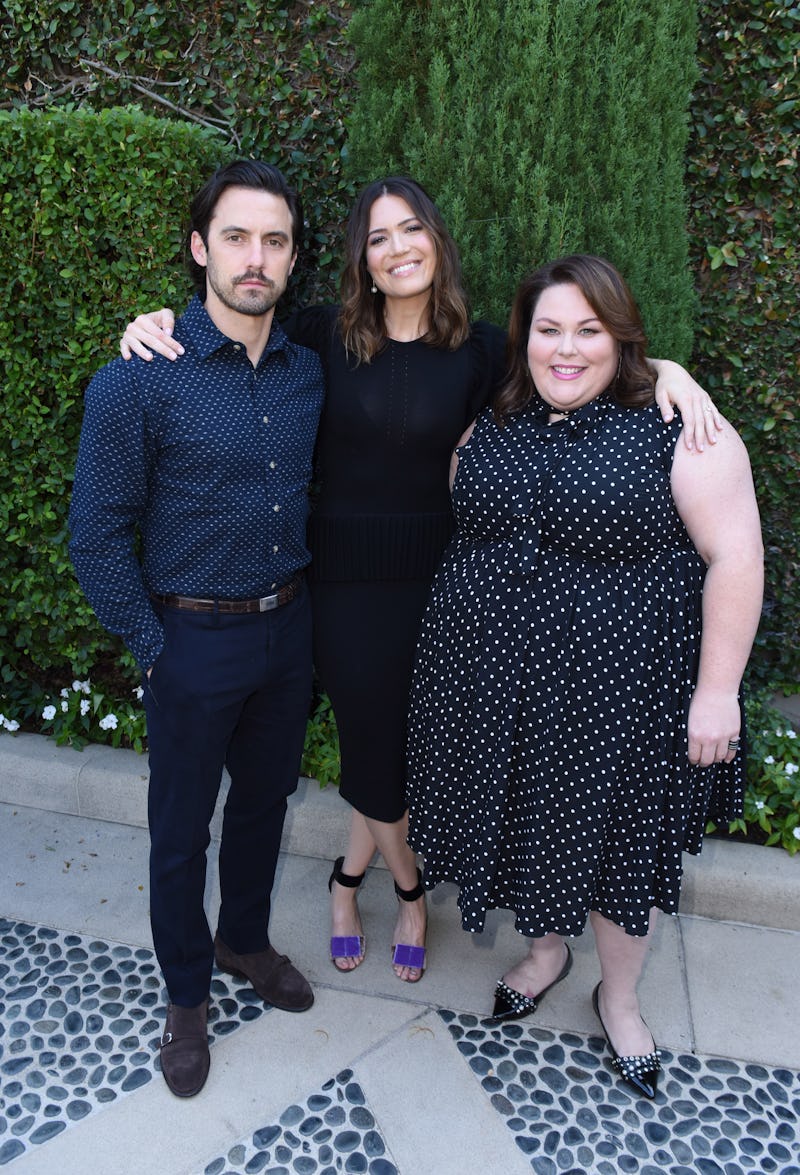 Vivien Killilea/Getty Images Entertainment/Getty Images
Sunday night set up quite the TV viewing conundrum for This Is Us fans. Of course, every fan of the show wants to watch the special episode that will directly follow the Super Bowl (which will give us even more information about Jack's death), but it's just so late a night. Well, know who that's not an issue for? The This Is Us cast, who attended the Super Bowl together. These guys already know exactly what is going to happen and can watch the game in peace without being haunted by images of that slow cooker the same way us fans are. They can also watch the game in person, incredibly close to the field.
Mandy Moore is the cast member who is documenting the trip the most thoroughly, but many of the stars are there, including Justin Hartley, Milo Ventimiglia, Sterling K. Brown, and Chrissy Metz. So, yeah, The Big Three and their parents are watching the Super Bowl in person instead of from their Pittsburgh living room... are you crying yet?
In all seriousness, though, the real life actors — who did not actually lose their patriarch on the day of the Super Bowl — are having a grand old time at the game, even if they don't all love football as much as the Pearsons.
In fact, Moore seemed to be the most thrilled about the experience, if social media is any indication. And the most exciting part for her had to do with someone she met before the game even began. In one of her many Instagram story posts, the actor posted a video in which she says excitedly, "That just happened! That just happened! We met Joe Biden."
She then posted another video in which she added, "I realize that in my excitement I didn't tell you guys that was Joe Biden." Oh, you told us, Mandy. She continued, "That was joe and Dr. Jill, and I'm still not OK, and I don't think I'm ever going to be OK. That was my Super Bowl highlight." Thankfully, she also posted a photo of the cast with the Bidens:
Moore then met another celeb while at the game: Golden State Warriors star Steph Curry:
The woman behind Rebecca Peason also shared an image of the cast getting ready for an interview. Note their very well coordinated outfits that show absolutely no allegiance to either team:
Moore later pointed out that since the Steelers weren't playing, she had to root for the Eagles. (Moore grew up in New Hampshire and Florida, so it seems she just takes her This Is Us role very seriously.) She also, jokingly, shared her "terrible seats." (Ya'll, their seats were so good.)
And, just as a bonus, here are some cookies Moore shared that have Milo Ventimiglia's face on them while he's holding a Steelers jersey personalized for Jack Pearson.
In addition to Moore's Instagram posts, Hartley also went on Instagram live when he was on the way to a Super Bowl event with his wife, Chrishell Stause, and also shared this cute photo:
Metz posted on Instagram stories, too, including a video of her yelling, "Go back to New England, ref!"
Now that the game is over, Moore can celebrate that her default team, the Philadelphia Eagles, are Super Bowl champions. (And, hopefully, share plenty of celebration party pics.) And the rest of us, who are fans of Moore and her co-stars, can keep staring at our televisions for another hour in order to find out exactly how one of our favorite TV characters died in a house fire. It's really been a wild night of television.