How This NFL Star Honored Black Men & Women Killed By Police Without Saying A Word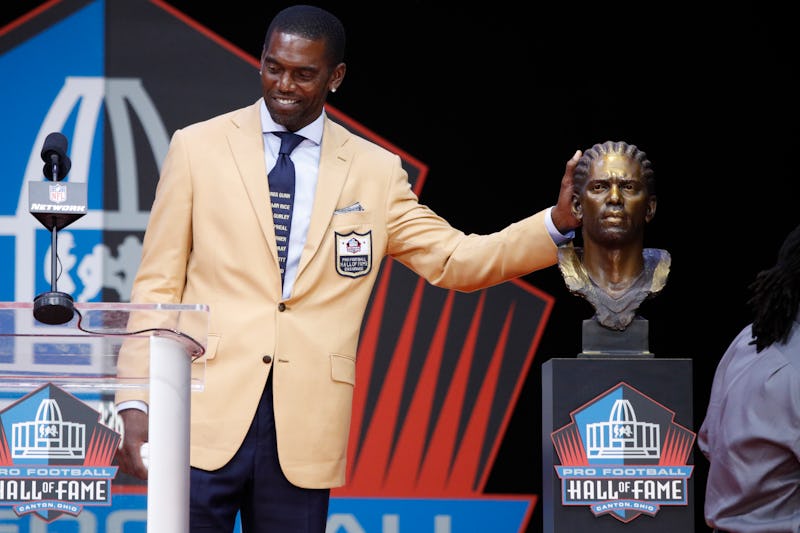 Joe Robbins/Getty Images Sport/Getty Images
A former NFL wide receiver made a big statement at his Pro Football Hall of Fame induction ceremony on Saturday without having to actually say a word. To accessorize his gold Hall of Fame jacket, Randy Moss' tie had names of black men and women who had been killed by police officers or in police custody.
Moss, whose illustrious 14-season career included stints with the Minnesota Vikings, the Oakland Raiders, the New England Patriots, the Tennessee Titans, and the San Francisco 49ers, allowed his clothing to do the talking for him at his Pro Football Hall of Fame induction ceremony in Canton, Ohio, on Saturday. Although Moss didn't mention his tie or the issues of police brutality and racial inequality that it highlighted during his induction speech, he later explained its significance in an interview with the NFL Network.
"We all have kids, we've watched Spiderman before," the former wide receiver said. "Uncle Ben told Peter Parker, 'With great powers, comes great responsibility.' So, you asked me about my tie: We all know what's going on. You see the names on my tie."
Moss said he wanted to use the "big platform" that came along with his Hall of Fame induction to send a message. "What I wanted to be able to express with my tie, is to let these families know that they're not alone," Moss said. "I'm not here voicing; but by these names on my tie, at a big platform — it's the Pro Football Hall of Fame — there's a lot of stuff going on in our country. I just wanted to let these family members know that they're not alone."
The names printed on Moss' tie were, from top to bottom: Gregg Gunn, Tamir Rice, Akai Gurley, Paul O'Neal, Eric Garner, Freddie Gray, Walter Scott, Sandra Bland, Akiel Denkins, Alton Sterling, Michael Brown, and Trayvon Martin.
Fifty-eight-year-old Gunn was unarmed when he was beaten, tased, and finally shot to death by police in 2016. Twelve-year-old Rice was playing with a toy gun when police officers shot and killed him in 2014. Twenty-eight-year-old Gurley was walking unarmed in a public housing stairwell in 2014 when he was struck and killed by a bullet fired from a gun police have claimed accidentally discharged. Police shot and killed unarmed 18-year-old O'Neal in 2016 after he reached toward the waistband of his pants during an encounter with officers.
Twenty-seven-year-old Garner died after a police officer put him in a chokehold in 2014. Twenty-five-year-old Gray died in police custody in 2015 after suffering an injury to his spinal cord. In 2015, a police officer shot Scott, who was unarmed, in the back as he fled from him during a traffic stop. Bland died in police custody in 2015. An officer shot and killed Denkins at close range during a struggle in 2016. Brown was shot and killed in 2014 by an officer who claimed the unarmed 18-year-old had tried to take his gun.
Seventeen-year-old Martin was shot and killed in 2012 by George Zimmerman, a neighborhood watch member in the community where Martin was visiting family.
In the past, President Donald Trump has criticized NFL players who use games or their position as players to publicly protest police brutality and social injustices. He has said that players who protest "maybe.. shouldn't be in the country" and suggested they be punished by the NFL.