The 'To All The Boys I've Loved Before' Cast Adorably Recreated Iconic Rom-Com Moments & OMG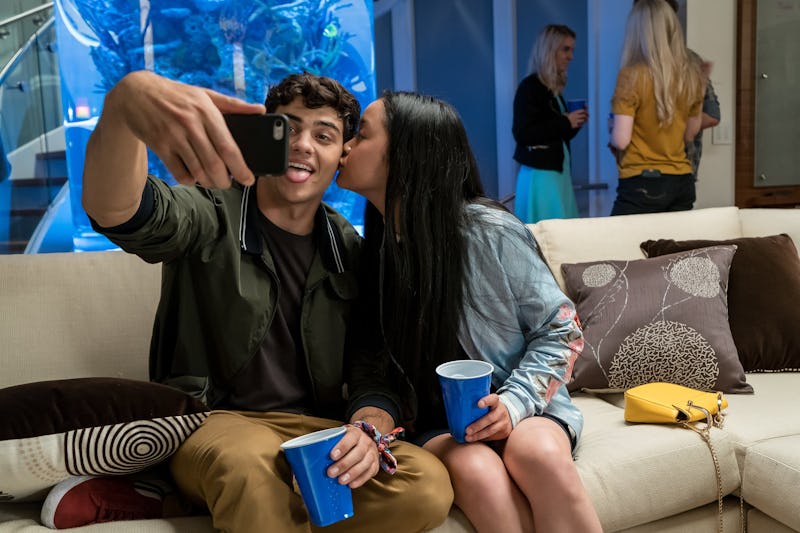 Courtesy of Netflix
Ever since the golden age of romantic comedies in the '80s and '90s, it's seemed like those types of movies were a thing of the past. The type of movie that we loved to watch and re-watch, pining over the debonair and charming love interest and saying "wow that's me" about the protagonist. That is, until Netflix came out with To All The Boys I've Loved Before. Then all hell broke loose. And, in addition to bringing back the rom-com, the To All The Boys I've Loved Before cast recreated iconic rom-com moments just to show us all what, exactly, we've been missing.
To All The Boys I've Loved Before stars Lana Candor as Lara Jean Song Covey, a high schooler just trying to get by as the invisible person she thinks she is. She doesn't have many close friends, and has never had a boyfriend. Instead, when she has a crush on a boy, she writes them a letter to express just how much she loves them. Of course she wouldn't send them; it's just a way to express her feelings without actually telling them. Until one day, when those letter mysteriously find their way into the hands of those boys, Lara Jean's life is turned on its head. But it's not 100 percent horrible; Peter Kavinsky (Noah Centineo), who got a letter, actually proposes the idea of a fake relationship to ward off the rest of the boys that received letters from Lara Jean and also to get his ex back (or at least get back at her).
The adorable movie became the talk of Twitter after it's Aug. 18 premiere, prompting the resurgence of these adorable behind-the-scenes videos of the cast taken by Jenny Han, who wrote the book upon which the movie is based. It turns out that when she visited the film's set, she enlisted the To All The Boys I've Loved Before cast to recreate some of her favorite rom-com moments, even if they had no idea what they were doing.
First up, there's the iconic Dirty Dancing Lift that is seen all over pop culture to this day.
Thanks to Han being the "pushy queen" she is, fans got to see Peter Kavinsky lift Lara Jean Covey into the iconic Dirty Dancing pose — it just screams romance. The cast also gave fans John Bender's immortal fist punch to the air from The Breakfast Club, in a triumphant fashion, executed here by Israel Broussard, who plays Josh Sanderson.
Then she had Madeleine Arthur who plays Chris, Lara Jean's best friend, transform into John Cusack holding up a boombox from Say Anything, with just the right amount of sorrow and hope in her eyes to really sell the scene (even if she clearly didn't have a boom box handy).
And lastly, but certainly not least, is Peter Kavinsky himself, played by Noah Centineo, doing an uncanny recreation of Heath Ledger's musical routine from 10 Things I Hate About You. Not only did he master the high knee kicks Ledger did, but he also has that goofy grin of "I'm trying to escape the campus police at all costs."
Obviously, the thread of videos, which Han posted to Twitter to celebrate the film's release, caused a lot of feelings over on the social media site, with fans flocking to the swoon-worthy moments.
A lot of the fan love came from the fact that Han not only gave us this amazing book-turned-movie, but also is now still giving us great rom-com content. She's truly a giver.