The 'Tomb Raider' Reboot Poster Is Just Like The Original — Minus A Big, Empowering Difference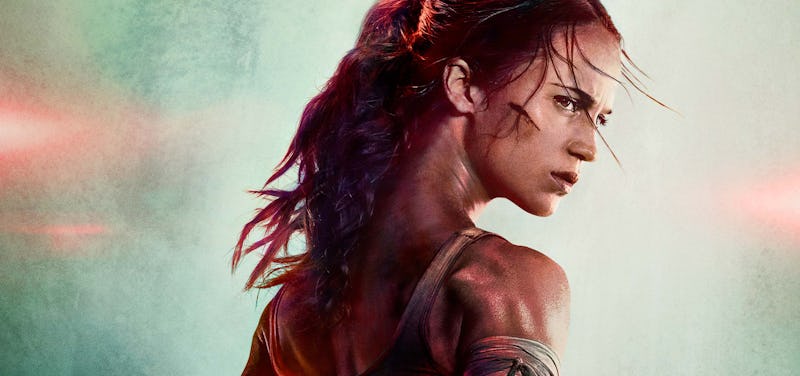 Warner Bros. Pictures
Good news for anyone who's been jonesing for a female-driven action movie fix: the Tomb Raider teaser trailer has been released ahead of the full trailer on Tuesday. And, as if that wasn't enough to get your blood pumping to the tune of adventure, the official poster has been released as well. What is this embarrassment of riches, and where can we bury it so that an ice pick-wielding Alicia Vikander as Lara Croft doesn't swoop in to make off with it?
There are still months until the film's March 2018 release, but producers are getting us amped up early. But even though the teaser is only 15 seconds long, it gives us more than enough to pore over while we wait for both the trailer and the final film. The information-packed clip gives us gives us a sneak peek at some of the formative moments of young Lara Croft.
We get a glimpse of one of her weapons of choice — she wields a bow and arrow — see her plunging into a rushing river and ducking under some formidable-looking spikes, and meet one of her more notable co-stars. In one moment, Vikander shares a meaningful nod with Daniel Wu, who plays a character named Lu Ren, suggesting that the two are aligned. But, beyond than that connection, we don't see the signs of any other relationships, keeping the focus firmly on the star and the character.
The film also stars Dominic West, Walton Goggins, and Kristin Scott Thomas, but it's implied in the promo materials that our heroine will spend much of the film acting alone. Even in the poster she stands solitary, back to the viewer, echoing many of the choices used in the original poster with Angelina Jolie.
This time around, however, the influence of the male gaze is much less intense. The imagery still displays the curvature of Vikander's body, admittedly, but this time it's her strength that's emphasized, not her seductiveness. She wears a tank top and jeans, and has her hair pulled back into a ponytail, a cut bleeding lightly across her cheek. Best of all, she has real muscles carved out on her arms, and a no-nonsense look on her face. This is a woman who means business, and every fiber of her being is transmitting that to the viewer.
But, hey, if you didn't get the message from her outfit, posture, or the look on her face, maybe you'd like to check out the weapon in her hand. Vikander is clutching an ice pick in a way that suggests she knows how to use it, just in case you were considering getting on her bad side.
The origin story of sorts centers around a directionless Lara Croft in the years after her father's disappearance. It fills the audience in on what the iconic character was up to before she was kicking ass and raiding tombs. And the answer to that is mostly drifting. The 21-year-old Lara is taking college courses in East London, missing a lot of class, and making money as a bike courier in her free time. She's also refusing to accept her father's disappearance or to take up his mantle at the company she abandoned.
That's where the film will begin, as she struggles to determine not just what happened to her father, but why she can't let go of the puzzle. And by the looks of it, she'll kick a lot of ass and take a lot of names while doing it. Basically, the poster and the teaser are doing wonders to prove that we'll be seeing a whole new side of Lara Croft.