'Toni Erdmann' Is The Foreign Oscar Nominee To See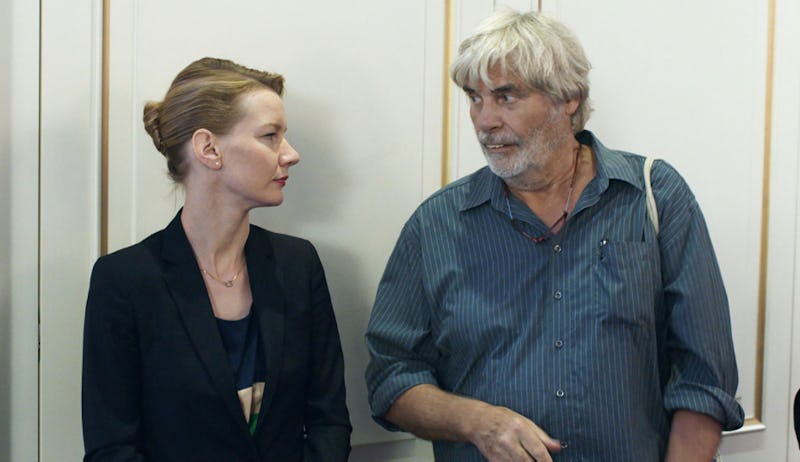 For about as long as Hollywood has been making movies, its also been remaking foreign movies. Often times, they turn out great. Just think of The Birdcage, 12 Monkeys, or Scent of a Woman, all of which are American remakes of various foreign films. Sure, sometimes, they're duds, many of which involve Nicholas Cage for some reason. But regardless of the flops, it seems that Hollywood is going to keep turning to successful foreign films for new possibilities for years to come, and the latest is Maren Ade's Oscar-nominated German hit Toni Erdmann. The movie's remake will reportedly star Jack Nicholson and Kristen Wiig, but while that's all well and good, it's Ade, the film's female director, who deserves the most attention relating to this remake.
Yet not everyone's on-board with a remake happening at all. One look at Twitter, and you can see that fans of the original movie have expressed a variety of reactions about the news, from disappointment to utter terror. Some people critical of it don't see the need to cater to American audiences; Americans shouldn't be "afraid" to watch a foreign film, they argue. Others have focused on the fact that often with remakes of international films, the nuance is lost, details are shed, and that something special disappears. Essentially, folks worried about an American remake are mostly concerned that it will just be bad. Why take a great film and risk ruining it just to make it more relatable to an American audience?
But an American remake of Toni Erdmann isn't necessarily going to be the disaster fans of the foreign film are making it out to be. If anything, an American remake will bring Ade to a much wider audience, at a time when female directors around the world have an incredible need for exposure. With a remake coming out, more U.S. viewers will flock to see the original film, now up to win an Oscar at the upcoming show.
Hopefully they will, because Toni Erdmann is worth seeing. The hilarious film tells the story of Ines, whose life is turned upside-down when her prankster father, Winfried, decides to visit her on a whim while she's doing business in Romania. Winfried's jokester intrusion into Ines' life doesn't go as well as he'd planned, and upon seeing how annoyed Ines has become, Winfried tells her he's heading back to Germany. But that's a big fat lie. Instead, he takes on an entirely new persona named Toni Erdmann, a poorly dressed life coach with a terrible wig and even worse fake teeth who once again inserts himself into Ines' life. Naturally, Ines is mortified, but her business associates and her friends end up enjoying her father's company. Ines eventually decides to play along, and through a variety of comedic situations and encounters, she and "Toni" go head to head.
The film premiered at the Cannes Film Festival in May 2016, and has since gone on to earn repeated praise and a number of awards. It won five European Film Awards, including Best Film, which is a first for a film directed by a woman, and it's now a favorite to take home the Academy Award for Best Foreign Language Film at the Oscars later this month. With all of that praise, it's no wonder that Hollywood is interested in both Ade and her material. It's also no wonder that the project essentially lured Jack Nicholson out of semi-retirement; according to Variety, Nicholson is on board to play the titular prankster with Kristen Wiig taking on the role of his daughter.
To me, the casting sounds kind of perfect, and it's great that according to reports, The Big Short's Adam McKay is producing and may possibly direct. But I hope that the production team will see fit to hire a female director to follow in Ade's footsteps (THR reports that Ade is not involved). The original film touches on the feminist issue of women's challenges in the workforce, and has a decidedly female tone. There's no shame in remaking a great foreign film, but it would be a shame if Paramount saw that greatness came from a female director and didn't also embrace one of the numerous great comedic female directors available stateside.
But I have high hopes that this remake will do right by the original, and my fellow Toni fans should feel the same. If anything, an American remake of Toni Erdmann will bring a great female director more exposure, bring curious viewers to the original film who may have otherwise not checked it out, and bring a beloved actor back to the big screen. Ade might be the next in line of very few women directors to win a Best Foreign Language Film Oscar, so even if the remake tanks, Toni Erdmann is a win.