The Top 4 Got Vulnerable On 'RuPaul's Drag Race' & It Was A Powerful Celebration Of Emotion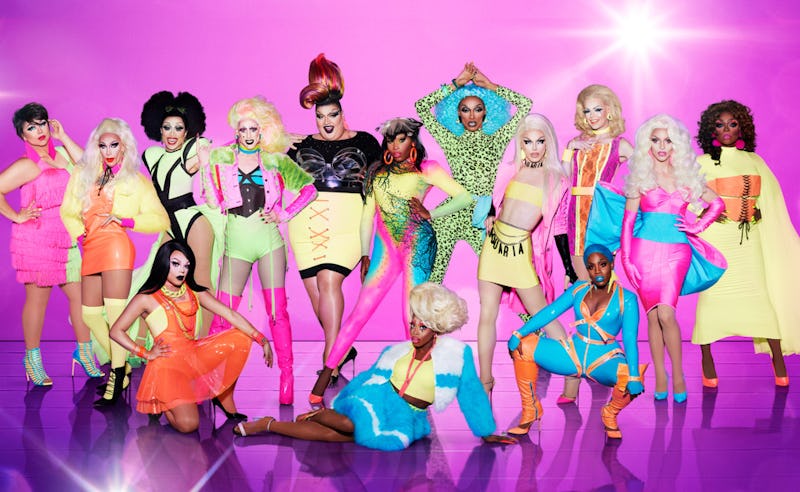 VH1
Now that the top four queens of RuPaul's Drag Race Season 10 have been Ru-vealed, it's getting real for everyone. The finalists — Eureka O'Hara, Asia O'Hara, Aquaria, and Kameron Michaels — are close to the finish line, and Thursday's episode showed how baffled and humbled they are by how much of the whirlwind race is already behind them. And let's just say the drag gods must've been securing those double-stacked lashes with their fierce and fishy powers, because by the end of the episode, there was not a dry eye in the house.
For the maxi-challenge, the queens were asked to write an original verse to RuPaul's track "American," perform it with choreography, and guest star on Ru's podcast in collaboration with Michelle Visage, "What's The Tee?" The whole thing was an emotional rollercoaster from the moment Ru asked them to get personal on his podcast.
Eureka talked about her mother — who was diagnosed with throat cancer when Eureka left home to be featured on Season 9 — as her inspiration and drive. "It took a long time for me to believe that I could come back and make it to the top," she said, "but my momma said that I could." Asia spoke on losing both of her parents in the span of one year, saying, "Mentally, spiritually, emotionally, financially, you have to depend on yourself." Aquaria talked about taking care of herself out of drag: "I'm not Aquaria all the time, and sometimes I forget that." And Kameron opened up about why she never opens up: "I'm my own worst critic."
The queens' original verses also stirred emotions, requiring them to reconcile their journeys to drag and broadcast those vulnerabilities in front of a live audience. The judges even got a little teary eyed listening to their lyrics — especially Kameron's. Kameron sang about pursuing dreams bigger than the small town she came from. "You speak for so many of us," Ross Mathews said. "I got so emotional listening to you sing those words."
After strutting their final four "Eleganza Extravaganza" looks — complete with beautiful and, well, extravagant gowns — Ru assembled the queens on the main stage for the biggest challenge of them all: a trip down memory lane. In a raw scene, Ru asked each of the final four to give advice to the young boy versions of themselves, holding up a home photo of each of them.
"You should be very very proud of yourselves," Ru said to the queens, on the verge of tears. "So many of our younger viewers watch the show to find their tribe, and that's why I ask each of you to take a moment, look back, and reflect." First up was 3-year-old Giovanni (Aquaria). Ru held up a photo of a dark-haired toddler adorned with a boa scarf and pink tutu. "What advice do you have?" Ru asked. He did the same for little Antwan (Asia), David (Eureka), and Dane (Kameron). All of their responses boiled down to a common message: Follow your dreams and forget anyone who tells you that you can't.
This reminiscing sob session, although it surely meant a great deal to the queens, was also important for viewers young and old to hear. It took a step toward making vulnerability empowering, rather than treating it as something that diminishes us. This episode highlighted the fact that it's OK to be honest with yourself about how you feel, and that emotions are not weaknesses but strengths. Mostly, it was a reminder that Drag Race isn't just a fashion show or a gossip circle — it's a place people go to change the world.