There's A New Toy Joining Woody & Buzz In The First 'Toy Story 4' Trailer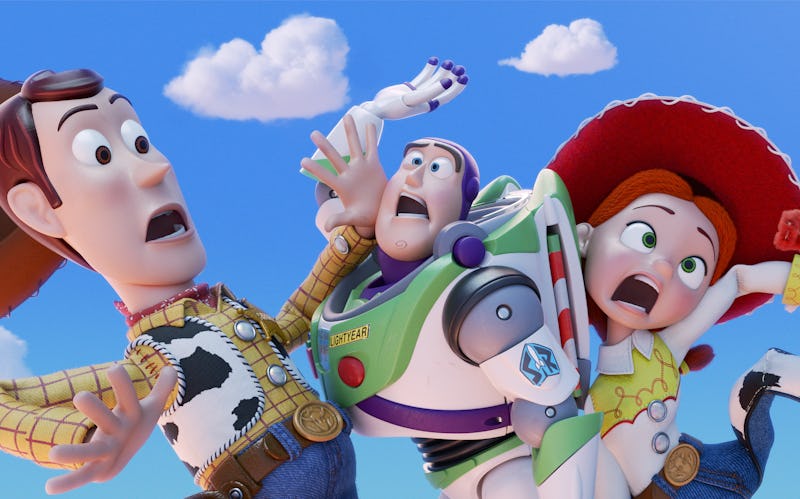 Disney Pixar
Children, both young and old, have been waiting for years to see a glimpse of the new Toy Story 4, and now that first look is finally here. The first Toy Story 4 trailer gives fans a first look at what Woody, Buzz, and the gang formerly known as Andy's Toys are doing now. But that's not all. The teaser also offers audiences a sneak peek at the newest addition to Bonnie's Toys, Forky, and even in the minute-long trailer, you can tell that Forky is going to be a trouble maker.
When audiences last saw Woody, Buzz, Jessie, and the rest of Andy's Toys in Toy Story 3, they were being passed down to Bonnie as Andy left for college. And it's safe to say that Woody and the rest of the toys are still enjoying their new identities as Bonnie's Toys when Toy Story 4 picks back up. However, according to the film's official synopsis obtained by Bustle via press release, that all changes when a new toy is thrown into the mix: "But when Bonnie adds a reluctant new toy called 'Forky' to her room, a road trip adventure alongside old and new friends will show Woody how big the world can be for a toy."
As fans can see in the trailer, Forky's addition to Bonnie's room upsets the balance Woody, Buzz, Jessie and the others have found with the little girl. Granted, the teaser doesn't give too much away, but just seeing how he breaks up the group and runs screaming, "I'm not a toy!" is enough to tell you that he's going to be a new challenge for our favorite cowboy and space ranger.
Not unlike Buzz, who insisted he wasn't a toy in Toy Story because he thought he was a real space ranger, Forky is facing an existential crisis in Toy Story 4. A spork-turned-toy, he's having trouble accepting his new role as a child's plaything. "The world of Toy Story is built upon the idea that everything in the world has a purpose. A toy's purpose is to be there for its child. But what about toys that are made out of other objects? " said director Josh Cooley, via press release. He continued:
"Forky is a toy that Bonnie made out of a disposable spork, so he's facing a crisis. He wants to fulfill his purpose as a spork, but now has a new toy purpose thrust upon him."
Forky will be voiced by Toy Story newcomer Tony Hale (Veep, Arrested Development). "It's a huge thrill to be part of the Toy Story family," Hale said in the press release. "But it's going to take a while for it to really sink in."
Along with the new teaser and synopsis reveal, Disney Pixar also released a new poster for the film, and confirmed that the Toy Story 4 release date is currently set for June 21, 2019. Unfortunately, fans are still months away from seeing Woody, Buzz, Jessie, and more getting into new adventures on the big screen (not to mention hearing Tom Hanks, Tim Allen, and Joan Cusack reprise their roles, respectively).
But, on the bright side, the first Toy Story 4 teaser trailer should make the wait a bit more tolerable. Woody really would want us to look on the bright side, after all.