These New Details About 'Toy Story 4' Will Have You Reaching For The Tissues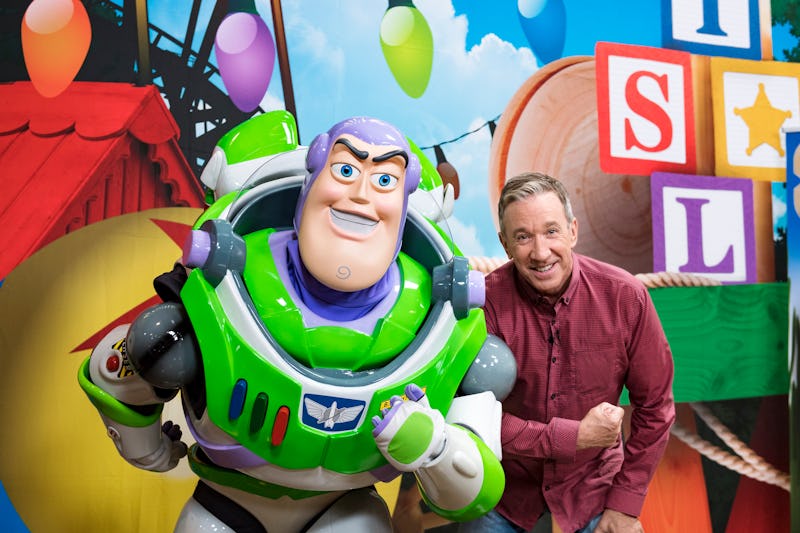 Handout/Getty Images Entertainment/Getty Images
Disney movies have been a staple in many households for decades. And, when Disney branched out into computer animation, Pixar soon became staples of childhood too. And it all started with 1995's Toy Story, one of Pixar's most beloved movies. The film, one of Pixar's first features, kicked off a series of three movies spanning over two decades, with a fourth film currently in production. And, though not yet is known about the next film in the series, actor Tim Allen recently teased Toy Story 4 details that will make any fan psyched, and maybe also cause them to reach for the tissues.
On Sept. 26, Tim Allen, who voices Buzz Lightyear in the franchise, appeared on CBS' The Talk to promote his show Last Man Standing. The sitcom was cancelled in 2017 after six seasons on ABC before it was picked up by Fox, where it will soon premiere Season 7. After asking about his show, co-host Sarah Gilbert asked Allen if he'd been working on Toy Story 4, and not only has he been working on it, he's ready to share some insight into what fans can expect. He told the show's audience:
"I gotta resist getting emotional, I don't want to give it away, but this is an incredibly great story. It is so emotional, it's so funny, it's so big, the idea they've come up with, I'm startled... I couldn't even get through the last scene... A couple scenes towards the end were hard to get through."
If this movie is hard for Buzz Lightyear to get through, how are the fans supposed to deal? And is it good, nostalgic emotional, or is it sad emotional? If it's a mix of all of the above, we're definitely toast — there are not enough tissues in the world.
This wouldn't be the first time a Toy Story movie hit audiences with emotional moments. In Toy Story 2, Jessie's retelling of her previous owner, Emily, who was her "whole world" before she abandoned her once she grew out of the doll, was devastating. (The song "When She Loved Me" can still make Toy Story 2 fans tear up.)
And the most recent film, Toy Story 3, was also full of these devastating scenes. Whether it was the furnace scene, where Andy's toys were about to be burned alive and, one by one, they couldn't find an escape and all joined hands. Not to mention the end of the movie, in which Andy parts with his toys, giving them a new life with 3-year-old Bonnie.
Toy Story 4 has been described as a romantic-comedy of sorts, and not a direct sequel to the third film. And it won't hit theaters until the summer of 2019, so there's much time to stew over this news. And after Allen's comments about it being "so emotional" he couldn't finish it, fans might want to take that time and prepare themselves for the emotional toll that awaits them when Toy Story 4 is released.