This Teaser For BBC's 'Press' Proves The Drama Is Going To Be All Kinds Of Epic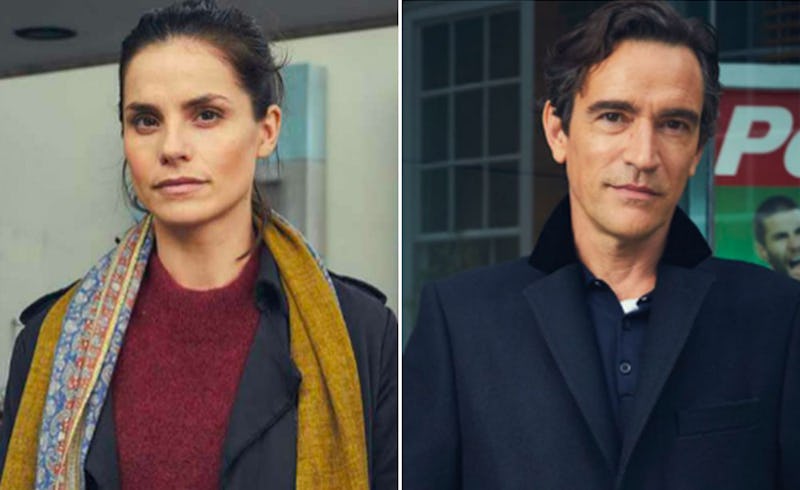 BBC
The BBC is throwing its weight behind a tale of two newspapers in its upcoming series Press. The new fast-paced drama tackles the stress and problems experienced by those working in the British media industry, and explores the professional dilemmas faced by journalists every day. Sounds intense, right? Starring Charlotte Riley and Ben Chaplin, the first trailer for BBC's Press dropped on Tuesday, and let's be honest, it looks epic. Even though it's only 40 seconds long, I'm already sucked in and need this programme in my life like now.
Directed by Tom Vaughan and produced by Mike Bartlett, the series centres around two competing newspapers: The Post, a tabloid, and The Herald, a broadsheet. Chaplin along with The Da Vinci Code's Shane Zaza, Game of Thrones' Ellie Kendrick, and Grantchester's Al Weaver will all be manning the news desk over at The Post. Meanwhile, Charlotte Riley, Priyanga Burford, and Game of Thrones' Brendan Cowell will be pledging their allegiances to The Herald. The series will focus on how the journalists "attempt to balance work and play, ambition and integrity, amid the never-ending pressure of the 24-hour global news cycle and an industry in turmoil."
Even just from the short glimpse of this series, it's pretty apparent that the show's going to grapple with the reality of working in the newspaper industry; is the priority to report the truth? Or is the main focus to entertain the masses with the "most outrageous story telling in the world"?
Check out the trailer here:
Opening up about the new series, Riley said: "I am delighted to be working with Mike Bartlett again, and with Tom Vaughan on a truly brilliant piece of writing. Mike is a phenomenal storyteller and I am excited to be part of this project."
I've also got my fingers crossed that Charlotte Riley's husband Tom Hardy makes a little cameo, but I'm not going to hold my breath. He seems pretty slammed promoting his upcoming anti-hero film, Venom. Perhaps she'll make a cameo in that instead. Either way, I can't wait to see Riley back on screen in Press.
Full of nail-biting music and tense stand-offs, I'm pretty interested to see how the major contrast between the two papers plays out. I also just really want to know what my favourite character — that polar bear in the trailer — is doing in a news office. Is he a journalist? Will he get a dramatic romance arc? Enquiring minds need to know.
"The newspaper business is part of Britain's identity," commented Piers Wenger, Controller, BBC Drama. He added: "Mike's gripping stories of crusading journalists in this ever-changing industry, brought to life by this brilliantly talented cast make for a fresh, thrilling and utterly British contemporary drama."
Press is set to be a six-part series, comprised of hour-long episode. Filming started last October and is now complete. The new drama is set to premiere on BBC One later this year, however an exact date hasn't been nailed down just yet. If our American pals out there are keen on seeing the show too, it'll also air on PBS following the initial UK broadcast. Watch this space.