The Trailer For Lena Waithe's New Show Has Fans So, So Proud Of Her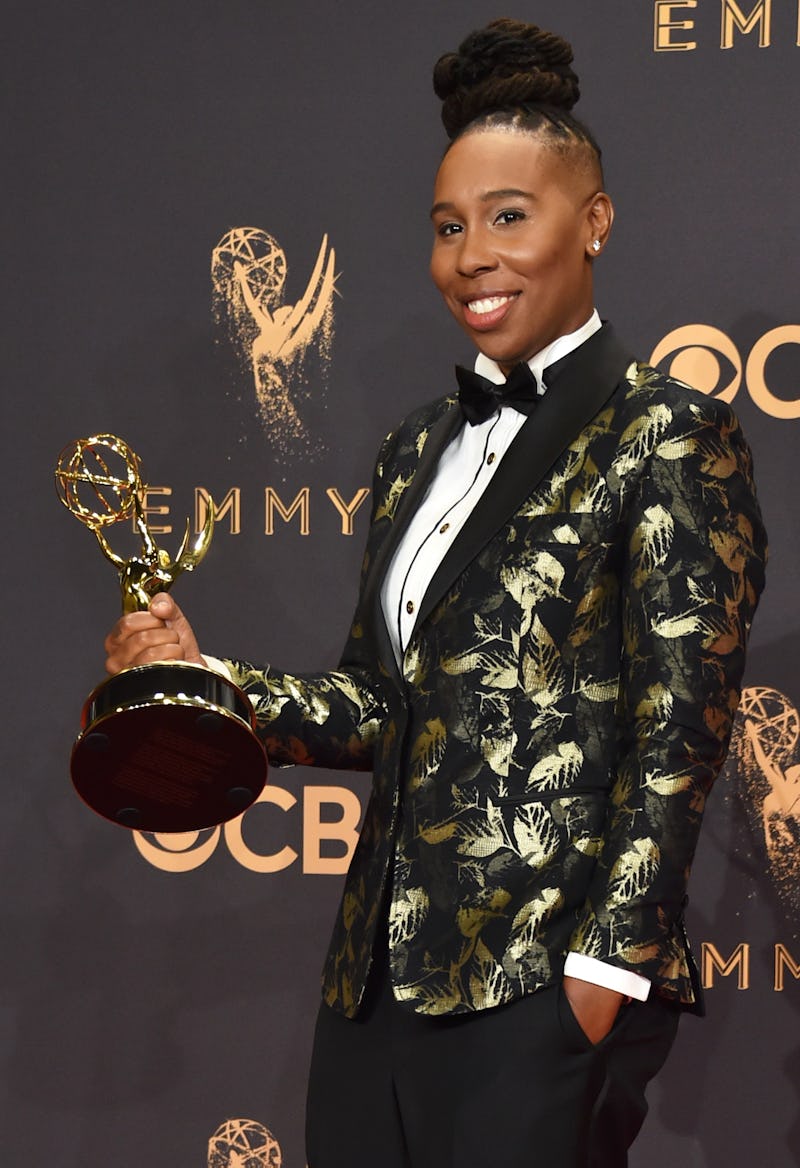 Alberto E. Rodriguez/Getty Images Entertainment/Getty Images
Footage from Showtime's The Chi is finally here — and it also has an official premiere date. Lena Waithe's The Chi drops on the cable network Sunday, Jan. 7, so you better prepare yourselves for what might be further greatness from the major talent. Waithe serves as both creator and executive producer of the drama, in addition to Common and Elwood Reid (The Bridge). As you may have already suspected, many fans of the Master of None actor and writer are overjoyed for Waithe's success in bringing this project to life.
Ever since starring in Alan Yang and Aziz Ansari's Netflix comedy as Denise, the 33-year-old star has made a name for herself. She really hit it big at the 2017 Emmys when she and Ansari won Outstanding Writing for a Comedy Series for Master of None's "Thanksgiving" episode. What made the win even more special is that Waithe became the first black woman to win an Emmy for comedy writing.
During her acceptance speech, she dedicated her win to the LGBTQIA community and said, "I see each and every one of you. The things that make us different, those are our super powers. Every day when you walk out the door and put on your imaginary cape and go out there and conquer the world because the world would not be as beautiful as it is if we weren't in it." She also added about herself and Ansari, "And for everybody out there that showed so much love, thank you for embracing us, a little Indian boy from South Carolina and black girl in the south side of Chicago."
Now, it looks like she has another hit on her hands with The Chi, which is produced in Chicago and is "a coming-of-age story centering on a group of residents who become linked by coincidence but bonded by the need for connection and redemption," as Deadline reports. The cast includes Straight Out of Compton's Jason Mitchell, Sleight's Jacob Latimore, Queen of Katwe's Ntare Guma Mbaho Mwine, Moonlight's Alex Hibbert, The Get Down's Yolonda Ross, Power's Armando Riesco, and The Following's Tiffany Boone.
And here a few of the happy responses Waithe is receiving upon seeing the teaser trailer:
"It's Lit"
Enough said.
It's About Time
Her hard work really has paid off.
"Emmy Award Winner"
*chills*
She's Where It's At
Her colleagues adore her.
Issa Rae Is Here For It
You know she'll be tuning in come Jan. 7.
She Has Much Support
This is how many feel.
It's Time To Get Showtime
Or find someone who has a subscription.
All The Congrats For Lena
Even Orange Is the New Black's Danielle Brooks is beyond ready.
As much excitement as there is for Waithe, the series has already faced some criticism. According to DNAinfoCHi, The Chi set up a fake corner grocery story as a prop for the show in Chicago's North Lawndale neighborhood, which had real grocery items on its shelves. The outlet reports that residents claim that the show threw out "a dumpster's worth of food and supplies".
Reportedly, residents went through the dumpster to bring home food to their families. Many residents also expressed anger over the items that were allegedly from the show not being donated to those in need. There is further frustration over the prop store's exterior paint. Reportedly, after it was washed away, paint chips were left behind all over the grass and sidewalk. DNAinfoCHI reports neighbors cleaned up the paint mess.
UPDATE: A Showtime spokesperson tells Bustle:
The published DNA Info story gives an incomplete and inaccurate account of circumstances involving production of THE CHI.
· The items that were disposed were for filming purposes only and were never intended or maintained for consumption. Most of the items were expired and many contaminated by rodents and therefore not safe for donation.
· The production has made several donations from the set to the community, including Chromebooks, picnic benches and several hundred book bags.
· Photos suggesting the production had abandoned the site before leaving it in proper shape were taken before cleanup had concluded. The cleanup process takes several days and additional cleanup was already scheduled for today and is in progress.
· THE CHI is a show created by Lena Waithe and executive produced by Common, two Chicago natives who share a deep connection with the project's setting. The producers, Fox 21 and Showtime strongly maintain that the series was produced carefully and responsibly, with all required permits obtained and with the full cooperation and support of the Chicago Film Office. We are grateful to the city and its residents for the warm reception we were granted.
EARLIER: The controversy is something fans on Twitter have pointed out to Waithe. One person tweeted her, "I love your work and your activism. And I can't wait to see 'The Chi'. But are you aware of this?" Another Twitter user tweeted, "do better." Someone else posted, "This is incredibly disappointing. I really hope Lena Waithe didn't have anything to do with the decision to do that."
Waithe's new series hasn't even premiered yet and it's already making headlines — for multiple reasons.