Here's Exactly What Trump Said About White Supremacists, Line By Line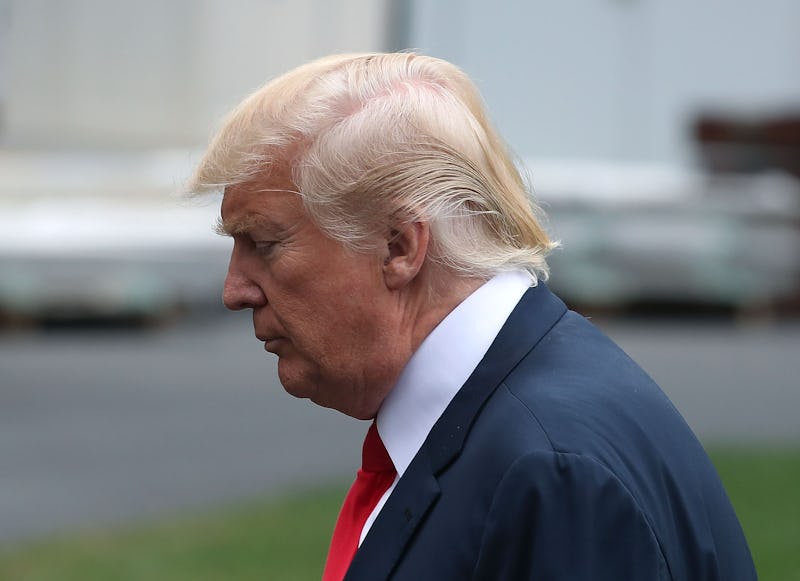 Mark Wilson/Getty Images News/Getty Images
Following fierce criticism of his response to the violence in Charlottesville, President Trump specifically denounced white supremacists in a new statement on Monday afternoon. On Saturday, Trump had condemned violence he deemed to come from "many sides" that transpired at the "Unite the Right" rally where, Heather Heyer, an anti-racist protester, was killed by a white nationalist who intentionally drove his car into a crowd of protesters. Roughly 20 others were wounded.
In a televised statement on Monday, he denounced several of the white supremacist groups who were present in Charlottesville by name.
The Department of Justice has opened a civil rights investigation into the deadly car attack that killed one innocent American and wounded 20 others. To anyone who acted criminally in this weekend's racist violence, you will be held fully accountable. Justice will be delivered. As I said on Saturday, we condemn in the strongest possible terms this egregious display of hatred, bigotry, and violence. It has no place in America. And as I have said many times before, no matter the color of our skin, we all live under the same laws. We all salute the same great flag, and we are all made by the same almighty god.
We must love each other, show affection for each other, and unite together in condemnation of hatred, bigotry, and violence. We must rediscover the bonds of love and loyalty that bring us together as Americans. Racism is evil, and those who cause violence in its name are criminals and thugs, including the KKK, neo-nazis, white supremacists, and other hate groups that are repugnant to everything we hold dear as Americans. We are a nation founded on the truth that all of us are created equal. We are equal in the eyes of our creator. We are equal under the law, and we are equal under our Constitution.
Trump's initial response to the situation in Charlottesville was much more vague and failed to specify whether he was condemning violence committed by white nationalists or those opposing them.
"We condemn in the strongest possible terms this egregious display of hatred, bigotry and violence, on many sides," he said on Saturday. "On many sides. It's been going on for a long time in our country. Not Donald Trump, not Barack Obama. This has been going on for a long, long time."
Trump's Saturday statement was praised on the white supremacist website The Daily Stormer, with one commenter calling it "very, very good" and highlighting the president's decision to not directly attack white nationalist groups.
Clearly he heard the anger of America