Here's What Jared Kushner Told The Public About Russia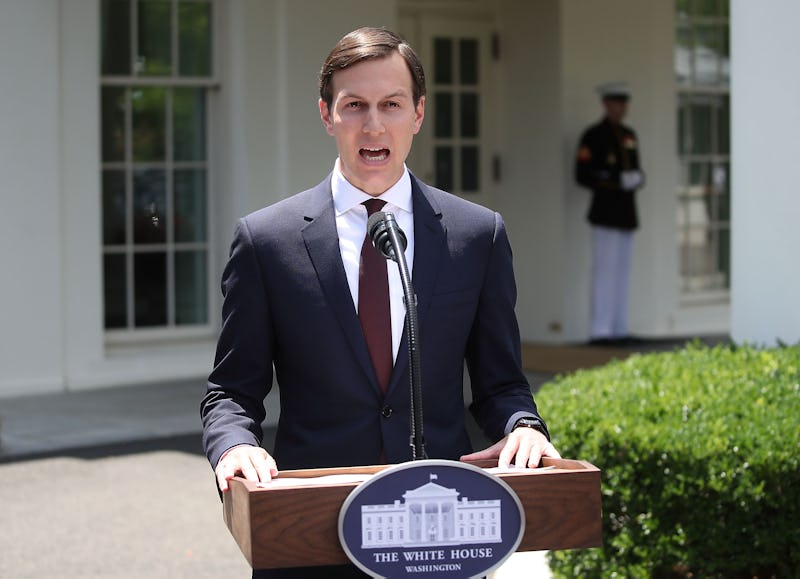 Mark Wilson/Getty Images News/Getty Images
President Trump's son-in-law Jared Kushner was called to testify before Congress on Monday to speak about his involvement in a meeting between the Trump campaign and Russian representatives during the 2016 presidential election. Leaked emails from Trump's eldest son Donald Trump Jr. showed that the meeting was set up with the intent to receive information on Hillary Clinton from Russia, information that could have been beneficial to the Trump campaign. However, Kushner insisted before his Senate hearing on Monday that he did not know that was the purpose of the meeting.
Prior to his two-hour testimony before the Senate Intelligence Committee, Kushner released an 11-page statement of prepared remarks on Monday morning, claiming he was so disinterested in the subject matter of the meeting, that he asked an assistant to call him to get him out of the room.
In his public statement given before a gaggle of reporters, he continued to claim that the campaign did not collude with Russia, and went on to say that he did not have any "improper contact," nor did his businesses rely on Russian funds.
He also tried to paint the investigation as insulting to Trump voters. Rather than the government doing it's due diligence to ensure there was no foreign interference in our elections, Kushner said that to question the legitimacy of his father-in-law's victory "ridicules those who voted for him."
Here's what Kushner said Monday afternoon, outside the West Wing:
When my father-in-law decided to run for president, I served his campaign the best I could because I believe in him and his ability to improve the lives of all Americans.
And now, serving the president and the people of the United States has been the honor and privilege of a lifetime. I'm so grateful for the opportunity to work on important matters such as Middle East peace and reinvigorating America's innovative spirit. Every day I come to work with enthusiasm and excitement for what can be.
I have not sought the spotlight. First in business, and now in public service, I have always focused on setting and achieving goals, and have left it to others to work on media and public perception.
Since the first questions were raised in March, I have been consistent in saying I have been eager to share any information I have with the investigating bodies, and I have done so today. The records and documents I have voluntarily provided will show that all of my actions were proper, and occurred in the normal course of events of a very unique campaign.
Let me be very clear, I did not collude with Russia, nor do I know of anyone else in the campaign who did so. I had no improper contacts. I have not relied on Russian funds for my businesses. And I have been fully transparent in providing all requested information.
Donald Trump had a better message and ran a smarter campaign. And that is why he won. Suggesting otherwise ridicules those who voted for him. It is an honor to work with President Trump and his administration as we take on the challenges that he was elected to face: creating jobs for American people, keeping America safe and eliminating barriers to achieving the American dream.
Thank you very much, and I look forward to taking questions from the House Committee tomorrow. Thank you.
Kushner's time on Capitol Hill is not yet over; he is scheduled to meet with the House Intelligence Committee tomorrow. And even after meetings with both houses, it seems like this issue will not escape him any time soon.