Read The Transcript Of Trump's Press Conference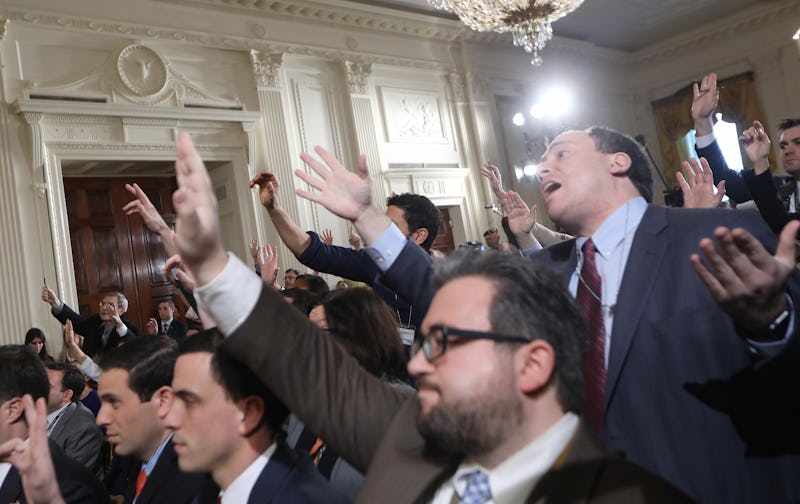 Mario Tama/Getty Images News/Getty Images
If you missed watching President Donald Trump's 75-minute press conference, or if you saw it but need some clarification, never fear. You have options: the transcript of Trump's press conference is available, and there's a lot to unpack, especially when it comes to his exchanges with the press. Frankly, Saturday Night Live will probably have a field day with this one.
There are several places you could access the transcript: the New York Times has one, CNBC has a transcript, Fox News has one, and NPR actually has an annotated transcript. You can also watch footage of the press conference, such as this video from CNN. That is, if you're okay with watching content from a network Trump calls "fake news."
Trump's Feb. 16 press conference started with him announcing his new labor secretary nominee, R. Alexander Acosta. He also touched on topics including, Russia, former national security adviser Michael Flynn's resignation, "inner cities," and more. But it also included such gaffes as Trump assuming a black reporter, April Ryan, was "friends" with members of the Congressional Black Caucus and could set up a meeting.
It's interesting that Trump held such a long press conference given his frequent cries of "fake news" about stories published by reputable media outlets. During this press conference, Trump demoted CNN from "fake news" to "very fake news." He complimented a reporter on being "very professional," as if a journalist displaying professional behavior is out of the ordinary. And he chastised a journalist for asking what Trump decided was "not a simple question, not a fair question." But possibly most telling about Trump's relationship with the press was his constant banter with reporters — and not necessarily in a friendly manner.
One BBC reporter, Jon Sopel, said that Trump "berated" the journalists for half an hour. "The press has become so dishonest that if we don't talk about it we are doing a tremendous disservice to the American people," Trump said at one point. "We have to talk about it to find out what's going on because the press honestly is out of control. The level of dishonesty is out of control."
The press didn't take that sitting down though; some news outlets published stories debunking several of the things Trump said, such as that he "inherited a mess" (the U.S. economy is actually doing pretty well, with the stock market at "all-time highs," CNBC reported). The New York Times threw some pretty deliberate shade with the headline, "Trump Calls Press 'Dishonest,' Then Utters Falsehoods of His Own," and it wasn't the only news outlet doing so.
We'll have to wait and see how the relationship between Trump and the media progresses. For now, Trump's PAC has released a Mainstream Media Accountability Survey, which you can take if you want to let him know how you feel about the press.