How Jill Soloway's Genderqueer Coming Out Made 'Transparent' Season 4 Its Strongest Season Yet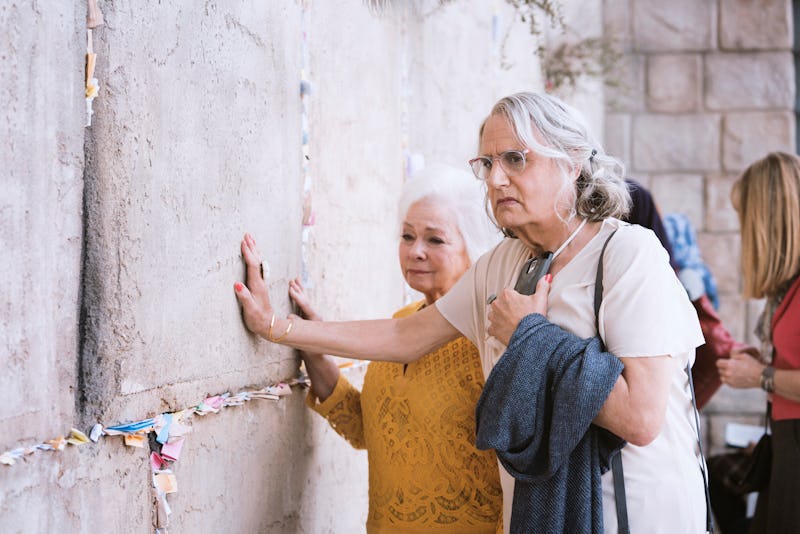 Amazon Prime Video
In the time since Transparent began, creator Jill Soloway has gone through a transition, with a recent genderqueer coming out of their own. In an interview with The Guardian, they talked of exorcising all feminine items from their wardrobe, of cutting their hair into a crew cut, and rejecting the notion of being called a woman at all, as opposed to simply a person. Transparent Season 4 takes a deep dive into a fictionalized version of that genderqueer coming out process, but that's not the only way their personal revelations have affected the series. Soloway's coming out informs all aspects of these new episodes, it seems.
In a recent interview on Cameron Esposito's Queery podcast, Soloway talked about their goal as an artist and how they approached their pitches to networks prior to the Amazon series which just launched its new season on Sept. 22.
"I have always been very focused on this idea that I want to change the world. I want to change the world for women, I want to change the world for queer people," Soloway said. "And I used to say it before Transparent in meetings. I used to go into like my pitch meetings at CBS or FOX and be like 'I want to do things that have never been done before, and I want to change the world.' And you could see on their faces, they're like 'Uh oh..."
"I want to change the world for women, I want to change the world for queer people."
It's hard not to see those aforementioned ideas and aspirations for change for women and queer people at play in Transparent Season 4. Yet as lofty as those motivations alone are, they really only scratch the surface of the narrative contained in this ambitious batch of episodes. Womanhood and queerness matter, but where the story really spends its time — aside from Israel and Palestine where a little over half the season physically takes place — is within boundaries. Transparent Season 4 is about the concept of walls, of barriers, of social assignments, and binaries. And they're all presented like collective stops on a chartered bus ride, fleeting glimpses at hope and healing represented by tourism through the literal Promised Land, and all intricately set to a soundtrack of Jesus Christ Superstar.
The final moments of Season 3 were of Judith Light's Shelly onstage, in her one person show To Shell And Back, a season-long running gag that culminated in a moment of poignant emotional openness from her. She comments in that final scene on her past relationships as an attraction to those who wanted to live in the "darkness of a secret." This is a rather personal moment for Shelly, a dovetailing of her own childhood abuse into the nature of her marriage to a pre-transition Maura. It's also a perfect summation of the lie and secret filled lives of their children.
The fourth season opens with hints at a focus on themes of sex, consent, and manipulation, kicking off with the three adult Pfefferman kids attending a sex addiction meeting together almost on a dare. There's a performative sense of humor about it among the trio but the clear need they all have for at least some level of help is very clear to the audience, and even to them in their most honest moments. All are wrestling with the aftermaths of abuse, lack of control, and the fluid yet destructive nature dynamics of power in toxic romantic and sexual entanglements.
The first major nugget of the emotional center of the season is a conversation Sarah Pfefferman has with Lila, a woman Sarah picks up after recognizing her at the sex addicts meeting and who she and her not-quite ex-husband Len begin an ill-advised triad relationship with. Lila, a newcomer to the series played by Arrested Development's Alia Shawkat, describes secrets to Sarah as "a perfect stand-in for boundaries." It's commentary that encapsulates the Pfefferman family that we've come to know over the last three years in a single sentence.
Those past seasons have been a revolving stage of establishing and violating toxic boundaries through secrets. However, if the complicated and painful stories of these 10 new episodes could be summed up within a single concept, it's one of crossing boundaries not out of an attempt to control, but to understand and to heal. Those boundaries can be literal, like the checkpoints between Tel-Aviv and Ramallah, figurative ones like gender, race and creed, or even philosophical ones like those between victim and aggressor, love and lust, self and family.
The remarkable thing about the way Soloway and the writing team weave these elements into their story is that each of these feels simultaneously as much like a metaphor for the others as they are themselves a flesh and blood representation. An Israeli Settlement is as much about the occupation of foreign land as it is about youngest child Ali's struggle with the assignment of "woman" as a gender and how that marks someone in life. Maura's discovery of a father she thought long-dead is as much about his own absence from her life as it is about a life lived feeling broken and alone in her gender dysphoria. They all layer on top of each other in a rich tapestry, each thread strengthened and made more pronounced by the others.
The way Season 3 was marked by Shelly's dramatic declaration of the darkness of a secret, Season 4 is by the sun over the Dead Sea, leaving no space for a shadow. Every secret comes to light in Transparent Season 4. Every penny drops, whether it's about Ali's relationship with a former professor (and that professor's with many other students, apparently), or the full weight of Shelly's childhood trauma. Even the fate of Maura's deceased Aunt Gittel, a trans woman who was killed in the early days of the Holocaust — portrayed by actor Hari Neff in flashbacks during Season 2 — has some emotional resonance for the modern-day Pfeffermans.
There's a great deal of impact that comes from the occupancy of the "other." Shelly allows herself to take up space in a way she's never done before via the male character of "Mario" that she performs in an improv class; Ali moves beyond the walls of Israel to a troubled commune on Palestinian land while questioning the entire concept of gender; and Maura grows comfortable with her exploration of her heterosexuality. Even the aforementioned musical Jesus Christ Superstar enters the mix of this, as the official soundtrack to the journey of a Jewish family as they ride into Jerusalem.
The most precarious out of all of these is the journey that Pfefferman son Josh finds himself on, both confronting and apologizing to the mental ghost of Rita, the woman with whom he had a sexual relationship with at a far too young age and who committed suicide in season three. Rita's memory seems to be a personification not just of Josh's victimhood but his own sense of guilt at the demonization Rita has taken on for what she did, despite having been rather young and damaged by the experience herself. The balancing act of pushing personal healing and accountability without veering into victim-blaming comes dangerously close to tipping over multiple times and yet manages to make it across the wire.
While telling an important and interesting story, often the misery of these characters makes Transparent a tough show to get through, and the Pfeffermans can come across as unlikable. Yet this season puts them all into places that make me think for the first time they might ultimately be OK, and I find myself really feeling invested in that being the case. Plenty of shows have unlikable leads — some of the best shows on TV. Where Transparent stands out and where it's really been hitting its stride these last few years, is that it has skillfully peeled back the layers on these characters to show us why they're ultimately sympathetic and, dare I say, not just likable but lovable.
Between Seasons 3 and 4 especially, I feel like as a viewer I've truly come on a journey with them, and if I may paraphrase a certain Andrew Lloyd Webber rock opera, at last I can see where they all soon will be. And in light of Soloway's own identity reclamation, it seems as though Transparent and the people who create the show are in an endless loop of changing one another.